Harrie Schippers, DAF Trucks president, tells GIANENRICO GRIFFINI that the company is optimistic about its prospects for 2016.
With a recovering economy and best-ever quality and fuel-efficient trucks, Schippers is very confident about the future. "With the growth of our heavy-duty market share in Europe in 2015, we are on track towards our mid-term objective of 20 percent. Outside Europe we will further expand our presence by focusing on demanding markets with modern emission standards."
The economic recovery in Europe continued during 2015 and the growth of almost two percent had a positive effect on the demand for transport and, hence, trucks. About 269 000 trucks above 16 t were registered in Europe last year – an increase of 19 percent.
"Customers benefit from the low interest rates and low diesel price," says Schippers. "That makes it attractive to invest in new Euro-6 trucks, with five percent better fuel economy, proven reliability and higher resale values.
"All customers I spoke with recently have already completely switched to Euro 6, or are in the process of doing so. All incentives that we can come up with in Europe to help people replace older trucks with newer ones, have a positive impact on the environment."
New records set
DAF also benefited from the larger market. Indeed, DAF received 30 percent more orders for CF and XF models last year, compared with 2014; the highest number since 2007. To meet the high demand, production in Eindhoven was increased in just four months by
50 percent.
"Production has never risen so quickly; it's a great achievement," says Schippers. "In the last three months of the year, a total of 11 500 trucks were produced in Eindhoven, which is a new quarterly record. In total, we produced almost 41 000 CF and XF trucks last year and around 9 700 LF vehicles."
Positive trend
The company's European market share in the over 16-t class rose from 13,8 percent in 2014 to 14,6 percent last year. Schippers says: "The good news is that market share grew in almost all main markets in Europe. We grew more than one percent in the United Kingdom and Czech Republic, one percent in Spain and we gained almost a full percent in The Netherlands and Poland.
"The progress realised in Germany, where our market share grew to 10,8 percent, is very important. Germany is by far Europe's largest truck market and we need further growth there to achieve our market-share objective of 20 percent."
The increasing market share, according to Schippers, was largely due to the successful CF and XF models, which last year became an additional five percent more fuel efficient. This is thanks to the engine innovations and new technologies such as Predictive Cruise Control, Predictive Shifting and Eco Mode.
New "silent versions" allow transport operators to continue distribution in areas where noise restrictions apply. "This all helps our customers achieve the highest yield per kilometre, totally in line with the philosophy of DAF Transport Efficiency," says Schippers. "Currently, our trucks are the most fuel efficient and of the highest quality ever!"
Growth step-by-step outside Europe
Last year, DAF made its entrance in Malaysia and Colombia, whereas, in Taiwan, partner Formosa opened a new assembly plant to double production capacity. With a market share of 17,8 percent, DAF is the largest European truck brand in Taiwan.
In Brazil, the plant in Ponta Grossa will soon ramp up production. "Although the Brazilian economy is in a severe recession and competitors are reducing their production, we are working on further growth," says Schippers.
The DAF president finds it difficult to forecast DAF sales in Russia this year. "The ruble is very weak and that makes European trucks very expensive in Russia."
How do you look at today's DAF footprint? "You have to be realistic," answers Schippers. "First and formost, we apply a step-by-step approach and aim for sustainable growth. You cannot enter all marketplaces and be successful in all of them in one go. For DAF, good markets are those with a professional transportation system and modern emission standards.
"We closely monitor developments in China and India, but we all know that there is no focus yet on total cost of operation like, for instance, in Brazil, South Africa, New Zealand, Australia and Taiwan. Truck prices in China and India vary from €30 000 to €40 000 (R526 000 to R702 000) – that is not the premium segment in which we operate, but we closely follow developments there."
Paccar synergies
What synergies are being planned within Paccar, when it comes to sharing technologies between Kenworth, Peterbilt and DAF? "Good question," Schippers laughs.
"Unfortunately, I cannot give you examples, but think about electronics and driver-assistance systems. Sharing a cab is difficult, as legislation differs on the various continents. Driveline synergies are possible only up until a certain level.
"You know that already 40 percent of the Kenworth and Peterbilt trucks in North America are running with the Paccar MX engine, developed by DAF in Eindhoven. We have just launched the MX-11 engine in the United States and I expect this to become as successful as it is in Europe!"
2016 Developments
For this year, it is expected that the world economy will continue to recover slowly, with growth of the European economy again of almost two percent.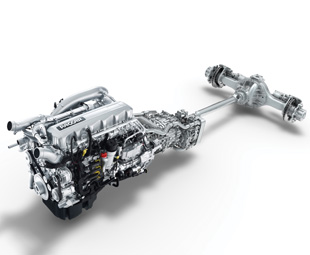 "Despite the unrest in the Middle East, oil prices remain at a low level," says Schippers. "With the economic recovery, transport volumes are likely to remain at a good level, with a slight growth in the truck market as a result.
"It is anticipated that the European market for heavy trucks will be between 260 000 and 290 000 units; 2016 could be the best market since 2008," says an optimistic Schippers. "And yes, the market is at a sustainable level, at, or even above, what under normal economic situations would be a replacement market. However, I don't have a crystal ball – it all depends very much on how the economy develops."
Confidence in future
For 2016, DAF has a large number of investment projects running, such as the construction of the new cab paint shop in Westerlo, involving an amount of €100 million (R1,7 billion).
"In addition, tens of millions will be invested in Eindhoven for the production of new gear wheels, in a new large press in the sheet-metal component plant and in a new production line for cylinder blocks and cylinder heads. That's great news, as all these major investments illustrate confidence in the future of our factories in Eindhoven and Westerlo.
"All these investments are made in order to be prepared for the future, in which I have strong confidence thanks to the best and most-efficient trucks we ever offered, developed, manufactured and marketed," he concludes.
Focus on Transport
March 7, 2016
Published by