When MAN invited the world's media to the launch of its Euro-6 trucks, the company assembled an arsenal of vehicles for journalists to test – a whopping 61, to be precise! CHARLEEN CLARKE reports that this is a clear indication that the company wants to recoup the millions of euros it has invested in Euro-6 technology. But will it be a case of six sells?
It's rumoured that the European truck manufacturers have spent well over a billion euros on the development of Euro-6 trucks.
Behind the scenes, many manufacturers and operators are resenting this extra cost. Operators don't want to spend more money on a truck than is absolutely necessary – Euro-6 trucks obviously come at a premium. And manufacturers argue that, given the global economic crisis, profits are already hard to come by. They're certainly not easy to find in Europe, as Anders Nielsen, chief executive officer of MAN Truck & Bus AG, commented at the launch of the company's Euro-6 product offering. "The climate here is tough and so we need to make ourselves less dependent on the volatile European market. We need to export 50 percent of our volume in the future," he said.
One of the areas of focus is Russia, where MAN has what Nielsen calls "a leading position". "We are number one amongst western European manufacturers in that country. This is a testament to the reliability of our brand," he told journalists.
On a similar note, Nielsen was also extremely confident when he spoke of the reliability of the new Euro-6 trucks. "Our trucks are more than just efficient; they are reliable too. Feel free to test these vehicles as hard as you like. I can assure you that we have tested them," he stressed.
With that invitation hanging in the air, it was time to depart for MAN's test track in Munich. The company had assembled the most impressive line-up of trucks I've ever seen at a launch: a whopping 61 units. It's commonplace to have access to a dozen or two trucks at an international launch … but 61? This was a first. I knew that it was impossible to test all 61, so I decided to focus on just three. First I would start with a TGM, then I would hop into a TGX and finally I would drive a truck that was indicative of the company's future (more about that later).
HEY GOOD LOOKING
I started out with a TGM – specifically the 18.290 4×2 LL, which was fitted with a curtainsider. As its nomenclature implies, the truck comes with a 213 kW (290 hp) D0836 common-rail engine. This particular test truck was fitted with an optional MAN TipMatic 12-speed automatic gearbox (a manual nine-speed gearbox is fitted as standard).
Before hopping in the cab and tackling the test track, I took a moment to appreciate the vehicle's elegant new exterior. It's not radically different from the old TGM, but there are some changes that definitely enhance the vehicle. For instance, the MAN lion has been integrated in the centre of the gleaming chrome-plated panel. A light, dynamically designed radiator grille adds to the visual appeal of the front and the wide-open wind deflectors with visible air conduits embody power and elegance.
The new front design doesn't just look good; it also means better aerodynamics which, of course, has a favourable effect on fuel consumption. Other aerodynamic measures include the introduction of wide-open wind deflectors with integrated air conduits that serve to optimise the flow of air around the sides. In addition, aerodynamic optimisations to the A columns and the bumpers help minimise fuel consumption.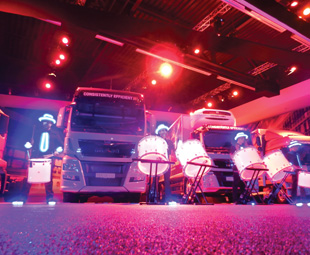 While the changes to the exterior could be described as minor, the same certainly doesn't apply to the interior, which is all new. For instance, the interior cladding is in a completely new style: brushed aluminium trim, surfaces of grained plastic and satin-chrome door handles mean that the interior of the TGM is as stylish as a luxury car.
I really liked the new instrument panel, which is user-friendly and looks uncluttered and business-like. The heating/air-conditioning panel has been fitted with new control elements and a new display.
The gear change console has also been newly designed, together with the gear shift and the rotary gear selector switch. It was great to note that, without exception, all the switches are easily accessible.
The abundance of storage compartments is also worth a mention. There are two rubberised trays in the centre console below the air vents (drawers and shelves are optionally available for even more storage space). A refreshment holder integrated in the door keeps bottles always within reach, while the centre console has a cup holder.
Finally it was time to enjoy the 6,9-litre engine around the test track. Oh what a delight. With 1 150 Nm of torque
on tap, it pulled away effortlessly. The same could be said of driving the vehicle – the automatic gearbox means that it really is idiot proof. In fact, the whole vehicle is really driver friendly – like so many other manufacturers, MAN has clearly come to realise that designing
a truck around the driver really does make sense.
TIME FOR EFFICIENCY
My next truck of choice was the TGX 18.440 EfficientLine, which I selected deliberately because of the popularity of the EfficientLine concept here in South Africa. We are not unique in our approval of this concept – in total, more than 15 000 MAN EfficientLine vehicles have been sold around the world. The benefits of the MAN EfficientLine are well known – a reduction in consumption of up to three litres per 100 kilometres is commonplace (each TGX EfficientLine which replaces a conventional long-distance haulage truck, therefore saves up to 4 500 litres of diesel or 12 tonnes of CO2 per year).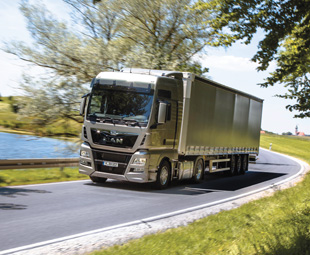 I was fortunate to be in the company of Sascha Niehoff, a driver trainer at MAN ProfiDrive, and it was immediately clear that he is a real MAN fan. "These new Euro-6 trucks are great; the horsepower is good as are the safety features. They're also becoming simpler to drive; it's much easier to drive economically," he said.
Of course, economical driving isn't always relished by the drivers. "The EfficientLine trucks can do a maximum of 85 km/h, and some of the drivers don't like that. But I keep explaining to them that, if you're doing 600 km a day, going five km/h faster really isn't going to make any difference."
And some customers aren't massively excited about the prospect of Euro 6. "They don't want to pay €7 000 (R87 059) more for a truck, but – come 2014 – it will be compulsory; so we have no choice but to offer this new technology," he commented.
As we were driving, I mentioned to Niehoff that I had never experienced such a massive line-up of vehicles at a launch before. "Oh this is not unusual for our Euro-6 campaign. We are doing similar events in Romania, the Netherlands, France, Austria, Denmark, Portugal and Poland," he remarked.
It's clear that MAN has a very aggressive launch strategy – I commented that the company clearly wants to recoup its investment in Euro 6. "Oh that's for sure. I don't know how much money was invested but it definitely ran into many millions of euros," Niehoff responded.
THE FUTURE IS HERE
The company's willingness to make substantial investments was furthermore reinforced when I tackled my final truck of the launch event: a hybrid that I first saw at the IAA in Hannover last year (which was where it made its world debut). "This is a normal MAN TGS – but with a monster battery and a couple of extra switches," joked Marco Sirl, testing engineer at MAN, as we made our way silently around the test track.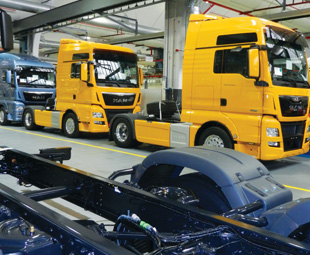 This so-called "normal TGS" is anything but. Yes, it is based on a MAN TGS 6×2-4 and it would do a normal job (that of waste collection). But it's hugely special.
Based on a MAN TGS 28-tonner, it was conceived as a plug-in hybrid refuse collection vehicle that operates at an extremely low noise level without any CO² emissions. Its 105 kW lithium-ion battery is located beneath the cab, guaranteeing maximum space for the body, optimal weight distribution and the highest safety levels. A quiet and efficient Audi three-litre V6 TDi diesel engine generates on-board power and recharges the main battery at high vehicle speeds, assuring sufficient energy for the next low-emission use in the city.
"You will see that it's amazing to drive – we have all the torque available instantly," Sirl pointed out. He was right. Press the accelerator and it lurches forward like a wild horse.
But, what about the challenges of limited range and charging the battery? "Those aren't huge challenges," Sirl countered. "Vehicles like this don't do great distances. It can be recharged overnight and then it can be driven for eight hours. Normally, after four hours, the body is completely loaded – so the drivers have to go and offload at the dump. That's also when they take their lunch break. The truck can also be recharged then – if required. Plus there is the Audi engine, which can provide back-up power if need be."
The truck also has an 80-litre diesel tank, so it can run on regular diesel if necessary.
Sounds like the perfect truck, doesn't it? It is – barring the price. Sirl would not comment on potential pricing – but you can bet your bottom dollar that we won't see it on South African roads any time soon because of the price of the technology (notably the battery).
Sadly, the same applies to MAN's marvellous Euro-6 trucks, which cannot come to South Africa until we have diesel without sulphur and countrywide AdBlue availability.
Euro 5 versus Euro 6
With effect from January 1, 2014, all newly registered vehicles in Europe must comply with the Euro 6 exhaust-gas standard. Euro 6 requires a reduction of 80 percent in NOx emissions, from 2 g/kWh for Euro-5 to 0,4 g/kWh for Euro 6.
Compared with Euro 5, the particulate mass has to be reduced by a further 66 percent. In addition, Euro 6 stipulates a limit on the number of particles for the first time. The only way to comply with this limit value is by the use of closed particulate filters, which in practice leads to a 90 percent reduction of the particulate mass (versus Euro 5).
Unravelling the TG's Euro-6 technology
MAN has long been using some of the technologies necessary for Euro-6 – exhaust-gas recirculation (EGR), diesel particulate filter and Selective Catalytic Reduction (SCR) – in its commercial vehicles. But, in order to meet the stringent Euro-6 standards, the company had to reduce NO2 and CO2 emissions even further – and so had to come up with even more innovative solutions.
On the engine side this comprises common-rail injection, cooled and controlled exhaust-gas recirculation and two-stage turbocharging. These are followed by exhaust-gas after treatment by a newly developed Selective Catalytic Reduction Technology (SCRT) system with integrated oxidation catalytic converter, plus a Continuous Regenerating Trap (CRT) filter. Electronic sensors permanently monitor the absorption capacity of the particulate filter. The sensor monitoring NO2 is also integrated into the SCRT system.
MAN's Euro-6 engines, with outputs of 162 kW (220 hp) and higher, employ a combination of two-stage turbocharging with primary cooling and intercooling of the boost air. The two turbochargers have been combined to form a single compact turbocharger module.
Each stage is equipped with a waste gate, making it possible to control boost pressure and distribution between the two stages so that the energy of the exhaust gas is used most effectively. The high-pressure stage ensures speedy build-up of boost pressure and thus high pulling-away torque in the lower load and engine-speed range. Already at low engine speeds, the high air ratio required for combustion with low particulate content is produced.
In the upper load and engine speed the low-pressure stage ensures the necessary amount of air, and is characterised by especially high efficiency – resulting in very good fuel consumption and combustion with low particulate levels. It also helps the Euro-6 engines produce the required pulling power at all engine speeds. It is also consciously based on two separate turbochargers instead of more complex turbochargers with variable turbine geometry.
The Euro-6 engines in the TGL series, which deliver 110 kW (150 hp) and 132 kW (180 hp), employ single-stage turbocharging at the same high level of efficiency. The basic design of the engine has not changed.
The SCRT system used for exhaust-gas after treatment combines an oxidation catalytic converter, a closed, electronically controlled surface particulate filter and an SCR catalytic converter with AdBlue injection.
The SCRT system functions as follows: First, an oxidation catalytic converter, with a highly efficient precious-metal coating, converts the limited constituents of the exhaust gas, HC and CO, to harmless CO2 and H20. Nitrogen oxides are also largely converted from NO to NO2. The surface particulate filter (CRT) that follows, traps up to 99 percent of the particulate mass present in the exhaust-gas stream. The soot particles trapped in the CRT filter are catalytically burned using the NO2 produced beforehand and thus converted to CO2. The soot loading on the particulate filter is electronically monitored by sensors, to control regeneration of the filter. Continuing the process, with the help of AdBlue, the SCR catalytic converter reduces the amount of nitrogen oxide to below the Euro-6 limit of 0,4 g/kWh.
In combination with EGR and turbocharging, the SCR process enables the engine's combustion to be designed for low particulate levels and optimal fuel consumption.
The engine variants installed in the TGL and TGM series are fitted as standard with active SCRT systems for regeneration of the diesel particulate filter and are thus optimally equipped to meet the demands of distribution transport.
The TGL and TGM series meet the Euro-6 standard by means of a more compact combination of oxidation catalytic converter, particulate filter and SCR, which is completely integrated in the rear silencer. The task of particulate cleaning is taken over by electronically monitored ceramic filter elements.
Click to download footage samples from the 2013 MAN Euro 6 Driving Experience:
Consistently Efficient Tour preview
Lions City preview
MAN driving preview
MAN metropolis preview
MANHSVBUSProduction preview
TG Family preview
TGS Windtunnel preview

Focus on Transport
June 1, 2013
Published by