Since 1925, International trucks have been found on South African roads, carrying a variety of loads over the longest and toughest of distances. Today, the manufacturer holds one of the largest extra-heavy vehicle parcs in the country, thanks to a firm reputation of quality and reliability.

The International brand of trucks are imported, assembled and distributed throughout the region by Navistar International Trucks Southern Africa (NITSA).
International's legendary 9800 range of trucks has been a market leader in its sector for many years and is easily recognisable by its distinctive, eye-catching chrome grill.
"We believe that we really have a good overall package to offer the market," confirms John Barnett, dealer development manager for NITSA. "International trucks are renowned for the quality, reliability and exceptional fuel efficiency that they offer. International trucks are fitted with Cummins diesel engines, Eaton Fuller transmissions and Meritor drive axles, all of which are North American driveline components that have proven very successful under the arduous operating conditions encountered in the Southern African region.
NITSA is excited to confirm the new 7600 Workstar 6X4 truck tractor, which will be introduced to the local market in February 2010.This new model features a Cummins ISM 400hp engine, Eaton-Fuller autoshift or manual transmission, Meritor RT 46-160 drive axles, the heavy-duty Hendrickson HAS 460 air suspension and the choice of sleeper or day cabs. The ride and handling characteristics of the 7600 Workstar are greatly improved over its predecessor.
Traditionally, International has been a supplier of regional and long-haul trucks but is new expanding its focus into niche markets with products ideal for  fire engines, refuse compactors, concrete mixers, tippers, machine moving and rigging and towing trucks.
"Through our dealer network, we pride ourselves on building and maintaining exceptionally good personal relationships with our clients," says Bob Jones, chief commercial officer for NITSA. "In the trucking business, good relationships are built on the foundations of a good product, used in the correct applications, and supported by the manufacturer and its dealer network."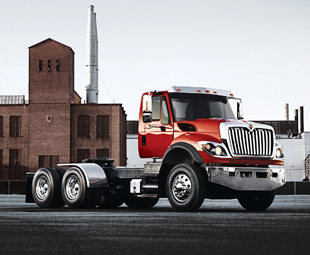 Evidence of these strong relationships is NITSA's nomination in the inaugural Best Truck Supplier category in this year's annual FOCUS on Excellence Awards.
"We have also been nominated in the Best Extra-heavy Vehicle category," says Jones, adding that the strength and reputation of the International brand, particularly the iconic 9800 and the increasingly popular 7000 series ensured NITSA's nomination for this category.
"We have a reliable, well-accepted, quality product; however, a product can only be as good as product support, which is why the nomination for best overall truck supplier is so important to us."
The best truck supplier category takes the entire value chain of a manufacturer into account. The process begins at the Navistar assembly plant in Apex, Benoni, where NITSA assembles completely knocked down kits (CKD), imported from its overseas principals.
"Local assembly has a number of advantages," explains Jones "It keeps the overall cost of our trucks down, utilises local suppliers and creates much needed jobs.
"We have placed great importance on assembly quality and have invested heavily in achieving the exacting overseas-based standards which are expected for the International brand. Stringent quality processes have been introduced on our assembly line, vastly improving our assembly and build quality.
Jones also adds: "We officially opened our NITSA regional parts distribution centre (PDC) in April of this year. The centre is based on similar models in the United States and once again was the product of significant investment on behalf of International. Parts support is vital to the operational integrity of a dealer network, and ultimately the efficient operations of our clients' businesses.
"NITSA product support stretches far beyond parts availability and extensive time and effort have also been placed on improving the overall technical and sales skills of those people working within our dealer network and NITSA itself."
According to Jones, NITSA has been appreciative of the loyalty its customers have demonstrated towards the International brand.
"It is acknowledged that 2009 has been a tough year and the extra-heavy vehicle commercial market sector has suffered, with sales down by over 50%.
"It's during times like these that solid relationships prove their worth. Through our expanding dealer network, we strive to continue to add value to our customers with strong after-sales support, in order to retain their loyalty to our brand."
Focus on Transport
November 1, 2009
Published by