An important feature of Truck Test 2013 is the option to run standard and aerodynamically modified vehicles side by side. GAVIN MYERS spoke to Cameron Dudley-Owen of Aero Truck about his involvement.
Truck Test 2012 saw a spectacular array of extra-heavy trucks taking to the highways of South Africa in a mammoth run from Johannesburg to Ballito and back. In those constant high-speed conditions, the massive rigs create heavy drag, costing them precious fuel and time. To avoid this, some were fitted with aerodynamic wind deflectors, which smooth the airflow over, around and even under the vehicles.
These vehicles were complemented by two very special "green vehicles" (one of them was literally green), featuring the latest in aerodynamic wind-cheating wizardry supplied by Aero Truck. Of course, these rigs delivered the goods.
Once again, Aero Truck has joined Truck Test with great enthusiasm. Dudley-Owen says: "I think Truck Test 2012 was brilliant; it had great people running it and it went off with very few hiccups. Obviously those were the vehicles to get everybody's hearts beating – the real heavy metal stuff. This year the vehicles are probably going to be more relevant to the trucking industry at large. Importantly, in my view, it will demonstrate to truck owners who operate vehicles in the eight-tonne range for their own account, how correct spec of their truck can significantly reduce running costs."
For Truck Test 2013, Aero Truck will be supplying complete Aero Kits to Isuzu (entering two FSR 800s) and FAW (entering two 13.180FL and two 16.240FL models). As per the rules this year, if a manufacturer enters a model with aerodynamic enhancements, a standard control model must also be entered.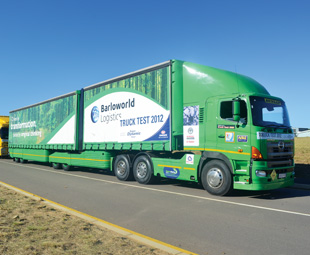 "Isuzu is really keen. They're finding good drivers and putting in the test miles with fuel meters and driver trainers – they are not playing games," says Dudley-Owen. "And FAW, well when the Chinese come in, they really come in!"
The kits are Aero Truck's standard, off-the-shelf parts that anybody with a similar vehicle can have fitted. The Isuzu kit is an evolution of the previously available kit, which will now become standard for these vehicles. FAW on the other hand have developed new aero kits from scratch in conjunction with Aero Truck specifically for the test. "Both the manufacturers are going for the full house – roof deflectors, chassis panels and cab extenders with slightly different specs requested by each manufacturer," explains Dudley-Owen.
"Both companies have really taken to the idea that they can see what the difference is with complete control over drivers, power and weight. And they're literally following each other down the road! It is a good way to test like with like – and against the competition without the kits. The option of fitting an aero kit and entering a control vehicle, to me, is a great one," he says. "This should highlight the relevance of aerodynamics on this type of vehicle."
Dudley-Owen is keen on the idea of testing eight-tonne vehicles as they have the biggest market share. "But, the average eight-tonner is normally run by owner/operators and we need to get the message through to them," he notes. "A major problem these days is reducing the carbon footprint, and we want to be involved to show that Aero Truck has one of the solutions – actually, a comparatively cheap, immediate solution which also has the benefit of reducing fuel consumption and therefore running costs of the vehicle."
But what effect will the kits have on these smaller vehicles, running in harsh stop-start conditions? "The aero kits won't be very effective in the simulated runs at Gerotek; there will be limited returns there. However, they will come into their own on the open stretch. It will be very interesting because this is not all about high-speed travel; in effect the stop-start is heavy on fuel," notes Dudley-Owen.
"Our view when it comes to smaller vehicles is that while they might not be driving at 80 km/h, there may be a strong head wind that you get without even starting the vehicle … In Britain and Europe most high-street delivery vehicles are fitted with kits. Whatever happens, the kits will more than pay for themselves over the life of the vehicle – so it's viable to put them on from the start," he explains.
"The real essence of these tests is that you're testing apples with apples away from the manufacturers' spin doctors – which is so difficult to do in other circumstances. I also think the manufacturers have bought into it; they are participating in Truck 2013 in the knowledge that they can show how good their vehicles really are."
We couldn't have summed it up better ourselves.
Focus on Transport
April 1, 2013
Published by