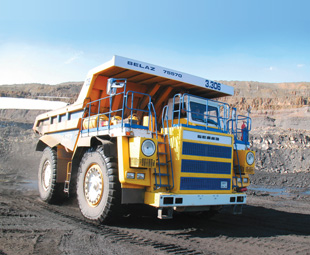 "Africa isn't for sissies." We've all heard that phrase a thousand times. Maybe we need to reconsider, writes CHARLEEN CLARKE, after pondering the conditions on Russian mines …
Minus 36˚C. That's the coldest I have ever experienced. It was at the Ice Hotel in the Arctic Circle where, thanks to Volvo Trucks, I nearly froze my butt off.
But, compared to conditions in Russia, that's practically a heatwave. At the recent IAA International Press Workshop on commercial vehicles in Frankfurt am Main, it was revealed that some Russian truck operators switch on their trucks before the onset of winter – and only turn off the engines once spring is on its way (otherwise the engines freeze). This is confirmed by one Russian mining company, which has reported operating conditions that are typically -50°C – and sometimes drop to below -55°C!
The company in question goes by the name of Norilsk Nickel, and it's the world's largest producer of nickel and palladium and one of the leading producers of platinum and copper. It also produces various by-products, such as cobalt, rhodium, silver, gold, iridium, ruthenium, selenium, tellurium and sulphur.
The group is involved in prospecting, exploration, extraction, refining and metallurgical processing, as well as the production, marketing and sale of base and precious metals.
Headquartered in Moscow, its history can be traced back to the 1920s, when mining began in the Norilsk area. Today the company has extensive operations in Russia, Australia, Botswana, Finland and South Africa.
But its transport operations in the Norilsk-Kaierkan region of Siberia, Northern Russia, are undoubtedly the most fascinating. This is a region famous for its nickel-copper-palladium deposits, formed 250 million years ago and the largest in the world. In fact, Siberia is known for its profusion of natural resources, with colossal deposits of gas and oil, and precious minerals – Soviet leader Joseph Stalin capitalised on this situation and sent many tens of thousands of political prisoners to work camps in Siberia to extract the gold and other minerals with picks and shovels. These labour camps – known as Gulags – resulted in the deaths of millions of people.
Of course Siberia is also infamous for both its bleak landscape and vicious temperatures that can drop below -50˚C. Mining trucks and their transmissions must be durable and reliable if they are to operate in such treacherous conditions.
Since July 2007, Norilsk Nickel has used a Belaz 75570 open-cast mining dump truck for its operations outside the town of Kaierkan in Norilsk (Kaierkan means "the Valley of the Shadow of Death"). This is in addition to bulldozers from Komatsu and Caterpillar, loading machines from Volvo, truck cranes from Kato, 20-tonne dump trucks from MAZ, and cargo vehicles and truck-tractors from Kamaz.
Incidentally, the story behind the manufacturer of the Belaz 75570 is equally fascinating. The company's full name is Belarusian Autoworks and its website proudly announces that the "annals of Belaz are rich with creative aspirations and labour feats that brought world-wide glory to the leader of the Belarusian mechanical engineering". We hope to explore those annals in another issue of FOCUS – for the time being it is perhaps useful to know that Belaz has been around since 1948, although its first dump truck – the MAZ-525 with a payload of 25 tonnes – only left the Belaz assembly line on November 7, 1958. Today it claims to produce every third mining dump truck manufactured worldwide – and Belaz trucks operate in their tens of thousands across Russia's 11 time zones in some of the most extreme and variable conditions on earth.
But back to Norilsk Nickel – and its Belaz 75570, which is equipped with a 12-cylinder 783 kW (1 050 hp) Cummins QST 30-C engine (which churns out a mighty 4 630 Nm of torque at 1 300 r/min), H8610 off-highway hauling Allison transmission and boasts a payload of 90 tonnes. According to Schnitko Alexey, a mechanic working for Norilsk Nickel, the truck has breezed through 100 000 km without so much as a sniff of trouble.
"Typically, our mining vehicles will cover over 50 000 km per year. This type of high vehicle mileage is common in this region due to the impassibility of roads, sharp climbs, dust in the air and extremely low temperatures which prevent other transport vehicles from reaching the mining sites. We depend on the reliability of this equipment to continue operations in such conditions," he reveals.
He explains that the conditions are extremely dusty. "The persistently high concentration of dust, combined with -50°C temperatures and perilous roads, means that our mining vehicles must be durable enough to sustain and deliver. To say the climate is difficult in this region is an understatement. The average daily temperature hovers around -32°C and it is common for temperatures to reach -50°C and sometimes drop to below -55°C. The work is non-stop too; equipment is operational in this harsh environment around the clock due to the technological processes of mining production," continues Alexey.
Despite these challenges, the company processes more than 13 million tonnes of ore annually from its six underground mines and one open cast operation. And, in its latest production plan (for the years leading up to 2015), Norilsk Nickel optimistically forecasts an increase in ore processing at its facilities to more than 14 million tonnes per annum.
Clearly, the Cummins/Allison combination is paying dividends – literally.
Sources: Wikipedia, Norilsk Nickel, Allison and Belaz
Focus on Transport
September 1, 2012
Published by