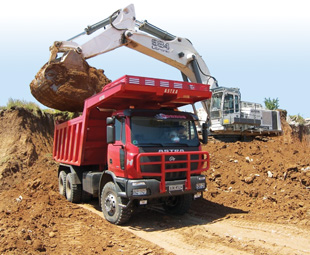 South Africa has no shortage of truck brands for the construction, mining and other heavy duty applications, but there are only a few brands that are specially designed for heavy off-road applications. Enter the Astra truck ranges.
Many normal road trucks are used in off-road applications with operators not always realising how it impacts life cycle costs, especially in terms of vehicle maintenance, tyre usage and fuel consumption.
The Astra truck ranges that have been specially designed for off-road applications, but can be used on-road as well, are now gaining popularity in various parts of Southern Africa for their reliability, ruggedness and low operating costs.
Astra was founded in Cagliari, Italy, in 1946 to refurbish heavy military trucks for civil use, and eventually became a manufacturer of heavy duty dumper, tipper and articulated trucks for off-road use in the construction and mining industries.
Continuous research and application of advanced technologies in the improvement of the products have ensured high standards in quality and confirmed the success of the Italian brand worldwide. In fact, today the Astra brand name is synonymous with strength, toughness and reliability.
The Astra right-hand brand was introduced to South Africa only four years ago, but already there are more than 1 200 left-hand drive units operating in various applications across Southern Africa. These are the Astra HD8 rigid trucks and truck-tractors.
The vehicles are being imported by Autumn Star Trading, a company owned by CEO Andrea Ceccarelli, an Italian businessman, and operated from headquarters in Midrand.
According to Ceccarelli, only 3 000 vehicles are made at the factory in Italy each year, in more than 200 different configurations to allow the vehicles to be customised to a customer's specific needs. This includes multi-axle drives from 4×2, 4×4, 6×4, 6×6, 8×4, 8×6, 8×8 to a 10×4 combination.
The HD8 range of rigid trucks and truck tractors has a gross vehicle mass of up to 50 ton and a GCM of up to 250 ton. They are fitted with Euro3 and Euro5 engines offering between 228 kW and 397 kW (310 and 540 hp).
According to Mark Templeton, national sales and marketing manager, the HD8 range is receiving praise from operators such as Unitrans, Alltech (a Canadian company) mostly for their reliability and low operating costs.
"Unitrans has been running them in road-train configurations of over 150 tons in Madagascar for some 20 months without any warranty claims. This is simply unheard of," he said.
He explained many operators used normal road trucks in off-road applications thus shorting the product life of the vehicle, where Astra fits into this niche as it was intended to, thus saving an operator money and increasing it operational life.
"Normal road trucks have a first-life life cycle cost of about 700 000 hours or about five years and a bin life of ten years," said Templeton. "The Astra was designed to have a first-life of ten years matching the bin life. Although its capital cost is higher, the ten-year life cycle cost is lower due to the reliability of the truck, fewer warranty claims and lower maintenance costs."
Templeton said the vehicles were used in many on and off-road applications, including mining, construction, quarrying and military, and could be fitted with specialised equipment such as concrete mixers, tipper bins and fire-fighting equipment. They had also been fitted with cranes for Alltech and City Power (Johannesburg) for overhead cable maintenance.
Following the recession and a slowdown in the construction industry, Autum Star Trading would be expanding its dealer network during 2011, Templeton said. Dealerships had already been established in Gauteng and in mining areas such as Brits, Witbank, Rustenburg, Nelspruit and Pietersburg. Mozambique, Zambia, Angola, Namibia and Malawi were also covered.
This year would see more dealerships being established in KwaZulu-Natal and the Western Cape, with Zimbabwe also being evaluated.
Customer vehicles are serviced on site by highly trained technicians with full spare parts backup, he added.
Focus on Transport
January 1, 2011
Published by