Bauma arrives … with a bang!
Germany is well known for many things – the Oktoberfest and Hofbräuhaus, the world's most famous beer hall, spring to mind. But, speak to construction professionals, and they will tell you that the country is famous for Bauma, a world-renowned construction fair. And the terrific news is that it's now arrived in South Africa! CHARLEEN CLARKE reports …
Munich is one of my favourite cities. I love the beer, the culture, the beer, the restaurants, the beer, the architecture, the pavement café culture … oh and did I mention the beer?
On a serious note, there is also another side to Munich that I enjoy – the business aspect. It's home to many of the world's most esteemed companies, and – thanks to the existence of Messe München International – the city is also the venue for lots of trade shows.
Just one of these shows is Bauma. Its full name is International Trade Fair for Construction Machinery, Building Material Machines, Mining Machines and Construction Vehicles. But those in the know refer to it as a construction show. I first attended the exhibition about a decade ago, and I was utterly dazzled by the array of equipment on display. I am not alone in my opinion; a whopping 530 000 visitors from over 200 countries converged on the Messe München exhibition centre between April 15 and 21 earlier this year, when Bauma 2013 took place.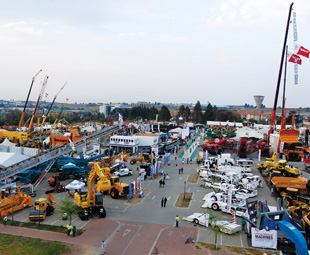 In fact, this year's Bauma broke all previous records for exhibitor numbers and exhibition space – an incredible 3 420 exhibitors from 57 countries presented their latest products and innovations in construction and mining machinery at Bauma 2013 over an exhibition space of 570 000 m². The fair also attracted the highest number of visitors ever.
But now it's time to shift continents, and travel 8 500 km or so … to Johannesburg. Because, after years of yearning for such a show, the powers that be at Messe München International decided that it was time to bring Bauma to this country.
Compared to the original event in Munich it was, of course, much smaller. Having said this, we were still impressed with the scale and quality of the first show, which took place at the Gallagher Convention Centre in Midrand from September 18 to 21. The numbers (for a first-time event) were good too: 754 exhibitors from 38 countries welcomed 14 700 visitors from more than 110 countries.
Naturally, given the prominence of the event, launches were a dime a dozen at Bauma Africa.
Internationally recognised earthmoving equipment manufacturer Shantui launched its new 48-tonne SE480 excavator and SL60W-3 wheel loader at the event. Shantui vice general manager for equipment in Southern Africa, Garron Troskie, points out that the company's new SE480 excavator boasts a 47,6-tonne operating weight and a bucket capacity of 2,3 m³, making it ideally suited for mining and quarrying applications.
"Mining and quarrying are among the most rapidly developing sectors in Africa, and the introduction of the SE480 excavator will assist Shantui in gaining a stronger foothold in this market. The excavator offers power and quality at an affordable price, and is designed for quarrying applications, as well as for entry level mining operations," he tells FOCUS.
Bell Equipment had 28 machines on display. One of the highlights of this stand was the Bell B50D Ejector, which is designed for tough mining applications. It features heavy-duty specifications that offer improved safety while simultaneously providing solutions to sites with limited tipping space and a need to tip on the fly or load spread. Incidentally, Gary Bell, CEO of Bell Equipment, was pleased with the show. "Bauma Africa worked very well for us. We are very pleased with the number of visitors and their quality was good. It seems that we are going to have a good output," he remarked.
Babcock International, which distributes equipment made by Shandong Lingong (SDLG), displayed the company's latest motor grader, the 146 kW rated G9190. Powered by a German-designed Dalian Deutz electronic injection engine, the motor grader offers premium performance – from highways and airports to construction and agricultural applications. The machine comes with a blade down force of 8 386 kg, which maximises cut depth without front-end drift.
American company Osborn launched the Shuttle Buggy, a material transfer vehicle that is claimed to reduce road maintenance costs by up to 90 percent.
Osborn also had an American Augers Auger Bore and DD-110 Horizontal Directional Drill on display at Bauma Africa. "American Augers' Auger Boring Machines are designed for the fast, efficient installation of wider diameter pipes from 450 to 3 500 mm.
"They eliminate the safety risks associated with traditional tunnelling methods like pipe jacking and are more efficient by utilising the quick tram mode that is unique to American Augers' equipment," comments commercial director Stephen Ireland.
Audie Steel & Engineering launched the Audie Speedstar drilling rig (patent pending). "The Speedstar, with its automatic rod handling capability, is set to save drillers huge amounts of labour and time. And, as we know, time is money," says Neels Audie, the company's CEO.
He's right – of course. And Bauma was all about introducing new products and technology that will help the construction and mining industry to do just that.
The next Bauma Africa will take place in 2015 (we'll publish the precise dates as soon as they're announced). See you there!
Focus on Transport
November 1, 2013
Published by