Boosting local entrepreneurship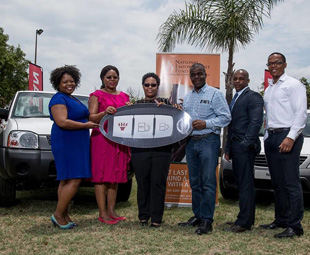 Nissan South Africa donated eight vehicles to dynamic South African entrepreneurs, to support and help grow their businesses, in partnership with the National Empowerment Fund (NEF).
The sponsorship includes four Nissan NP200 Base models, one NP200 Base+ model, two NP300 Hardbodys and one NV350 panel van, which were handed over on November 23 by director of corporate and general affairs at Nissan Group of Africa, Wonga Mesatywa, and NEF CEO Philisiwe Mthethwa.
"Small and medium-sized enterprises form the backbone of the South African economy. It is estimated that they provide employment to roughly 60 percent of the labour force and account for about 34 percent of South Africa's gross domestic product," says Mesatywa.
"Nissan is in the business of building brands, in producing innovation that excites, and in helping small businesses succeed, so that they can continue to create jobs and support the economy.
"We believe that these eight beneficiaries have built strong business models and we hope that our vehicles can make their day-to-day activities a little easier – and a lot more fulfilling," Mesatywa adds.
The beneficiaries include:
• The FOSST Discovery Centre at the University of Fort Hare, which will use its vehicle to coordinate community-based science projects as part of its efforts to enable and encourage the youth to follow careers in the fields of science, technology, engineering and mathematics.
•Khuvena Consultancy (trading as Engen Palm Valley) is a 100-percent black-owned service station in Roodepoort. Owners Vukani and Nokuthula Khumalo will use their vehicle to transport stock and for a variety of day-to-day activities.
•Okubabayo (a manufacturer of atchaar in Krugersdorp) is a B-BBEE Level Two Contributor with 125-percent B-BBEE procurement recognition. It will use its vehicle to grow its business by increasing its stockist footprint.
•Masefane Trading is a 100-percent black, female-owned construction and civil works company. It will use its vehicle to transport equipment to construction sites.
•Dandozest is a 100-percent black, female-owned catering business headed by chef Nontuthuko Constance Shandu. She will use her new vehicle to transport catering equipment.
Focus on Transport
November 24, 2016
Published by