Bridgestone walks the autism talk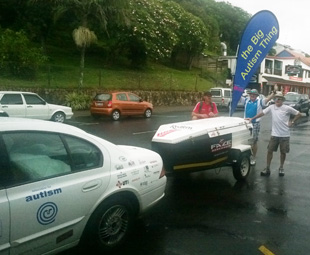 With no known cure for autism, organisations like the Association for Autism need all the help they can get to raise awareness and care for those suffering from the disorder.
The association has, therefore, launched the 2015 Big Autism Thing. This large-scale coastal walk will raise funds and awareness for autistic people, with Bridgestone South Africa a proud sponsor.
The walk began on March 1 in Port Shepstone, KwaZulu-Natal, and ends in Strand, Western Cape, on May 2. Six walkers, dubbed the Autism Champions by the organisers, will tackle the almost 1 500 km route in their Bridgestone-sponsored clothes. As they enter towns, they will be joined by local support groups, residents and other community organisations.
"We are very pleased to be involved with the Big Autism Thing," says Bridgestone PR manager, Desirée van Niekerk. "What's important to us is that the walk isn't just a fundraiser, but an awareness raiser too – the Champions will be meeting with mayors and community representatives to improve understanding of autism and to hand over funds raised to the local organisations that provide support to autistic people," she adds.
The Big Autism Thing fundraiser will include a volunteer support team, who will pave the way for the Champions in each town. The support team will also provide essentials, such as first aid, during the journey, as well as supply information and promotional materials to local residents. All the support vehicles will drive on tyres sponsored by Bridgestone.
"For those who suffer from autism, and for their family and friends, it is a very challenging condition," van Niekerk says. "We hope our contribution to the Big Autism Thing will go some way to providing assistance and relief to autistic people," she concludes.
Focus on Transport
March 5, 2015
Published by