Captain of the bus industry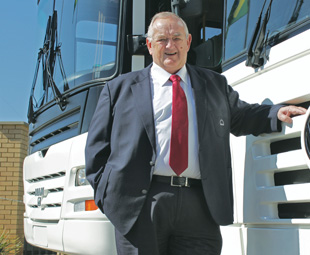 Mention Ray Karshagen's name to anyone in the local bus industry and they'll know exactly who you are talking about. FOCUS spent some time with "Mr Bus" to share his experiences, his passions and his future visions.
After 37 years service in the South African bus industry, Ray Karshagen is currently deputy CEO, MAN Truck & Bus Southern Africa, responsible for the bus business in the Sales Region Middle East and Africa. This includes bus sales, product management, bus body production and the total after-sales business.
Karshagen joined MAN officially in January 1999 when MAN took over TFM Bus & Coach. He had been with TFM since January 1997, so in terms of service has been with MAN for a total of 15 years.
His bus industry involvement goes back to 1974 when he joined Busaf, which was one of the longest established bus body building companies in South Africa and a member of the Dorbyl Group. Karshagen started in East London; moved to Elandsfontein in 1978; and was appointed general manager of the Butterworth bus body plant in the then Transkei in 1981. The plant closed in 1983 and this resulted in Ray's relocation to Busaf Letaba in Tzaneen, and in 1988 he moved back to Elandsfontein as national sales manager for Busaf before being appointed executive director of the bus division in Dorbyl Transport Products Division in 1992.
MAN was not closely linked to other body builders and developed an interest in creating its own bus body manufacturing company, which ultimately led to the take-over of TFM Bus & Coach in 1999. "This brought standardisation, enabling MAN to build unique MAN-looking buses on MAN chassis, with uniform dimensions and wheelbases," says Karshagen.
When the new HB chassis range came to market in 2006, MAN could for the first time style bus bodies for front engine chassis along European lines. The range of MAN buses and coaches in Germany is known as the Lions family, comprising the Lions Coach, Lions City, and Lions Regio inter-city. MAN SA added the Lions Explorer body, built on the HB chassis and designed to meet local operating requirements, and having the appearance of the European family members.
"Since 1999, customers were able to purchase a complete bus from one OEM, and any problem that might arise could be pursued with that company – it was no longer body-related or chassis-related issues, but MAN-related, and could be addressed to MAN for solutions," explains Karshagen.
Today the Olifantsfontein factory is considered in the MAN world as a benchmark factory that other manufacturing facilities in the group are measured against, says Karshagen proudly. "With the government's local job creation initiative, it makes a lot of sense to promote the Lions Explorer to sister companies in right-hand drive countries. Much interest has already been shown, so the vision has changed from this world-class manufacturing facility in Olifantsfontein not only building for the Southern African markets, but sharing its expertise and build quality."
Karshagen is also passionate about the people he works with and the labour force in general. He says, "The future is going to be driven by legislation with local job creation as a focus, and I support it." Soon to come is legislation regarding preferential purchasing by government and parastatal departments of designated products that have high local content and therefore high job creation. Buses are amongst these designated products. "Our focus is to scrutinise the chassis to determine which imported parts can be manufactured locally."
Another meaningful job-creator, in Karshagen's view, would be a bus recapitalisation programme. "This would create many job opportunities at primary and secondary tier supplier levels. Replacing buses 15 years and older would be a possible starting point. Safer buses were built from 1998 when roll-over compliance became mandatory." Improved passenger safety would be another benefit.
"The bus industry is dynamic, and whilst I am driving many major projects, I am privileged to find I am learning new lessons every day," says Karshagen.
Focus on Transport
December 1, 2011
Published by