Creating the path to greatness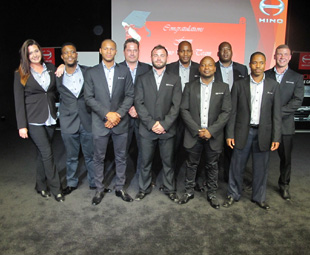 In a bid to drive the growth and development of its employees, Hino South Africa runs the Hino Learnership Programme (HLP), the latest of which has been the most successful yet.
Ten truck sales executives from Hino branches around the country were presented with certificates after the nine-month programme.
The objective of the HLP is to enable the employees to recommend the correct truck for a specific application, and to calculate the most suitable finance package for the customer's business model.
"I started working on the vision for this comprehensive training initiative two years ago," says Hino SA vice-president Ernie Trautmann. "I am more than delighted with the outcome and am looking forward to meeting the next group when we start the 2018 HLP in February."
The course delegates will receive Merseta National Qualifications Framework (NQF) 4 certification early in 2018. The successful participants are now able to obtain diplomas and degrees through further study with various institutions.
Nem Singh, the vice-president of human resources, and training at Toyota SA Motors (TSAM), says the success of this training course was a tribute to outstanding teamwork between Hino SA, the Hino dealers involved, the Toyota Academy of Learning for Africa and the specialist training consultancy, TTBS.
The Top Student Award for the 2017 HLP course went to Larissa Snyman, of Hino Oranje in Bloemfontein. Snyman, who started her working career as an estate agent, also won the award as the Most Engaged Learner for constantly coming up with suggestions to provide a better customer experience.
The Out the Box Award – for the person who showed a unique personality that kept the group going during the long days of classwork and who perceived things from a different viewpoint – went to Given Jones, of Hino Mbombela.
James Sibutha, of Hino Honeydew, won the Networker Award for the person who made the most effort to get to know the other delegates in order to keep in touch for future knowledge sharing.
Andzani Baloyi, of Hino Isando, was presented with the Noted Progression Award, for displaying the most personal growth as an individual, while showing initiative in terms of completing portfolio tasks.
Shaun Neethling, of Hino Indongo, who, before joining Hino Indongo in 2014, started his own business using his parents' truck, won the Most Enthusiastic Award for showing the most enthusiasm, energy and passion during the programme.
"These people are integral in our quest for brand leadership," says Trautmann. "A recent survey of our sales force revealed that 31 percent are over 50 years of age and are responsible for 41 percent of our sales, so ongoing renewal in our sales teams is vital for future growth."
Focus on Transport
February 9, 2018
Published by