Designing transportation, timing and delivery
Whether the core tasks of your business revolves around buying, making, moving, storing or selling the technology solutions offered by supply chain management company, Silver Rock Logistics, are designed to improve system flexibility to enhance profitability.
Achieving a competitive edge in the areas of bulk distribution, integrated logistics and supply chain management is the dream of many a company but difficult to achieve if manufacturing or production is your core business and in-house technology resources are limited.
 Fortunately, this is exactly the kind of value-added cost-saving service offered by a team of multi-skilled experts who have pooled years of experience in IT, transportation and warehousing for the benefit of clients operating in a multitude of industrial markets.
 Silver Rock Logistics (SRL) a three year old company, based in Centurion; operate a nationwide network of carefully selected IT, transportation and warehousing suppliers. Already it sports an impressive track record of optimising all aspects of supply chain management by enhancing their clients' efficiencies and profitability from the start.
 "Our objective is to provide solutions which are in excess of what the customers can achieve themselves, by allowing the customers to focus on their core business and to have peace of mind that their partners are adding maximum value to their business," says Peter Montgomery, CEO of SRL.
 "In fact, after the initial assessment of a client's specific requirements, every project blueprint we devise is unique," said Montgomery.
Typically the benefits that we seek to provide for our customers include: improvement in asset / resource utilisation; Reduction in claims and customer queries; reduction in communication and radio costs; reduced administrative functions like credit notes, data capturing and document scanning; improved fuel consumption; elimination of goods lost in transport and elimination of paper and document storage costs. 
 The proof of the pudding lies in SRL having master-minded and executed a variety of assignments ranging from long-term projects to short-term and ad-hoc projects. Projects include work for a listed coal mining group, Eskom and also a world food aid programme demonstrating that SRL has a cross-border capacity as well.
 Montgomery has spent the last 20 years working for several prominent companies in the supply chain, motor manufacturing, information technology and consulting industries. Over this time, he has honed his skills and gained valuable experience in long haul distribution, electronic proof of delivery solutions, warehouse management systems and supply chain integration. Along the way he read for an MIA (masters in industrial administration) at the University of Cape Town.
 Added expertise comes in the form of his partner, Hennie Buys managing director of SRL, who hails from a well-known South African transport family. He has managed and/or owned several companies in the timber, construction, property and transport industries. Since 1999, he has owned two companies, which specialised in the distribution of containers, bulk and bagged fertilisers, grain, cement and fast moving consumer goods (FMCG). Buys also brings with him his extensive experience of flat deck and taut liner interlinks, as well as aggregate interlink tippers. Additionally Buys' contributes extensive marketing and negotiation skills.
 Combine these skills and experience and the end result is an independent, intellectual capital driven, supply chain and integrated logistics management business which provides innovative and tailor-made solutions for their clients.
 Suppliers to SRL include technology companies, bulk road hauliers, and freight distribution companies, shipping companies, rail and airline operators, courier companies and warehouse management companies. However, not being constrained by ownership, SRL is able to source the relevant expertise and services where required in an ever-changing, competitive marketplace.
 They have recruited the services of a number of pre-screened road transport operators in particular Trans Africa Logistics (TAL) a division of Super Group Holdings whose performance is monitored 24/7/365 by state-of-the-art fleet management modules. While they have developed their own in house load and fuel management systems, they also use state-of-the-art systems like DigiCore's C-Track and continue to enhance these systems where necessary.
A case in point is the systems flexibility SRL offer: not being confined to rigid transport schedules, we are able to react swiftly to fluctuations in demand/supply situations and accommodate future demand patterns and revenue targets. Montgomery says, for example, a driver can be instructed to carry out non-scheduled tasks and collection or delivery times can be changed with minimal impact on the driver or workflow, thereby taking advantage of a value-adding or cost-saving opportunity.
SRL's methodology incorporates IT to optimise loads, turnaround times, vehicle status and tracking, fuel consumption, driver monitoring, etc. Exception reporting, apart from being relayed live via satellite, also sounds alarms in the cab to remind drivers of things they should or shouldn't be doing.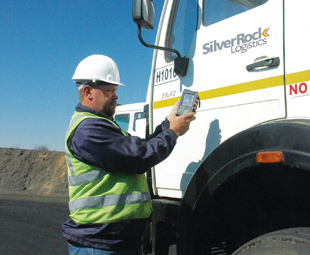 Additional system features include client "dashboards" and shared IP with clients in the areas of on- time delivery and fuel consumption management. Although SRL's proprietary electronic proof of delivery (ePOD) system produces clean invoicing and no paper work, by supplying the documentation in electronic format (thousands of weighbridge certificates can be reconciled in seconds). The ePOD delivery solution also includes optimisation of warehouse inventory levels with ongoing management, thereby reducing overall logistics and storage costs.
Montgomery showed how technologies such as VSAT / GPRS / GSM, allow full track and trace via a laptop or mobile phone. It can enhance the delivery operations by providing an electronic signature capture, enabling more accurate control and management of the delivery and collection related processes thereby speeding up administration and reducing debtor enquiries.
"Depending on the diversity of the project or contract, all vehicles can be equipped accordingly," Montgomery says.
 SRL currently manages an extensive fleet of vehicles, which are closely monitored from a central database. Montgomery can remotely, from his office or on the run, determine how productively the vehicles are performing in terms of bulk material movement per hour and also when vehicle repairs or replacements are necessary, thereby maximising vehicle utilization.
 SRL's sub-contractor Super Group, makes use of 27 POWERSTAR 2642S 6×4 truck-tractors in their fleet. They are operated in combination with mostly tandem-axle interlink tippers from Top Trailers, one of South Africa's leading trailer manufacturers, as some 90% of current projects are in coal and chrome mining in Mpumalanga.
 The POWERSTAR 2642S they use for their short-haul bulk transport is ideal as it is well-adapted to Southern Africa's harsh conditions. These vehicles are shipped in SKD format from the manufacturer Beiben, in China, and assembled at the POWERSTAR assembly plant in Pietermaritzburg.
 POWERSTAR is owned by Beiben and their parent company, Norinco Motors with financial backing from CAD fund. This direct relationship brings many advantages to POWERSTAR and its customers allowing improved parts supply, opening channels for reverse engineering and ensuring access to new technology. This newly formed relationship also shows the commitment Beiben and POWERSTAR has towards the Southern African market.
 POWERSTAR operates from its head office in Jet Park, Kempton Park and has dealers in Middelburg, Jet Park, Centurion, Cape Town, Ermelo, Swaziland, Botswana and Namibia. The service network makes use of F&R Phakisa who are well equipped to respond to all POWERSTAR service and parts needs.
 To comply with current legislation, POWERSTAR features more advanced Euro 2 engine technology like direct injection, turbo charging and inter-cooling that do not require laptops to diagnose problems. Problems can be rectified on-site and eliminates the need for a tow truck to take it back to the workshop.
 As Frans Cloete, president and executive officer puts it; the product steers clear of sophisticated electronics that more often than not result in complications and additional expenses in the areas of maintenance and repairs, especially in remote areas.
 "With Eaton Fuller and ZF manual transmission options, in 280, 350 and 420hp derivatives, POWERSTAR trucks are ideal for on/off highway duty, such as construction, mining, waste or agriculture. POWERSTAR's parts and support services are world class and coupled with a 12 month/100 000km warranty on the vehicle and a 24 months/200 000km warranty on the drivetrain, POWERSTAR is an excellent value-for-money vehicle."
 Montgomery and Buys call it a "nuts and bolts" vehicle which, like its predecessor the Powerliner, is ideally suited to their applications in the Witbank-Middelburg-Rustenburg areas. Both Montgomery and Buys are highly impressed with not only the performance of the POWERSTAR and Top Trailers, but also with the back-up services they and their "privateers" are receiving.
 Working off the beaten track in Mpumalanga, and in collaboration with Super Group and POWERSTAR, SRL is establishing its own "parts bin" for vehicle back-up, as well as a fuel depot. The back-up from POWERSTAR also extends to special driver training and factory modifications to the trucks to optimize their performance in, mostly, rugged off-road conditions.
"What we are now trying to do is to standardise on one truck model and one trailer to maximise the movement of coal to a consistent 34 tons instead of variable loads as low as 27 tons" says Montgomery.
Both partners reiterate that the primary aim of technology solutions is to optimise the profitability of a company by considering all the constraints and critical values of the buy, make, move, store and sell processes.
 "Closing the loop between demand and supply planning is viewed as one of the most critical processes," Montgomery says.
 "From vehicle loading, through delivery and collections, to returns management, the solution ensures full visibility of assets and operations, dramatically reducing errors and goods lost in transit.  By enhancing an operation with managed best-practice processes, customer service is improved and the management of debtor queries is substantially simplified."
 SRL's integrated approach to supply chain management, with inventory holding and carrying costs as the main driver, has been a proven success. Previous projects have given customers stockholding reductions of 40%, road congestion reductions of 50%, service level improvements of 30% and distribution cost savings of 30%.
 Achieving these savings in an environment where transportation costs have come under increasing attack is certainly nothing to be sneezed at. 
Focus on Transport
September 1, 2010
Published by