GAVIN MYERS puts the first Chinese vehicle to pass through FOCUS' hands to a thorough test and asks if it could be the dawn of a new era? This review starts off with a little game: I say "Chinese", you say…"?" Well, I'm sure you're saying a lot – most of which is probably the kind of stereotyping that all new manufacturers from the East constantly face.
To give credit, most of these companies have been trying of late to alter this perception in one way or another; be it by introducing newer, more impressive models, a more aggressive marketing approach, or simply committing to a future in the country.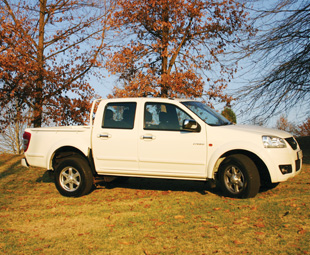 Great Wall Motors, though, is one of the few Chinese manufacturers to have stayed in the South African market since it entered in early 2007. Slowly, the initial range of single and double-cab bakkies has expanded – along with various passenger and lifestyle vehicles – to culminate in the latest GWM Steed 5 range. Fairly or unfairly, the Steed 5 (along with the similarly new H5 SUV) has a lot resting on its shoulders for the brand…
And so it was with a certain curious expectation that we approached the Steed 5 double cab 2.4 MPI 4×2 delivered to us. First impressions seemed promising. Casting your mind back to previous (and even some current) Chinese bakkies will bring forth mental images of predominantly Nissan Hardbody and Isuzu KB love children.
But the Steed 3 introduced its own identity and now the Steed 5 has brought an even bolder and perhaps unique image to GWM's pick-up range. It's actually quite handsome too, if a little smaller than most other double cabs on the market. The image, though, is one that says (although perhaps not shouts) "look at me"… and I was surprised at how many people did…
GWM has extended this trend to the interior as well, adorning the rather comfortable seats with leather and the rest of the upholstery with a durable and hard-wearing material. However, it is all a direct carry-over from the older Steed 3 and the dashboard, fittings, switchgear, etc remain the same.
As a slightly more upmarket model, the Steed 5 could certainly benefit from an upgraded dash with higher quality plastics, as this more utilitarian approach is probably better suited to the cheaper Steed 3. That said, the level of fit and finish is impressive enough, with everything of importance feeling solid to the touch.
You'll also get a decent array of features: dual airbags; power steering; electric windows (only one-touch down for the driver) and mirrors; air-conditioning; and a really good MP3 sound system with remote buttons on the steering wheel. There is no on-board computer, nor, bizarrely, a visible clock.
Unfortunately, from here things begin to slide down a slippery slope. And that's not only because this "4×2" model has no diff-lock, nor mention of one anywhere. Even if there was, though, I struggle to see how the 2.4 4-cylinder petrol engine would cope if anything serious were asked of it. GWM claims outputs of 100 kW and 200 Nm but it certainly needs more.
We used the Steed 5 for a trip from our Johannesburg office to the Drakensberg and back and, while the vehicle was able to maintain a good cruising speed, getting up to speed and overtaking were difficult tasks for the lightly-laden bakkie. There is simply not enough torque on tap and the engine does not enjoy being revved, becoming noisy and sounding rather strained. Compounding this, we felt some of the gear ratios were slightly mismatched.
There are no quotable fuel consumption figures for the Steed 5 available from GWM, but over FOCUS' time with the vehicle (including the Drakensberg trip) we averaged 8.6 l/100 km. Again, bear in mind that this figure is made up of mileage which was predominantly clocked-up while cruising and is not an overall average. All considered then, the 2.5 TCi diesel might be the better option.
The driving experience is further marred by a less than ideal driving position (the steering wheel only adjusts for rake and the seats have a limited range of adjustment) and a ride that is reminiscent of much older generation double cabs. What GWM has got right are the brakes, which, with ABS and EBD fitted, feel reassuring and are powerful enough in their operation. Visibility and manoeuvrability are also good.
We know GWM is committed to its future in South Africa; is marketing its products nicely; and a steady stream of new models (that you have to look at twice to realise are Chinese) are flowing to showroom floors. To further the value-for-money proposition of the Steed 5, the vehicle retails for R184 990 and GWM is subsidising the CO2 tax for the customer. It also offers a three-year/100 000 km warranty, however no service or maintenance plans are available as yet.
But the big question still remains: would we recommend one? That is best answered with the desired application in mind.
While the GWM performed faultlessly during our time with it, it was clear that, looks aside, this latest offering is still some years behind the rest of the double-cab pack. That is its downfall; buyers of top-of-the range double-cab bakkies will simply expect more. If, however, one intends to use it as a workhorse, it might just be an attractive proposition, especially in 4×4 diesel guise. We suspect the recent introduction of the single cab – albeit currently only with the 2.4 petrol engine – will reinforce this. From there, it's all up to the buyer to look past those Chinese stereotypes.
Focus on Transport
October 1, 2011
Published by