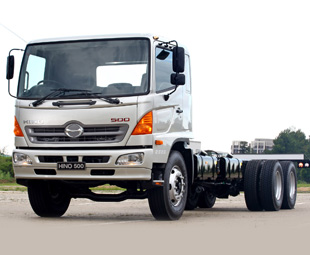 "The 6×2 freight carrier market has exhibited significant growth over the past five years, rising from about 250 units to more than 500 units per year, so it is important for Hino to have a model to suit this growing demand," says Hino South Africa vice president, Ernie Trautmann.
The company has added a new model to its popular 500-Series range of trucks in the form of the 6×2, long-wheelbase 2626 freight carrier. The model code refers to the 260 hp (around 190 kW) engine and a gross vehicle mass of 26 t.
The introduction of this model extends the 500-Series range to eight models, including a tipper, a four-wheel drive and various freight carriers.
"Previously we had only the shorter wheelbase 1626 and 1726 models with a tag axle to offer in the 6×2 market," explains Trautmann. "Chassis were extended or shortened where required for the specific load type. The new longer-wheelbase 2626 derivative offers a significant improvement of 2 000 kg in payload."
Hino states that the wheelbase of the 2626 is 5 850 mm, with a further 1 300 mm between the centres of the two back axles. "This allows for the fitment of a wide range of bodies and is linked to a body and payload allowance of 17 780 kg," the manufacturer adds. "Fitment of a maximum-length body, which provides an internal length of 9,9 m, will allow the transport of 18 lighter-weight standard pallets."
Under the hood (or, rather, cab) you will find the new Hino J08E model that is a direct injection, common-rail, turbocharged six-cylinder engine of 7,7-litre capacity, which complies with Euro-4 regulations. Its 739 Nm of torque is delivered via an Eaton nine-speed transmission.
Hino states that the 2626 has a full floating cab, which has electric tilt and, on the two rear axles, dual-air Hendrickson suspension. ABS anti-lock brakes, side-impact beams in the doors and standard seatbelts contribute to driver safety. There are two fuel tanks, each of 200-litre capacity.
Inside the cab, drivers can enjoy air-conditioning, a radio/CD player, a multi-adjustable seat, rake and reach adjustable steering column, as well as a suspended pedal assembly, which can be adjusted to the optimal pedal height for each driver.
Trautmann concludes: "We are already receiving serious inquiries about the new model from operators and are pleased we have been able to fill this gap in our 500-Series line-up."
Focus on Transport
August 13, 2014
Published by