In November, the transport community said a sad, but fond, farewell to Gerrit van de Wetering (75), the founder and co-owner of Afrit
As a family run business, Afrit has a stellar reputation for being a company that follows only the best and most ethical business practices. This is thanks to the vision and dedication of Gerrit van de Wetering.
In 1965 and 1966, in his spare time, Gerrit started doing technical drawings for a company that was involved in water purification systems. His brother, Johan, says: "His technical drawing and design work expanded so quickly that he resigned from his permanent job and started designing full time from his house in Gezina."
Soon he needed to start manufacturing his designs, so his dad, Arend, and brother, Klaas, set up a workshop in Gerrit's garage and started helping him on weekends.
In 1968, Arend and Klaas both resigned from their jobs at Bosal and started to work with Gerrit full time. The company was then known as Van de Wetering Engineering, but has since grown into the company we all know today as Afrit.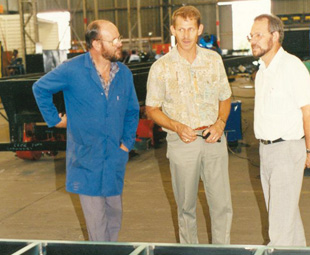 In 1973, Gerrit's two younger brothers, Theo and Johan, also joined the expanding business. The company soon relocated from the tiny garage to its first factory in Pretoria. Continuing to grow in leaps and bounds, this family-run success story quickly moved on to its impressive manufacturing complex in Rosslyn, from where it still operates today.
Johan says: "Gerrit's outstanding design talent led to numerous brilliant and unique products. This is clearly visible in Afrit's versatile and capable product range."
Gerrit van de Wetering was a true creative visionary. According to his family and co-workers, the secret to his success was a true passion for his work and the determination to make sure every minute detail was absolutely perfect.
His in-depth understanding of the industry meant he knew exactly what clients needed, and it's thanks to him that Afrit has such an excellent reputation for client service.
The only thing Gerrit loved more than designing was his family. Our heartfelt condolences go out to the entire Van de Wetering clan and everyone in the Afrit family. We know they will continue with his vision for Afrit, and no doubt make him extremely proud.
Focus on Transport
December 3, 2016
Published by