"We finish whatever we start." This statement by Stefano Chmielewski, president of Renault Trucks, at the conclusion of Renault Trucks' incredible Cape to Cape expedition, epitomised the company's approach to this overland adventure. However, as CHARLEEN CLARKE notes, it also applies to the company's attitude to the local truck industry. When I think about Renault Trucks, I have visions of French fashion, oysters… classy, stylish stuff. I do not think about Tietiesbaai. While it's unquestionably beautiful, this little hamlet outside the West Coast fishing town of Paternoster tends to attract nature lovers who camp next to the cold waters of the Atlantic Ocean, shunning luxuries such as hot baths and cold champagne.
Yet, this was exactly where I bumped into the Cape to Cape convoy on a blissfully beautiful Sunday night. The encounter was totally unexpected. After months of travelling through 17 countries – the convoy conquered 30 000 km – the Kerax trucks and Sherpa 4x4s were meant to spend their last night on the road in the winelands.
Alas, a deluge of rain meant that their campsite resembled a lake. Even though the intrepid travellers were accustomed to hardships, they detoured, ending up in the most unlikely setting of Tietiesbaai. And met yours truly.
Over foie gras, prawns and wine (the feast lifted Tietiesbaai to new culinary highs), I simply had to ask the Renault Trucks president the questions many observers had been burning to ask: in the wake of flailing commercial vehicle sales, did he consider cancelling the expedition? "Never," he responded, with utter conviction. "We finish whatever we start."
But surely it must have been massively expensive? "It cost €2 million to €2.5 million
(R23 million to R28.3 million) for the logistics alone. That excluded the cost of the vehicles (of course, some of them will be sold, so we will recoup part of those costs). But it was worth it. The vehicles will be analysed and we will learn from this experience. Virtual testing is nice but real testing brings much more information – the vehicles and drivers were subjected to high levels of stress, and they passed with flying colours," he noted proudly.
The expedition was especially valuable when it came to developing the Sherpa. The vehicle has long been sold in military applications, but this was the foray to the launch of a civilian Sherpa – 150 of these exclusive and expensive vehicles will be built (they will cost "a couple of hundred thousand euros"). "With the Kerax, we didn't find out much that we didn't already know, but we learnt a great deal with the Sherpas," said Chmielewski.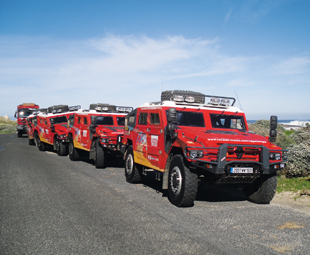 The Sherpa looks like a bigger and considerably more butch Hummer, but Renault Trucks doesn't intend competing with the Hummer. "That is a toy," Chmielewski noted with disgust (and a smile). As an aside, some of these Sherpas will be destined for the Middle East, while Sébastien Delépine, general manager of Renault Trucks, reveals that there is also interest in the Angolan market. (Incidentally, the company sold over 500 trucks in that country alone last year.)
After feasting and chatting in Tietiesbaai, we all packed up and headed for Cape Town – Cape Point specifically, which was where the epic journey was scheduled to officially conclude. In the Mother City, we also attended a media conference, where Chmielewski chatted about the success of the expedition and Renault Trucks' plans for this market.
One thing is certain: Chmielewski is determined to do better, and he's not content with the company's miniscule market share in South Africa. He wants growth – both locally and overseas. Of course, given the embattled commercial vehicle market, this will be a challenge. "Consumers are adopting a cautious approach to any investment (even relatively inexpensive items such as washing machines or vacuum cleaners) and this has a snowball effect, which ultimately leads to trucks that are standing. In Europe, 30 to 35% of the fleets are at a standstill. However, we believe that the financial support by the European and American governments will soon result in a rise in the demand for transport. Things could start improving as early as September or October this year," Chmielewski predicted.
He reckons that next year will be even better for the commercial vehicle industry. "We believe that, entering 2010, the level of activity in this market will return to 2002 and 2003 levels, which – while not especially buoyant – were not bad years," Chmielewski maintained.
Irrespective of what happens to the commercial vehicle market, he emphasised that Renault Trucks was in South Africa for the long haul. He described Imperial's decision not to import the brand as "unfortunate", adding that "it went against our wishes". But he said that this would not impact on the brand's longevity locally. "South Africa is one of the most advanced countries on this continent and we believe that we have the vehicles necessary to support infrastructure development. We have vehicles that can go anywhere under any conditions," he noted.
His next statement took me right back to Tietiesbaai – and his approach to the Cape to Cape. "Whenever we decide to come to a country, there is no retreat. There is only one way forward and it is success. We will finish whatever we have started," he stressed.
Focus on Transport
August 1, 2009
Published by