FOCUS, our Truck Test partners and industry stakeholders met at Engen HQ towards the end of October, to thrash out the details of Truck Test 2016.
This was a very important meeting … what was to be decided, from the reactions and feedback of those in attendance, would set the template for the way all future Truck Tests would run. Happily, reactions and feedback were both positive and constructive.
Martin Dammann, coordinator of the event, contextualises: "Over the years we've tried to tighten the rules and improve the format, in order to make the tests more meaningful to manufacturers and operators and allow the whole industry the chance to participate.
"From next year, we want to create a standard format that we will follow for every test thereafter. The platform (including routes) will be consistent and will allow for benchmarking of vehicles and future comparison to those run previously."
As highlighted in the October issue of FOCUS, the test will be open to all types of vehicles with the only defined criteria being set payload categories for the different routes. These routes – a short-, a medium- and a long-haul – have been specifically devised to simulate the typical operating conditions of each vehicle category as accurately as possible.
The routes will all begin and end at a central location called "the hub". While routes are still being finalised, this is likely to be the Engen 1-Stop, on the R59, just south of Johannesburg. The short- and medium-haul routes will be set within the area, as traffic disruptions should be minimal.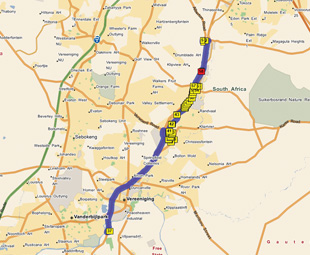 The short route will be suitable for vehicles with a one to eight-tonne payload, solo-type vehicles (such as mixers and tippers) and even 8x4s. The route will include many stops and starts and vehicles are expected to run at an average speed of roughly 30 km/h.
The medium route is aimed at vehicles with a payload higher than nine tonnes, and could include 6×4 truck tractors with tridem trailers. A lap of this route will equal roughly 100 km and the average speed should be 45 km/h.
For the long-haul route, vehicles will travel from the R59 to the N3, which they will join near Heidelberg. From here vehicles will travel to the Bergville interchange and back again – a distance of over 600 km. The average speed on this route is expected to be 75 km/h.
As in the past, the test will be run over two days to include both laden and unladen simulations.
"We encourage participants to run standard, legal, South African-spec vehicles, so that their customers can get an accurate picture of what the vehicles can do. However, we will report on what is brought to the test, including any spec changes made for the test, with full disclosure," Dammann says.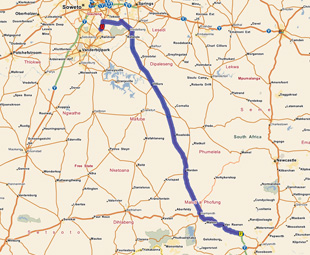 From 2016, an interesting aspect expected to feature in Truck Tests will be the inclusion of low-emission vehicles that require a urea solution (AdBlue). "We would measure AdBlue consumption as it is a cost, but just for interest," says Dammann.
Lindsay Bassett, key account manager: transport, commercial fuels at Engen, says that more and more vehicles are running with AdBlue. "It is a product that is starting to gain traction, so we will definitely make it available for any vehicles that require it," he notes.
Due to the open nature of future Truck Tests, other special vehicles are expected to feature as well. "There is an option to enter prototype, gas-powered or diesel-electric hybrid vehicles into a special category, which will be reported on separately," explains Dammann.
The future of Truck Test sure looks bright.
Focus on Transport
November 1, 2015
Published by