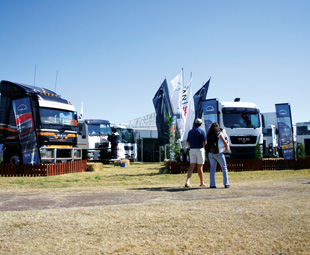 Despite fears that this year's NAMPO Harvest Day would be disrupted by a somewhat impromptu public holiday, it proved to be bigger and better than ever. FOCUS took a trip to the Free State to soak up the country sun, breathe in the fresh air and share the farming culture.
Almost every year for the past decade, the NAMPO Harvest Day has grown in terms of both exhibitors and visitors. Figures are up from last year's 650 exhibitors to more than 670 this year, and, while there was a recorded number of 68 900 visitors in 2010, this year's count totaled 73 552. The impromptu public holiday – voting day on 18 May – caused consternation as those who had not made it to NAMPO Park by lunchtime were asked to turn back and return on one of the remaining two days!
"NAMPO Park's infrastructure was designed to comfortably handle a large number of visitors, but today's numbers were possibly the highest per day in the history of the Harvest Day," said Jannie de Villiers, CEO of Grain SA. On the day, however, Grain SA (the show's organiser) prepared for an increased number of visitors, expanding the parking and creating additional temporary entrances.
Luckily, we made our way down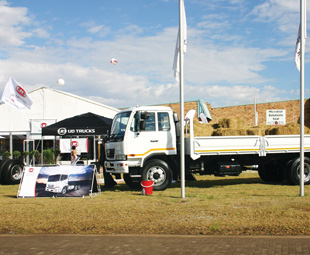 early the day before, in a Tata Xenon 2.2-Dicor 4×4 double cab (which made traversing a tricky section of rough dirt road a breeze) kindly loaned to FOCUS by Tata SA. Even then, though, it was impossible to miss the hordes of people heading in the direction of Bothaville.
It is doubtful the original organisers, back in 1967, could have ever anticipated their pioneering shows – held on different farms until a permanent home was needed in 1974, when a massive 32 exhibitors and 200 visitors needed to be catered for – would grow to be so widely popular. And that it would grow into such a festival event.
The show is said to be one of the largest privately organised and owned exhibitions in the world, and the largest show of agricultural machinery and livestock in the southern hemisphere. "We receive many compliments on the Harvest Day as a whole – many of them on the high standard of the exhibitions. The general feedback from exhibitors is also positive about the Harvest Day as a business opportunity," says Jub Jubelius, chairman of the NAMPO Harvest Day Committee.
Yes, NAMPO has grown to be one great oak. And there were some other great 'okes' there too. Celebrity of the show was undoubtedly South Africa's much admired Sarel van der Merwe, who could be found at the VW stand. "Supervan" is Brand Ambassador of the VW Amarok, which was previewed in single cab form at the show. Some visitors were lucky enough to catch a ride with him putting the new bakkie through its paces on the 4×4 track.
Another much anticipated newcomer was previewed at the Ford stand. Despite a local launch only later this year, the all-new Ranger was displayed for the first time on African soil especially for NAMPO attendees.
"The producers and the agriculture community are important to us, so we built a vehicle especially to show at NAMPO," says Jeffery Nemeth, president and CEO of Ford Motor Company South Africa.
Toyota brought in a Land Cruiser FJ Cruiser. Most typical NAMPO visitors would know the traditional Land Cruiser series very well, such as the Land Cruiser 76 station wagon and the Land Cruiser 79 pick-up, but the FJ Cruiser is one that hasn't been seen before. You'd be forgiven for thinking otherwise, as its retro styling clearly harks back to its Land Cruiser FJ-predecessors. This 4×4 SUV will be in local Toyota showrooms in August. Toyota's stand also hosted members of the Toyota Cheetahs rugby team, much to the delight of the Free State locals.
Mercedes-Benz South Africa has become a regular feature at NAMPO, and had something from its almost entire range to show.
A strong emphasis with its passenger cars on display was its BlueEFFICIENCY technology, which most featured in one way or another. Mercedes' 'headliner' was its
373 kW, 700 Nm G55 AMG. I was surprised by this, but that soon disappeared when we saw some farmers arriving in their private planes on the air-strip…
Of course, on the commercial vehicles side, Mercedes had a strong showing of products too: the revised Vito and Viano; the Axor, Actros and Atego; and the pièce de résistance Unimog U5000 – one vehicle that had farm boys and farmers alike all over it (literally) with excitement.
Other Daimler products were also in abundance; the Freightliner Argosy with SmartShift, and Western Star – trucks built to specification for customers, and who had a 'cowboy-style' version on show – put in an appearance, as did Fuso and Mitsubishi. Mitsubishi's display carried a strong eco theme, as did Fuso, where its new range of vehicles fitted with Euro 2 engines was showcased.
Over at Hino, good attendance and interest in its stand was enjoyed. "What impressed was the calibre of the visitors. Most of them were not only well informed about the trucking industry in general, but many of them also had good product knowledge of the three model ranges in our line-up," says Ignatius Muthien, senior manager, Marketing for Hino South Africa. And an interesting range of products they had on display too, including a 1324 fitted with a drop-side body and 10-ton Palfinger crane; a 35-seater bus based on a 300-Series 915; a newly-launched 2848 truck tractor with automated manual transmission and double sleeper cab; an 814 with drop-side body; a 12 000-litre water tanker built on a Hino 700-Series 2841; and a four-wheel drive 1322 troop carrier as supplied to and on loan from the SANDF.
The UD Trucks stand was impressive, too, with a comprehensive range of vehicles on display and one of the most welcoming customer tents we encountered.
Scania had something special to celebrate at NAMPO – its 10 000th R-Series sold in sub-Saharan Africa. The hand-over to Time Link Cargo, who took it upon themselves to transform the truck into something really special, took place at the show. It was also a very important show for Scania, not because of the great interest in the company's display, but because of the special activities it had on the go throughout the show.
"This is a very poor area," says Gideon de Swardt, Scania's area manager: promotions and communication. "Cheques were presented to various charities, schools and organisations in the area, and a truck was raffled off and the proceeds were doubled and donated. It's all very well having a community buy your products, but you also need to give back."
While there were many more commercial vehicles to see, the core of NAMPO is that it's an agricultural trade show. There was a vast selection of farming equipment on display and being put to the test in practical demonstrations, allowing first-hand experience on which to base the right buying decision. There were numerous animal displays and sales, as well as halls filled with anything from people who can make leather whips, to velskoene to furniture, tools to jewellery.
The great oak that is NAMPO is growing every year, rooted in the Free State's Bothaville but spreading its branches across the world. Grain SA is proud that the participation of a group of exhibitors from the US and Argentina achieved permanence this year, while some from Germany and Canada have indicated that they intend becoming involved in future shows. In addition, the number of visitors from foreign countries, especially from Africa, is also growing each year.
At this rate, as in 1974, NAMPO Park might soon need more than its current 24 hectares of exhibitor space and 80 hectares of demonstration area!
Focus on Transport
July 1, 2011
Published by