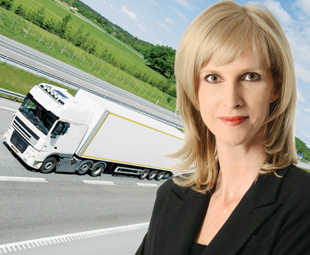 I have seen the future of fleet management – and it looks utterly fabulous
Recently I was invited to Munich, Germany, to attend a fleet-management workshop, which was hosted by FleetBoard. As 99 percent of our readers know, FleetBoard is Daimler's telematics solution. It's a pretty successful product offering, too; there are now about 220 000 vehicles on the roads around the world that are connected via FleetBoard.
The sector in which FleetBoard operates is probably one of the most dynamic within the transport industry. "Digitisation" and "connectivity" are two of the current buzzwords in our industry. Innovations are being announced on a weekly basis, but I must tell you that some of the new concepts mooted by the FleetBoard team at the workshop truly blew me away.
These new concepts go way beyond the realm of telematics solutions. As Daniela Gerd tom Markotten, managing director of Daimler FleetBoard, explained at the workshop, FleetBoard wants to deliver much more: "In the future, FleetBoard will provide far more than simply telematics solutions. FleetBoard will be the provider of digital solutions for the whole logistics industry," she explained.
Rowlands Peters, the head of FleetBoard South Africa, concurs. "We will accelerate the pace at which we innovate and we will interact with our global network in order to deliver cutting-edge local solutions.
"The changes we have planned will have a significant impact on our customers, and our efforts right now are centred around familiarising them with the future vision of FleetBoard, as well as the current innovations and digital solutions we offer for the transport and logistics segments," he says.
Some of the new concepts I witnessed in Munich will probably come to South Africa; others will never see the light of day here. I'm hoping for more rather than less, because so many of these innovations would really help local transport operators. So here they are, in no particular order:
FleetBoard FuelHub
Times are tough and fuel is costly. As such, some transport operators shop around for fuel. According to the FleetBoard team, this is quite common in Europe, where quotes to refill the operators' tanks are normally obtained by telephone from several suppliers. This obviously takes time…
Enter FuelHub, a digital marketplace for the purchase of fuel. It's a bit like one of those well-known travel websites – Expedia, for instance – but the suppliers sell fuel and not hotel rooms or flights. The transport operator receives an overview of the various fuel-related offers and a detailed comparison of prices. He (or she!) can place an order with the click of a mouse.
While the FleetBoard FuelHub is fabulous for transport operators (who will almost certainly save time and lower their fuel costs), suppliers benefit too – because they can reach more potential customers, while the automated sales process also increases their efficiency.
FuelHub is currently being piloted in Germany. Assuming that it gets the thumbs-up, it will be rolled out in Germany, and then in the rest of Europe.
FleetBoard nxtload
Trucks running empty and downtime are the ultimate nightmares for any transport operator, and we all know that both scenarios play out all too often. In order to reduce these problems, various freight exchanges and other platforms for placing freight have been developed – in 2016, a whopping 200 such digital platforms were active in Europe. However, there are still lots of empty, or partially loaded trucks, on European roads.
FleetBoard's solution is nxtload, a meta search engine which seamlessly links all these digital solutions. Initially, the plan is to offer dispatchers the ability to book freight orders. In the longer term, further features, such as a corridor search, will also become available.
Incredibly, FleetBoard nxtload is planned as an open web page for all freight forwarders and will be available free of charge. (We really like that price!)
FleetBoard nxtload is also being piloted, and Trans.eu and Teleroute, two important European freight exchanges, have already come on board. The six-month pilot phase began in May with selected customers in Germany, France, Poland and Spain.
Assuming that the pilot project is successful (and we see no reason why it shouldn't be), FleetBoard nxtload will be rolled out at the beginning of 2018.
Smargo
Paper, paper, paper … we all talk about e-commerce, but most drivers' cabs are still awash with various shipping documents, customs papers and bills of delivery, as well as safety data sheets, passes and special permits. Numerous trees die in the process!
However, this scenario doesn't just concern
bunny huggers; having a paper trail is not the most efficient way of doing business. Things get lost, orders are processed at a snail's pace and inaccuracies predominate. Plus, of course, the customer cannot be billed until the paperwork has been completed.
With Smargo, that's a thing of the past. This Android app (extension to iOS is planned in a later phase) means that the consignor, truck driver and consignee can all access information about the order from absolutely anywhere! Furthermore, they can easily communicate with the individuals involved in the current transport order.
This open, cloud-based platform will initially take care of all the cargo documents and consignment notes. In time to come, Smargo will also facilitate the digitisation of documents pertaining to the loading/unloading operations, including those pertaining to damage or excess/short quantities.
These documents will be stored centrally and also archived via Smargo. The detailed order data will also be viewable on a web portal in real-time.
Smargo is being piloted with BLG Logistics Group, a massive German company that employs some
16 000 people. This multilingual app will be available for download from the Google Play Store next year.
FleetBoard Vehicle Lens
We all know that truck drivers should do a series of pre-trip checks before embarking on each and every journey. Alas, many don't – because it's a hassle, but, with the FleetBoard app Vehicle Lens, that's no longer the case!
This app, developed in conjunction with Berlin-based start-up company Everybag, identifies the vehicle by its number plate. At each relevant point of the truck, relevant information is superimposed in a process of augmented reality, for example: current tyre pressure or wear data, information pertaining to mileage, the vehicle's next scheduled workshop visit, the previous driver and his route, information about the fuel level and the vehicle's specification. Initially the app will focus only on the truck, but in the future it could cover the trailer and its load.
The FleetBoard Vehicle Lens app is in the development phase. When ready, it will be available for Android and iOS. Initially it will only work on Mercedes-Benz trucks, but that could well change in the future.
Digital vehicle scanner
FleetBoard is working with Daimler and a company called Josef Paul to develop a very clever digital vehicle scanner that detects scratches and scrapes. It will also note the air pressure of the tyres and depth of their tread and detect items such as roof or roll-up tarpaulins or tipping troughs.
The truck will need to drive through a contraption that resembles a carwash at walking pace … and, voila … all this information is recorded! This will obviously mean a huge reduction in time spent checking vehicles, plus very accurate recording of any damage. Can you imagine the implications for rental companies?
While these concepts – from the FuelHub to the vehicle scanner – are a long way down the line, FleetBoard is also eyeing other new technologies (augmented reality and HoloLens, for instance) and trying to figure out ways of using these technologies to make the logistics industry a better place. Watch this space for more news on these developments…
In conclusion, remember I said that the future looks fabulous? Well now you know why!
Focus on Transport
July 12, 2017
Published by