Going green: Thermo King shows the coolest way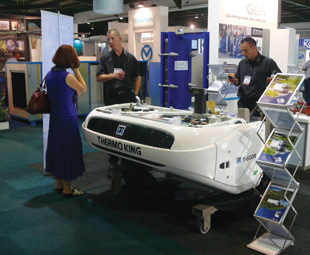 Low emission, high performance truck refrigeration units have become the rage in Europe where Thermo King launched its new flagship product range recently. These are now also available in South Africa.
The need for the transport industry to "go green" is well documented but applies even more so to the refrigerated transport industry. Fleet operators, for example, are well aware that refrigerated truck units can add to the environmental pollution produced by the truck itself. This applies to other modes of transport as well.
This explains why GEA Refrigeration Africa featured prominently at the Frigair Conference and Expo held at Nasrec, Johannesburg, recently. There it offered various mobile refrigeration solutions alongside the industrial solutions offered by the GEA Refrigeration Group.
The star exhibit, undoubtedly, was the latest range of Thermo King T-Series truck refrigeration units for both fresh and frozen produce that it distributes and services.
Again, the Thermo King range represents state-of-the-art technology as it was released on the European market in July and in South Africa a month before the Frigair exhibition.
The range is built on the well-known and proven TS and MD product ranges, and now offers even greater capacities at lower operating speeds, low operation and maintenance costs, all translating into lower life cycle costs.
Remarkable is that while the new TSR-2 controller of the range offers a new-found balance between system efficiency, fuel efficiency and performance in all ambient conditions, it also sets new standards when it comes to the reduction of emissions, waste and noise pollution.
Fleet operators visiting the stand were introduced to the range by Paul McGarrigle, key account manager for Africa and the Middle East, representing Thermo-King, and Ronnie Meechan who heads the transport refrigeration solutions for GEA Refrigeration Africa locally.
Said Meechan, "The latest trend is 'going green' to reduce our carbon footprint and, with GEA being at the forefront of innovative technologies and a large supplier to all parts of the food industry, we obviously would like to add value. Thermo King is one of our major suppliers and they have obviously done their R&D over many years to do the same."
Interviewed by Focus, Meechan and McGarrigle explained that the new changeover to the range would entail little adjustment (for example retraining) of the dealership and clients alike.
"It's a two-way street. We are being driven to go green and we will do our bit to drive others to go green," McGarrigle said.
They said the range was a huge improvement on the older but also successful MD 200-300 range of products, which, until recently, was the Thermo King truck unit flagship.
According to McGarrigle, while keeping the best and proven features of the current range, the all-new T-Series uses innovative technologies to deliver the kind of performance, reliability and ease of use that operators have wished for but not experienced from any brand.
The new range available in South Africa now comprises four models with GreenTech engines that exceed all current standards, including the most stringent EU standards. These units are the T-600R, T-800R, T-1000R and T-1200R for single temperature applications.
Another four units for multi-temperature applications will become available later.
Running at no more than 80% of their maximum output, these Green Tech engines are more powerful than those fitted to the previous range, reducing oil and coolant temperatures, which obviously results in less component stress and less engine wear due to a bigger oil sump, McGarrigle said.
All are approved for use with B5 bio-fuel with no change in maintenance schedules or shorter service intervals for other bio-fuels.
Low-noise equipment is so critical in distribution operations that some designs sacrifice refrigeration capacity to achieve it. Thermo King claims the T-Series has achieved dramatic noise level reductions of between 30 and 50%, depending on the model, without any loss of cooling performance when compared to previous models.
"This order of magnitude is not only a significant engineering achievement but is quieter and will be welcomed by drivers and all who live close to delivery routes," it said in a recent media release.
Tests also suggest that operators will experience reductions of up to 15% in their fuel bills. With fuel contributing about 50% of equipment life cost, that saving alone equates to a significant reduction in total cost of ownership.
"If 15% less fuel is consumed it means 15% less CO2 is produced. A typical unit application can use 3 000 litres of diesel in a year, emitting over 8 tons of CO2.  A 15% saving would mean a reduction in CO2 of 1.2 tons per refrigeration unit per annum," says Thermo King.
The T-Series employs extra-large evaporator and condenser coils, married to the proven range of reciprocating compressors, to keep on cooling right up to extreme desert conditions of 55°C.  It is these improvements in refrigeration system design that also provide better operating efficiency or more cooling watts per litre of fuel consumed.
Thermo King says that good design translates into simplicity of use.
"This was the guiding principle behind the all-new TSR-2 in-cab controller. Customers told us that their drivers spoke many different languages and were not refrigeration specialists.  Control systems were too complex and mistakes could be made that would jeopardise a load," a company spokesman says.
Using "intuitive" ergonomics, Thermo King says it has developed a "delightfully simple" controller where, for example, a red up-arrow means hotter, and a blue down-arrow means colder.
"Real life testing shows that the design works, resulting in fewer errors and better use of the equipment," says Thermo King.
Not only have the designers come up with a look that reflects the innovative nature of this range, but they have also included wide-opening panels to permit easy access to major components for servicing.
Thermo King's confidence in the range is such that every model will come with a 24 month warranty as standard.
McGarrigle and Meechan said that the GEA Group, a market leader in industrial and transport refrigeration in Southern Africa, would spread the "going green" message through all its 12 branches and 14 agencies in Southern Africa and "as far north as possible".
With a broad range of components, extensive expertise and worldwide branches, the GEA Group's refrigeration division can meet the needs and requirements of clients globally.
It is the sole supplier of Thermo King units (since 1965) to refrigerated transporters in Southern Africa for everything from 1 ton vehicles to 15 metre trailers (30 pallets). It has a fleet of service vehicles that enables its technicians to repair Thermo King units or components almost anywhere in the region, quickly getting vehicles back on the road.
Key markets of the GEA Group are food and non-food industrial refrigeration, transport refrigeration, tail lifts, truck and trailer accessories, mobile heating systems, food processing, distribution and storage, mining, oil, gas, chemicals, utilities, marine, ice-plants and project management.
Focus on Transport
October 1, 2010
Published by