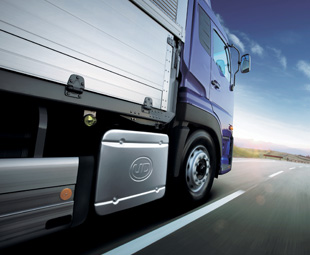 Both the truck market and UD Trucks Southern Africa are full of surprises, as CHARLEEN CLARKE discovers …
Jacques Carelse, managing director of UD Trucks Southern Africa, is perhaps the master of understatement. He reckons that 2013 was "an interesting year". That's one way of putting it!
However he does go on to point out that this industry experienced its fair share of challenges – such as labour issues, strikes and some logistical issues.
"We also had opportunities and we grabbed those!" he adds before conceding that, from a macro economic point of view, a lot of expectations were shattered in 2013.
"Last year saw stagnant export growth, increased supply-side inflation and sluggish growth in gross domestic product (GDP)," he notes.
Carelse is also concerned about the plummeting rand. "The rand depreciated by 21,25 percent from the beginning of 2013 to the end of November 2013 (versus the dollar). This has placed a lot of cost pressure on importers.
"Furthermore, we have seen prices rising above inflation and this is impacting on GDP growth. A lot of investors have taken money out of the country while the lack of exports has placed a huge amount of pressure on the trade balances. In fact, South Africa is one of the worst performing countries when it comes to the current account deficit," he says.
However, Carelse does note that the truck market performed "exceptionally" in 2013.
Carelse reveals that four sectors – FMCG/daily commodities, construction, long haul and waste/public utilities – were especially buoyant in 2013. "There was a down-sizing trend regarding vehicle purchasing – which was the reason for growth in the FMCG sector. Strategic infrastructure projects resulted in strong growth in the construction sector. And we have seen improvements in waste collection and recycling, which bolstered growth in that sector," he reveals.
Other segments exhibited negative growth in 2013, namely specialised vehicles, inter-regional haul and public transport
While 2013 was a truly terrific year, Carelse warns of "sober expectations" for 2014 – not expecting major growth.
But things won't be too bad …. According to Rory Schulz, general manager of corporate planning and marketing at the company Southern Africa, UD Trucks expects total truck sales to increase by 4,93 percent during 2014 to reach an expected 32 550 units. This forecast includes an increase in sales across all the segments.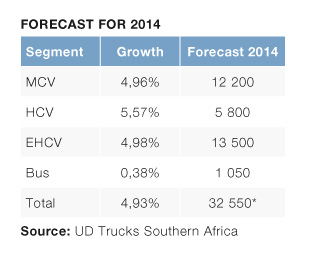 This should bode well for the plethora of new products UD has on the way. The most important is a new brand in the medium commercial vehicle (MCV) market – its aging product has meant that UD Trucks has lost market share within MCVs … and that's been a growing market.
Neither Carelse nor Schulz has named the new brand, but we believe it is Eicher, one of the largest players within the Indian commercial vehicle market. The company is part of the Volvo stable and has a stated goal enter the Middle East and Africa.
This new brand, which will come to South Africa at the end of this year, will be joined by an all-new UD light-duty range in 2018.
At the other end of the market is the Quester, which is absolutely ideal for emerging markets. It's coming at the end of this year, and it will be followed by Quester Next, which will replace the Quon.
These are just some of the surprises that UD has up its sleeve – its entire product portfolio will be replaced in 2014, 2015 and 2016. Other news includes the standard fitment of ABS to all UD vehicles from 2015 and Euro-5 engines in 2017.
The next three years are clearly going to be exceptionally busy for UD Trucks. And, judging by the plethora of product plans, they look to be exceptionally profitable too …
Focus on Transport
February 1, 2014
Published by