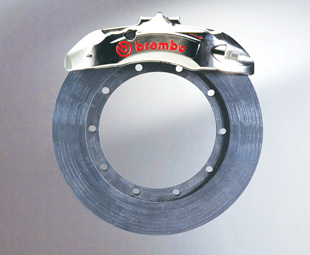 The disc brake is a bit like a toaster; necessary, but not exactly something you love or value. Some even regard it as a grudge-purchase item – yet it can mean the difference between life and death, as JACO DE KLERK discovers.
The problem is that many people see a brake disc as nothing more than a piece of metal, when it's actually a safety-critical item. So says Marco Moretti, marketing director of the aftermarket business unit at Brembo.
Brembo is a leader in the design and production of high performance brake systems for major vehicle and motorcycle manufacturers as well as the aftermarket and racing. It was founded in 1961 by the then Italian president's father, Emilio Bombassei, as a small family-run workshop a few miles from Bergamo, about 40 km northeast from Milan.
In 1964, the company started manufacturing the first Italian aftermarket brakes – marking a milestone in Brembo's history, since up to that point all discs had been imported from Great Britain. By the mid-1980s, the company decided to compete in the commercial vehicle sector, and soon became the strategic disc brake supplier for Iveco, Renault Commercial Vehicles and Mercedes-Benz.
However, market research conducted by Brembo revealed that its brake manufacturing arm is being threatened by some Chinese brake discs that are sold for half of Brembo's production costs.
This may seem beneficial for operators and other end-users, but consistency in manufacture is very important. As Moretti states: "If one disc fails, lives can be lost. The quality must be consistent."
He says a lot of education about brake discs in needed. "This is an extremely competitive sector of the market; some operators buy the cheapest discs because they are regarded as necessary item – but their purpose is not fully understood."
Disc brakes slow a wheel through the friction that is created when brake pads are applied against the brake disc (mechanically, hydraulically, pneumatically or electromagnetically). The friction converts the motion into heat as a result. This process can lead to various disasters if the disc brake's quality is wanting and the vehicle is unable to stop.
To ensure that this doesn't happen, Brembo invests at least five percent of its turnover into research and development (R&D), which is impressive when one considers that the company achieved €1 255 million in turnover last year. "We are very proud of the quality of our products and the possibility of bringing innovations to the market," says Moretti, adding that Brembo controls the whole supply chain of its products – from R&D and foundry, right through to distribution.
The company sells its products in 70 countries, and has 35 production and business sites in 15 of these. It has over 6 700 employees, about 10 percent of whom are engineers and product specialists involved in R&D, and won the 2012 Iveco Parts and Service prize as best supplier in terms of quality.
Brembo's decision to enter the South African automotive market was sparked by the growth in this country of European car brands that it already supplies brake systems to, and the overall growth of South Africa's replacement market. It will initially sell brake pads for cars, and will add parts for commercial vehicles at a later stage.
Sparepro, which boasts an efficient network throughout southern Africa, has been selected as Brembo's South African aftermarket distribution partner. "Our intention is to have the right product for anything from the Fiat Panda to the Aston Martin," says Moretti, "with our aftermarket product equivalent to the original part in terms of quality."
Brembo hasn't ruled out local production at a later stage, but the brake pads will initially be imported from Germany, the UK and Romania. Moretti says the pads will have a premium price positioning, without being crazily expensive. "We are a premium brand," he says. "But we're convinced that every car is premium in the mind of its driver."
Focus on Transport
August 1, 2012
Published by