Have you gone environMENTAL?
With the transport sector generating almost 30 percent of all greenhouse gas emissions in South Africa, the time to implement drastic environmental management systems is now. DANIELLE DU TOIT highlights some local companies that are looking to make a difference.

Our obsession with electricity and transport and globally-produced goods has resulted in global warming, a term we hear on an all-too-regular basis – but unless things change, we face a dim future.
The Intergovernmental Panel on Climate Change (IPPC), which features more than 1 300 scientists from around the world, predicts that by 2020 up to 250 million people in Africa will be exposed to increased water stress. Yields from rain-reliant agriculture will diminish by 50 percent. Basically our entire agricultural infrastructure will collapse.
"Taken as a whole," the IPPC states, "the published evidence indicates that the net damage costs of climate change are likely to be significant and increase over time."
A look at South African companies
Cummins is a global leader with business units manufacturing a complete line of diesel and natural gas powered engines for on- and off-highway use. It has branches in over 190 countries and at nine locations in South Africa.
"Climate change is the single most important issue that will define our company over the next 20 years," says John Wall, chief technical officer at Cummins International.
The three Rs are what Cummins aspires to – reduce, reuse and recycle. In 2010, the company was able to take 22 million kilograms of reclaimed product and put it back on the road thanks to remanufacturing.
The benefits of remanufacturing are endless – it reduces landfill waste and water consumption, and allows for cheaper product sales. And the process, according to Cummins, is relatively easy.
Remanufacturing has allowed a saving of over 1 059 million litres of water to be achieved since 2008. The World Water Council expects that within the next 50 years the global population will increase by 40 to 50 percent. This growth, together with industrialisation and urbanisation, will result in an increasing demand for water – and will have serious consequences on the environment.
"Cummins South Africa includes Cummins Emissions Solutions, which manufactures catalytic converter mufflers for European-produced trucks to comply with European Emissions standards," says Peter Stephanis, director of channel management at the company's Africa Regional Distribution Office. "We supply emission-rated engines to our mining customers so they can meet their triple-bottom-line reporting requirements."
The buildings Cummins operations are housed in are as environmentally friendly as possible. They make use of energy-efficient geysers as well as energy capture, where heat is captured and used elsewhere. They also employ smart lighting and conserve as much water as possible.
Water education programmes and comprehensive leak detection processes are in place at all branches. Waterless urinals and the use of treated water to flush toilets are all helping Cummins to provide a cleaner tomorrow.
How can a petrol company be green?
Engen Petroleum, one of South Africa's leading petroleum and lubricant suppliers, has also taken a green social responsibility approach. "Sustainability has always been our focus at Engen," says Dumisani Bengu, retail business manager, sales and marketing.
Engen, in association with Nampak Recycling and Woolworths, has placed recycling bins at 44 of its service stations throughout KwaZulu-Natal, Gauteng and the Western Cape. This project had small beginnings as a pilot programme but has since collected 350 tonnes of waste in the Western Cape alone.
Nampak spokesperson Meshack Mosiya says the company knew communities would embrace the project and looks forward to continuing to spread the recycling message throughout South Africa.
Engen has also gone a slightly different route to lessen its impact on the environment – Innovative Packaging Solutions (IPS). The fuel company has launched safer, guaranteed quality, and environmentally friendly packaging for its bulk lubricants distributed throughout Africa. Poor logistics and infrastructure prompted Engen to develop this new packaging solution. While in development, the company saw an opportunity to make a product that would not only benefit the consumer but the company and the environment as well.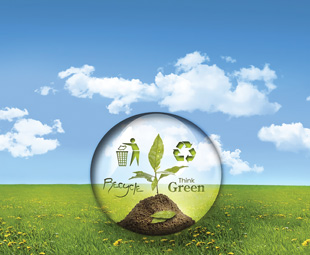 The lubes are packaged in 900-litre bags with inner containers made of either aluminium foil or high density polyethylene (HDPE), depending on application. "The bags are manufactured out of HDPE wherever possible," says Anton Allner, industrial lubricants strategy manager at Engen. "It offers the most environmentally friendly disposal options possible."
The bags weigh about 38 kg less than the barrels previously used to transport and package lubes – and everyone knows that less weight means more payload and perhaps fewer trips, thereby lowering carbon emissions.
This innovative packaging solution has many benefits and advantages, but the primary environmental benefit is the friendliness of the product – it is completely recyclable and reusable for the transportation of lubricants.
Using the environment to save the environment?
Serco Industries, a company specialising in the manufacture of insulated and dry freight fibreglass bodies, has taken a different approach to environmental management; it's using the environment in the best possible way.
The Durban facility goes green each day – staff work under natural light following the installation of clear polycarbonate roofing. MD Clinton Holcroft says the branch in Durban was due for an upgrade. "We decided it would be more environmentally friendly if we could use this opportunity to incorporate more natural light by strategically positioning clear polycarbonate sheeting, thereby reducing the amount of reliance on artificial lighting – which is in line with our goal to reduce our carbon footprint and contain our costs."
Installation of tanks to collect rain water for use in wash bays is another illustration of healthy environmental management. "All new vehicles as well as those in for repair are washed before delivery, with the water currently being drawn from the municipal supply," says Holcroft, adding that the implementation of rain water tanks will save Serco an estimated 65 percent on its municipal water account.
The Cape Town factory quickly followed suit with the installation of clear roofing and rain tanks with a holding capacity of 20 000 litres, demonstrating that Serco is serious about its commitment to the environment.
"Serco has a bold green philosophy – we build environmentally friendly vehicles and seek to continually introduce environment friendly innovations to reduce our carbon footprint," says Holcroft.
Going green can be as simple as deciding to collect all paper products for recycling, or as challenging as using wind to generate energy to power machinery and equipment. At this point, we have a choice – and the sooner we make our choices and get on with the business of being kind to the environment, the better. Get on the wrong side of Mother Nature, and you just know who's going to win.
Focus on Transport
May 1, 2012
Published by