How much more convincing is needed?
The untimely death of Public Service and Administration Minister Collins Chabane and his two bodyguards cannot be in vain. The road safety ball is now firmly in government's court.
You'll have to excuse me ahead of time for using this column to make light of a terrible, terrible accident.
As we all know, Chabane was tragically killed during the early hours of the morning on March 15. He and his two bodyguards, Sergeant Lesiba Sekele and Lawrence Lentsoane, were travelling on the N1 between Polokwane and Mokopane when their vehicle slammed into a truck on the highway.
Originally, it was claimed that the truck driver was performing a U-turn across the highway, it was then said that the truck was stationary. The truck driver, Amukelani Rikhotso, apparently tested positive for alcohol at the crash site.
A crash-scene investigator also reported that Chabane's vehicle would have had to have been travelling at an estimated 180 km/h to cause such extensive damage. I'm sure the full story will come out during Rikhotso's trial.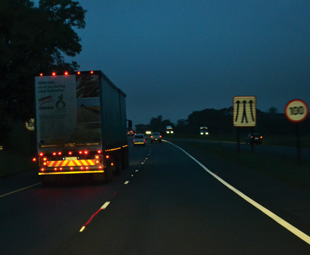 I hope it moves on quickly, because there are a number of questions that need to be answered and measures that now need to be taken.
First, if Rikhotso was, in fact, performing a U-turn – one has to ask why. There should be no need for a truck to make a U-turn on a highway.
Second, if Sekele – who had worked for Chabane since 2009 and, apparently, had never had an accident – was, in fact, travelling at 180 km/h, one has to ask why. If I'm not mistaken (and please feel free to let me know if I am), there are no street lights on that part of the N1.
Travelling at that speed, the vehicle would be moving at 50 m per second, practically outrunning its headlamps. The assumption that there would be no traffic on that road in those early hours proved to be fatal.
Third, now that a high-ranking government official has been killed on our roads, is government actually going to prioritise road safety and law enforcement? Or will the problem just be swept under the rug?
Seriously, this really should provide all the impetus needed to take proper action. South Africa's trucks, buses, cars, motorcycles, and their owners, drivers and riders, all need to be put in their place in a big way.
Simply prosecuting Rikhotso will not solve the problem. This will address only one of the causes of the accident, after the fact, and will not solve the underlying problems with South African motorists that actually lead to these accidents.
On page 32, you'll read about a trip I recently took to KwaZulu-Natal's south coast. Unfortunately, what I couldn't detail in that piece was the appalling driving behaviour we witnessed coming into Pietermaritzburg on the N3. Happily, I can do so now …
Heading south towards Pietermartizburg, at about 18:30, we came into some heavy rain, which, a few kilometres down the road, turned into some of the thickest fog I've seen in a while. We couldn't see 50 m in front of us.
Short of the feint glow of the rear lights of the car ahead, we were blind. It did not feel safe to travel faster than 50 km/h. This didn't stop countless cars, and trucks, from screaming past and overtaking as though there was 100-percent visibility. I'm surprised we didn't come across any accidents.
With Pietermaritzburg behind us and clear, but now completely dark, skies, we pushed on towards Durban. In the few kilometres leading up to the city, I counted no less than five truck combinations, which had no lights on their trailers. Thankfully, they at least had reflectors and chevrons, so we could dodge them at the final second …
This sort of behaviour and attitude is unacceptable. It's no wonder our road death toll is so high.
In the wake of Chabane, Sekele and Lentsoane's deaths, government has no excuse for not taking appropriate, prolonged action to solve one of this country's very serious road safety problems. If it doesn't, their deaths will have been in vain.
And, if that's the case, how much higher rank does an official, who is killed on our roads, need to have to grab the attention of the authorities and ensure that change is set in motion? How many more road-safety balls will need to be knocked into government's court?
Focus on Transport
April 4, 2015
Published by