Isuzu to take Gaz to the world?
In his monthly review of global news for local truckers, FRANK BEETON reports on an interesting new alliance between GAZ of Russia and Japan's Isuzu Motors; expands the story on Iveco's "Truck of the Year" Eurocargo; and notes Daimler's increased investment in its Detroit operation to manufacture transmissions and mid-range engines for the United States (US) market.
It has been reported that Isuzu Motors Limited, and Japanese trading house Itochu Corporation, have signed a memorandum of understanding with Russian Machines Corporation and the GAZ Group (both subsidiaries of giant Russian diversified business conglomerate Basic Element) involving possible product-based cooperation.
This arrangement is to focus initially on the redevelopment of the GAZelle van range and the lighter Sobol truck models with Isuzu engines, for sale in Russia and the 65 countries where Itochu is active. It also includes the possibility of developing a right-hand-drive GAZelle variant to access additional global markets where that steering configuration is a legal requirement.
Isuzu and the GAZ Group have already been involved in the joint development of the Vector-3 small bus for city and suburban applications. Other projects reportedly under consideration include contract manufacture of Isuzu products at the GAZ plant in Nizhniy Novgorod, and the development of heavy-duty trucks with gross vehicle mass (GVM) ratings from 26 to 48 t, using Isuzu components, at the Ural Automobile Works.
GAZelle in South Africa
Readers may remember that GAZelle minibus taxis first entered the medium commercial vehicle (MCV) segment of the South African market in 2005, through a joint venture between Russian Automobile Investments, McCarthy Motors and Santaco Trading, the latter being an arm of the South African Taxi Council. One year later, reports emerged of premature mechanical failures and lack of vehicle serviceability.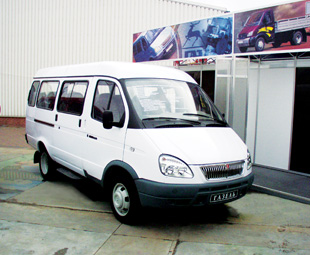 These issues were not satisfactorily resolved, and the final local GAZelle sales were recorded in October 2007. GAZ subsequently announced a switch from the original Russian-made engines to Cummins units, imported from China, for the diesel models in the GAZelle Business line-up.
During 2012, GAZ also entered a formal agreement with Daimler to produce previous-generation Sprinter vans and OM 646 2,4-litre diesel engines in Russia.
In April 2013, production of the slightly heavier GAZelle NEXT, with GVM ratings from 2,8 to five tonnes, commenced at the upgraded Gorky Automobile Plant. This range was powered by a Cummins ISF engine and technical features included independent front suspension, rack-and-pinion steering, a double-redundancy braking system, programmed cab crumple zones, and safety-belt pre-tensioners.
The GAZelle NEXT range was marketed alongside the Russian-built Mercedes-Benz Sprinter, despite the obvious market positioning overlap suggested by the former's GVM envelope.
It was noted, at the time, that indigenous Russian vehicle manufacturers were facing intense competition from imported and locally assembled products carrying global nameplates, which were recently accounting for more than half of the total market sales in that country.
New opportunities for Isuzu?
We have frequently commented on the desirability of Isuzu Motors forming global partnerships to increase its ability to compete across the entire product spectrum with truck manufacturers that are members of broader alliances.
Just recently, we recorded the renewal of an earlier North American truck marketing arrangement between Isuzu and General Motors. This potential alliance with GAZ is likely to have a positive influence on Isuzu's global sales volumes, especially when the Russian market returns to normality, following the current economic difficulties being faced by that country.
(Production of trucks over 1,5 t GVM in Russia totalled 58 852 units during the period January to June 2015, which was 25,4 percent down on the 78 891 units produced during the equivalent six-month period
of 2014.)
However, it is also notable that this partnership with GAZ has the potential to provide Isuzu with access to an integral panel van model, which it currently does not have, and to build heavy-duty truck volumes to the point where Isuzu could economically justify more aggressive development of its multi-axle products, such as the Giga range.
IVECO'S LATEST EUROCARGO IS "INTERNATIONAL TRUCK OF THE YEAR 2016"
While we have commented on the recent revival of interest by Ford in its Cargo truck line-up as built in Brazil and Turkey, the direct descendant of the original Ford Cargo is, in fact, Iveco's cruiserweight Eurocargo range.
Iveco's purchase of a controlling interest in Ford's European truck interests in 1986 brought the "Cargo" name into the Italian manufacturer's fold, and this was developed into "Eurocargo" branding.
The Eurocargo line-up, which covers the GVM spectrum from six to 19 t, has been a great success in Europe, where it is the medium truck market segment leader in a number of countries. The range has, to date, raked up half a million sales globally.
In South Africa, Eurocargo has been a relatively minor player in the local truck market over the past 15 years, with average sales of just more than 70 units per annum, including multi-axle derivatives and bus conversions.
While European-sourced trucks were a powerful force in the cruiserweight area of the local market until the 1970s, Japanese brands started progressively establishing dominance from that time.
In more recent years, products from a number of European manufacturers have suffered from a perception of being expensive and highly sophisticated, in an area of the local market that typically prefers a mix of affordability and basic durability. This contrasts with the greater level of sophistication that is more generally welcomed by local operators of heavier line-haul and premium-payload vehicles.
New power units
With the general implementation, in January 2014, of Euro 6 as the ruling emissions system in Europe, Iveco has progressively rolled out enhancements to the Eurocargo range to ensure that it is compliant, and retains its high market profile.
During 2013, it adopted new Euro-6 Tector diesel engines, supplied by associate FPT Industrial, in four-cylinder 4,5-litre Tector 5 and six-cylinder 6,7-litre
Tector 7 formats, providing seven power output options ranging from 118 kW to 235 kW (160 hp to 320 hp).
More recently, a compressed natural gas (CNG) fuelling option has been added to the Eurocargo range, which utilises a six-cylinder engine with a rated output of 150 kW (204 hp) and delivering 750 Nm torque.
Iveco has made much of the exclusive HI-SCR emissions system used on the Tector 5 and 7 engines that power the latest Eurocargo models. This system employs a passive particulate filter, a 1 600-bar, second-generation, common-rail, multi-event fuel injection system and an electronically governed exhaust flap. It is configured to adaptively administer AdBlue dosing in line with the requirements of electrically monitored exhaust gas conditions.
The manufacturer claims that this is the only Euro-6 medium-range vehicle to use a single anti-emission system, without resorting to exhaust gas recirculation. The Tector engine also employs a new turbocharger, which is claimed to improve fuel consumption by up to eight percent.
Restyled "family look" cab
During September 2015, the latest range was officially launched to the international market, and it was notable that the fairly conservative cab styling, that has typified the Eurocargo range under Iveco patronage, had been replaced by a much more striking appearance, bringing it in line with the latest iterations of its heavier Stralis and Trakker siblings. The range offers a choice of day, low-roof or high-roof sleeper, or crew cabs.
Onboard safety systems include lane departure warning, advanced emergency braking (which reacts to the proximity of obstacles in front of the vehicle), adaptive cruise control, LED daytime running lights, and steering-wheel controls for Bluetooth devices.
Truck of the Year
The retardation systems deploy disc brakes all round on 4×2 models, activated through air/hydraulic or full air control systems (the latter applies above the ten tonnes GVM mark).
Suspension choices include reinforced parabolic steel, semi-elliptical/air combinations, or electronically controlled pneumatic springing. Specification options include enhanced vehicle stability control, hill hold and hands-free driver communication.
On November 18, 2015, a panel of leading road testers, from 25 countries across Europe, named the new Euocargo "International Truck of the Year 2016". The criteria for the award include technical innovation, comfort, safety, driveability, fuel economy, total cost of ownership and environmental footprint. You can read all about the award in the December 2015 issue.
DAIMLER TRUCKS UPS INVESTMENT IN DETROIT
Since it was initially revealed back in 2007, Daimler's Heavy Duty Engine Platform (HDEP) has been frequently featured in Global Focus articles. Ultimately, this concept developed into a universal range of 10,7, 12,8 and 15,6-litre diesel engines for fitment into European, North American and Japanese source family products from Mercedes-Benz, Freightliner, Western Star and Fuso.
Technical development reached its recent zenith with the announcement of the improved Mercedes-Benz OM 471 12,8-litre unit for the European market, with five output options ranging from 310 to 390 kW (421 to 530 hp), and torque ratings from 2 100 to 2 600 Nm.
However, the pre-eminent position of Daimler Trucks in the global truck market has been built on a far wider spectrum of product than just the premium payload category. It was, therefore, to be expected that a similar family of smaller displacement engines would emerge to cater for the needs of distribution and vocational truck operators across the globe.
MDEG emerges, and goes Stateside
The basis of the Medium-Duty Engine Generation (MDEG) family first emerged with the launch of the latest generation Mercedes-Benz Atego short-radius distribution truck range, prior to the final implementation of Euro-6 emission standards at the beginning of 2014.
The new power unit line-up consisted of the four-cylinder, 5,1-litre OM 934, and six-cylinder, 7,7-litre OM 936 diesels, which in initial Euro-6 trim occupied the power spectrum from 115 to 260 kW (156 to 354 hp).
This in-line engine family utilises a multiple-event, common-rail fuel injection system with operating pressures up to 2 400 bar, single or two-stage turbocharging, and twin overhead camshafts with four valves per cylinder. It features emission mitigation by means of cooled exhaust gas recirculation, selective catalytic reduction and a diesel particulate filter.
Although the initial manifestation of the OM 934/936 line-up was clearly aimed at European applications, it was fully expected that versions complying with North American and Japanese requirements would also be in the offing.
The announcement, during November, 2015, that an investment of $US 475 million (R 7,816 billion) was being made in Daimler's Detroit plant at Redford, Michigan, to initiate production of additional engines, together with an automated truck transmission, therefore came as no great surprise.
Readers may recall that, back in 2011, Daimler Trucks North America had replaced "Detroit Diesel" with "Detroit" branding for all its powertrain-related components, indicating that the abbreviated name would be used for axles and transmissions, as well as engines.
This latest investment in Redford will add some 330 new jobs to the existing workforce of 2 200 employees, and the expansion will enable the immediate production of the DT12 automated transmission, and, from 2018, mid-range diesel engines carrying DD5 and DD8 designations.
The DT12 transmission.
The Detroit DT12 branding will be applied to the 12-speed, lightweight aluminium single-countershaft automated transmission, derived from the Mercedes-Benz Powershift unit used in the European Actros long-distance hauler, which has, until now, been sourced from Daimler's Gaggenau/Baden plant in Germany.
This aggregate has already established an enthusiastic following in North America. When fitted to the Freightliner Cascadia and Western Star 5700 XE truck models, it features a choice of direct or overdrive gearing, two-pedal operation, helical gears, a kick-down facility, Hill Start Aid, eCoast efficient coasting, cruise control as well as driver selectable power or economy shift modes.
Local production will allow the growing Stateside demand to be more fully exploited, while shortening delivery lead times.
The DD5 and DD8 engines, derived from the European OM 934/936 power units described earlier, will be launched on to the North American market, in limited volumes, in 2016. They will initially be sourced from Mannheim, in Germany, until US production ramps up from 2018.
Initial application for the DD5 will be the Freightliner "Business Class" M2 range, followed by additional models from the Freightliner, Western Star, Thomas Built Buses and Freightliner Custom Chassis Corporation catalogues.
Shifting American truckers' mindsets
Daimler has never hidden its intention to convert American truckers to the "integrated drivetrain" philosophy, that is standard practice in Europe, but relatively new to North America, and the use of common Detroit branding for engines, transmissions and axles should facilitate this strategy.
After decades when a highly standardised selection of outsourced driveline aggregates, supplied by specialist manufacturers (including Cummins, Detroit Diesel, Caterpillar, Eaton/Fuller, Spicer, ArvinMeritor and Dana) was to be found in the vast majority of American trucks, a new era is becoming increasingly entrenched.
Once European manufacturers such as Daimler started taking control of the North American supply chain, the motivation to spread the amortisation of development and production costs across the largest possible global volume footprint, and to take increased control of aftermarket and parts business, became very powerful.
With the trend to integrated drivelines now well entrenched, Daimler points out that this has the added benefit to the operator of interactive management of the engine and transmission, to the advantage of durability, performance and fuel economy.
---
Global FOCUS is a monthly update of international news relating to the commercial vehicle industry. It is compiled exclusively for FOCUS by Frank Beeton of Econometrix.
Focus on Transport
February 9, 2016
Published by