Isuzu Trucks embarks on the Business of Trucking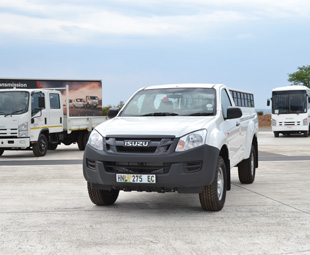 With a tough operating environment comes the need to offer customers innovative, value-added products and services, which is exactly what Isuzu Trucks is doing. GAVIN MYERS finds out more.
This has been a busy year for Isuzu Truck South Africa. Its business has evolved to become an enterprise-type setup, it has placed increasing emphasis on its Trk'Eneur customers and it has taken operations at the Kanu/ACT bodybuilding venture under its wing.
You would have read about both of these initiatives during the year, so, with this in mind, the company has embarked on what it calls the Business of Trucking – bringing everything together to offer real added value to its customers.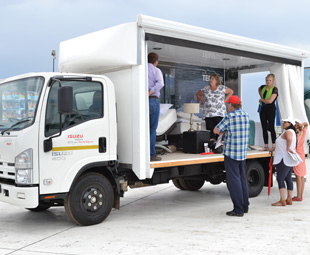 "We want our brand to be seen to be doing things very differently, which has made us change our mindset, take risks and change the way we do things," begins Craig Uren, Isuzu Truck South Africa COO. "Business of Trucking is about how we participate in the whole supply chain of the business of trucks. It's not just about the piece of hardware that leaves the factory."
Specifically, the Business of Trucking brings Isuzu Truck South Africa, its dealers and supply chain together to be more collaborative and offer real value-added products to the customer.
"In this way, we keep close to our customers and interact with them for a much longer period. We also ensure that their investment can give its best throughout its lifetime," Uren adds.
Isuzu Truck South Africa plans to do this in four ways, which it practically demonstrated with 65 individual vehicles at its Business of Trucking event during October. Here, vehicles were presented in a range of
configurations that have been created by the Kanu/ACT operation (see FOCUS October) to simplify the process of buying a bodied vehicle.
"Buying the right truck can sometimes get 'lost in translation'. These packages make it a lot easier to spec vehicles … When customers walk into our dealerships and say: 'I want one of those', they should get exactly what they want," Uren explains.
The display modules of the event also included several of the refreshed Isuzu KB bakkies – which Uren considers to be a fundamental extention of a commerical operation and part of the solution Isuzu offers its Trk'Eneur customers. "They have been specifically upgraded to fill a tool-of-trade function for our customers," he notes.
The company has also formed a range of service and maintenance plans for each of its vehicles. "These are specific to our product and give the customer and dealer the full value of the product based on factual operating conditions," says Uren.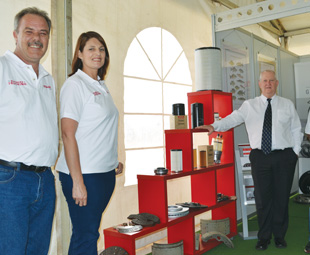 The real news, however, is that Isuzu Trucks is tacking on the aftermarket replacement parts industry with a range of competitively priced, alternative, original-equipment (OE) parts.
Sourced from selected suppliers, these present a better purchasing option to the customer, who might otherwise opt for inferior-quality "no-name" replacement parts. Examples of these are general service parts, clutches and brakes.
Allied to this, the company has also created Isuzu Drivetrain – a business enterprise that specialises in the repair and remanufacture of transmissions, differentials, prop-shafts, steering systems and clutches for all Isuzu models. Customers know they are getting an OE, warranty-backed product, because it is owned and supported by Isuzu Truck South Africa.
"Here, no matter how old a truck is, there is a product that is fit for purpose for the life of that truck. Our dealers have the perspective of keeping the customer on the road, and the intention is for the customer to come back to our dealers and make use of this offering," says Uren.
Isuzu Drivetrain follows a four-tier approach; offering customers new replacement components, exchange components, repaired components and minor repairs to components. Each carries a warranty of 24, 12, six or three months respectively.
"The current economic environment can be seen as full of potential, or just chaotic. The challenges on the horizon have encouraged us to come up with new ideas that will add immense value to the end user," Uren reiterates.
"Every single customer must see a tangible benefit in the purchase of his vehicle and know what it can do for his bottom line. The onus is on us and our dealers to take as much of the risk out of the equation as possible and find ways of satisfying those needs," he concludes.
Focus on Transport
November 16, 2015
Published by