Mercedes-Benz South Africa recently held a spectacular trucking event in Parys in the Free State – at the town's airfield, of all places. GAVIN MYERS drove down to join in the festivities.
There's no getting away from the fact that Mercedes-Benz South Africa (MBSA) outsells its competitors in the heavier end of the commercial vehicle segment of the market. The company's quoted sales figures for June revealed that it sold around double the amount of extra-heavy commercial vehicles (EHCV) than its nearest competitor.
In fact, as Clinton Savage, divisional manager for Mercedes-Benz Commercial Vehicles said, with the company's 50-year history producing trucks in South Africa, one in every five trucks purchased here is the brand's own – and the company hopes to make it one in every four in the foreseeable future. That's a lot of trucks, and a lot of customers who are serious about their business and can't afford for things to go wrong.
"Our customers always say it's about the bottom line," said Kobus van Zyl, vice-president of Commercial Vehicles at Mercedes-Benz SA. "We must be the most competitive life cycle offering – when a vehicle breaks down it immediately starts costing money, and we want to feel that pain with our customers."
In order to do this MBSA has progressively launched the concept of Trucks You Can Trust – an initiative European customers know well, and local customers can now enjoy too. "The concept of trucks you can trust was launched quite a while ago in Europe," said Van Zyl. "We looked at it and thought 'how can we apply it in SA?' We have incredible professionalism in many of our operators, who are clearly among the best in the world – we have many customers who come over to see how South Africans do business. So we needed to find something that could balance an emerging country and its incredibly professional drivers and operators."
The concept takes into account every link in the Mercedes-Benz value chain – from new vehicle sales and service to CharterWay, FleetBoard, TruckStore and TruckingWellness, and demands absolute commitment from each team to function as one unit with the aim of bringing the customer "the best service humanly possible".
"The way we're doing that is to look at our customers along the whole life cycle of the truck," continued Van Zyl. "It's not about the wedding, it's about the marriage. We want to make sure that at every touch-point we exceed expectations."
Van Zyl related the story of a truck from Pietermaritzburg breaking down away from its base, with the nearest dealer in Bethlehem. "The dealer did not have the capacity to immediately start working on the truck, so he called his colleague in Pietermaritzburg. The Pietermaritzburg dealer then loaded a couple of technicians into a bakkie, and they went to the Bethlehem dealership and sorted the vehicle out.
"These are the sort of things that you cannot have processes in place for – you have to get people to do it because they want to," said Van Zyl. "We've had to make sure that our teams provide world-class service and support. We know it's what's expected of us."
What was probably not expected was the extravaganza MBSA put on for its customers at the Trucks You Can Trust event. Held at the dusty airfield in the sleepy Free State town of Parys, the company used some innovative thinking to
demonstrate its point of absolute trust and commitment. Delegates were treated to some astounding and daring displays of aerial acrobatics by some of South Africa's most seasoned pilots. The four pilots demonstrated the philosophy of trust to a tee; with each in constant communication with one another, they executed their delicate manoeuvres with absolute precision and confidence in themselves, their equipment and each other.
The pièce de résistance came when a 6×4 Actros with a metal deck and interesting maze of scaffolding was rolled onto the runway, along with yet another plane. It didn't take long for everyone to realise what was about to happen. Our suspicions were confirmed when the commentator announced that what was about to be attempted was, as far they knew, a world first – the plane was going to land on the moving Actros!
Aeroplane circling in the air above, the truck began its journey down the runway. With yet another daring display of trust, the plane carefully approached from behind and perched on top of the Actros to the accompanying applause and cheering of the crowd. And as if that wasn't enough the two (now one) turned around and began another run down the runway, with the plane taking off from atop the truck! The Actros as an aircraft carrier? Believe it!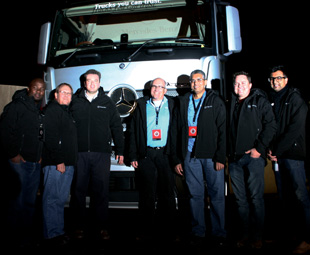 We were also lucky to view the entire range of Mercedes-Benz trucks including the Atego, Axor, Actros and Unimog, as well as a couple of TruckingWellness Sprinters and the one that got everybody's attention – the new-generation, Euro-6 Actros. MBSA has the unit on test in South Africa; it won't be an option for local customers until the correct grade of fuel is made available.
Van Zyl encouraged local truck operators to be vocal about the need to get cleaner fuel into the country, adding that MBSA will continue to introduce innovative products around the value chain that further enhance lifecycle costs.
Savage outlined some of these products. "We have often been first with technology," he said. "Soon to come is Active Brake Assist 3, where the truck will come to a complete stop if there's an object in front of it without the driver touching the pedal. Also coming is Predictive Powertrain Control, which uses GPS to tell the truck exactly where it is on the road and what's coming up so the truck can decide what gear it needs to be in for those particular circumstances."
The company has also made a serious commitment in terms of how it is going forward in a green way. "We will reduce our CO2 emissions by 20 percent by 2020 with products like the new Euro-6 Actros, as well as the 13 500 alternative-fuel vehicles we have driving around all over the world," noted Savage. On this point, MBSA has an alternative-fuel Econic on test with customers to asses its viability against diesel.
"We are also leaders in terms of truck mobility," Savage continued. "Truck mobility guarantees you uptime, and if we can't deliver, we'll provide you with stand-by vehicles or compensation to recover funds. We use our FleetBoard system to enable us to do this, along with driver training.
"Our 24-hour, 365-day call centre monitors about 1 700 Actros trucks running FleetBoard in SA, and we now also proactively diagnose vehicle errors. The idea is to prevent breakdowns – we will know what's wrong with a truck and get the correct diagnosis beforehand so technicians can attend to the problem before it becomes a problem.
"We've done a lot of work on our CharterWay product, and have been able to reduce claims by 20 percent. We've also introduced CharterWay Extend – an extended warranty available on certain models going up to 750 000 km/
five-years. Incidentally, the parts and service aspects have become more customer-focused too; with the company having no central warehouse, every dealer holds a full inventory of required stock."
In a few weeks' time MBSA will launch TruckStore, the Mercedes-Benz used brand, to be located in Centurion. "TruckStore will offer good quality, graded used vehicles with certain warranties, as well as in-house finance for all trucks, buses and trailers and vans," said Savage.
The Trucking Wellness project, where a number of roadside testing centres allow drivers to be tested for HIV and other diseases, rounds it all off. As Savage stressed, one of the most important aspects in your business is your drivers. "We know good truckers are hard to come by and have a huge impact on our businesses, so we would like to look after them."
Mercedes-Benz demonstrated why it has been, and is likely to remain, one of the most successful truck brands in our market. "The car business is a heart business; when somebody walks into a dealership they know what it is they want. In the truck business, it's a project-finance deal. But with this event we hoped we could talk to the heart a bit," said Van Zyl.
Hopefully, the Trucks You Can Trust initiative will turn the truck business into a heart business too. That aircraft-carrier Actros display certainly got a few pulses racing!
Focus on Transport
August 1, 2012
Published by