Kick-off to better public transport
With the FIFA World Cup edging ever closer and so much still to be done, STUART MOIR takes a look at our public transport sector and its service providers, evaluating their readiness for transporting crowds of fans to and from the different games.
It's set to be one of the most important moments in our country's history and – although South Africa's most popular mode of public transport often entails a near-death taxi ride to the required destination – the Department of Transport (DoT), along with various partners, has aimed to offer local citizens and international visitors an alternative that should be a lot safer and more reliable.
Improvements to our transport infrastructure have seen some R11.7 billion being invested to ensure the smooth transportation of fans, the media and all the competing national sides around the country and within each host city. They have included the upgrading of roads and the development of an integrated transport system linking rail and bus routes, incorporating innovations like Rapid Rail and bus rapid transit (BRT). Dedicated public transport lanes and interchange nodes at which commuters can switch from one form of transport to another have also been introduced. Together, these innovations will undoubtedly go a long way towards revolutionising our transport system for the long-term benefits of commuters and the economy.
A little bit of luxury
Mercedes-Benz Commercial is in the final phase of handing over 460 luxury coaches to the management of Autopax, the road transport arm of the Passenger Rail Agency of South Africa (PRASA). With less than one month until the world's biggest sporting spectacular hits South African shores, Mercedes-Benz and Marcopolo are on schedule for delivering the complete order during May 2010.
The coaches form part of the Autopax fleet expansion programme which, post-FIFA World Cup, will lay the foundations for an improved long-distance transport system in South Africa. They were urgently required to accommodate the anticipated increase in demand for inter-city coach transport during June and July, and to meet PRASA's mandate to improve commuter transport in South Africa by providing more reliable, safer options. "The new buses provide an opportunity to demonstrate to both local and international passengers the quality and service available on the Translux and City-to-City networks, and will help set South Africa's commuter transport system on track to offering better public transport on modern, reliable vehicles manned by fully trained, friendly and informed drivers," says Saki Zamxaka, Autopax chief executive officer (CEO).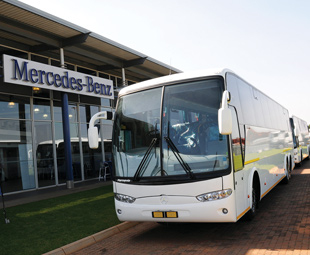 However Mercedes-Benz isn't just delivering luxury coaches; it has prioritised driver training as an important way of adding value to the contract, using its "train-the-trainer" concept. The aim of this uniquely Mercedes-Benz service is to ensure that there are sufficient resources within the industry to up-skill its dwindling pool of drivers, thereby supplying customers with a sustainable solution for managing their fleets' ongoing operations.
On the coach transport side, South Africa has a number of established operators who have swelled their fleets to accommodate the anticipated increase in guests visiting our beautiful country during the coming weeks. Local operators believe that, with South Africa's tourist market going from strength to strength, these new coaches will be fully utilised after the final whistle has been blown.
One such operator, Springbok Atlas, will also be involved in providing additional inter-city commuter transport during the soccer event. According to Craig Drysdale, national general manager of the company's coach charter division, 224 out of a total of 238 Springbok Atlas vehicles have been earmarked for this purpose. "120 vehicles will be used from our own fleet, and 118 vehicles from Broad Based Black Economic Empowerment (BBBEE)-compliant sub-contractors. The vehicles range in seating capacity from seven-seat microbuses to 60-seater semi-luxury coaches, with the bulk of the fleet comprising of 36 to 44 seat luxury coaches," he explains.
Through an additional fleet of 100 vehicles in total, Springbok Atlas will also provide a special service to the 32 national sides participating in the World Cup; and Hyundai Motor Corporation – an official sponsor of the World Cup – is one of the company's principal sub-contractors involved. According to Drysdale, 64 Hyundai coaches will be dedicated to transporting the soccer teams, with 32 coaches stationed at team bases and 32 at match venues. "Springbok Atlas already owns 12 Hyundai coaches, and the remaining 52 are sub-contracted from Hyundai Automotive South Africa," says Drysdale. "The 12 Springbok Hyundai coaches were used at the Confederation Cup – the first time Hyundai coaches were used in this country. This was an opportunity to demonstrate our transport and logistical experience to Hyundai, and to cement our involvement in the World Cup."
The remaining 36 vehicles will be spread across all ten host cities. "These will be used to transport VIP guests and other passengers, as determined by FIFA's Organising Committee (OC)," explains Drysdale. A further 24 coaches have been booked to provide transport services for television production and technical crews throughout the event, and will also be spread across the ten host cities.
Drysdale confirmed that travel agents will also have access to their fleet. "Thomas Cook – a United Kingdom (UK)-based official agent – will utilise a total of 28 coaches. We will be providing transfers, shuttles and day excursions in Johannesburg and Cape Town to soccer supporters from Europe," he says. "Forty-five coaches of varying sizes will be based in Durban to provide transfers, shuttles and day excursions for passengers from the MS Noordam ocean liner."
With the World Cup rapidly approaching, and having gone through the long process of finalising contracts, Drysdale admits that Springbok Altas is currently fully immersed in logistical planning, the allocation of responsibilities and training the additional drivers needed. "Testing and training 60 new drivers is a priority. So is planning the operational logistics and allocating resources in a way that utilises the company's existing infrastructure, resources and staff."
The public alternative
While tour operators have embraced the World Cup as an opportunity to profile our country to the world – and, hopefully, to generate many more long-term post-World Cup tourism opportunities – preparations for the event have definitely seen an acceleration in the use of intelligent transport systems and the development of public transport infrastructure to accommodate them.
As part of its operational plan for the World Cup, the DoT will make use of the Gautrain Rapid Rail Link which, although not yet fully operational, will be able to transport visitors quickly from OR Tambo International Airport to stations in Johannesburg during the event, considerably easing traffic congestion. This semi-luxury train promises to reach speeds in excess of 160 km/hour, meaning that the journey from the airport to Marlboro station should take roughly six minutes.
The Gautrain will also rely on inter-city commuter services and dedicated buses to transport passengers to and from stations.
In addition, the Rea Vaya (We are Going) project, with its 325 km of special public transport lanes and intersections, will hopefully minimise traffic delays when transporting commuters to their destinations. The Rea Vaya has 40 transport interchange nodes where commuters can switch from one form of transport to another. As Klaas Makhubela, driver trainer at Scania, illustrates, "The Bus Rapid Transit (BRT) system can transport its passengers with ease from Soweto to Johannesburg in approximately 20 minutes during peak traffic; no car can do that legally." With a bus available at each stop every six minutes, there is hardly a waiting period. "If we are behind schedule, the driver can contact the control centre and they will change the robots to get the bus back on time," he says.
Throughout preparations for the FIFA event, the DoT has demonstrated its commitment to improving public transport not only at host city level, but equally in moving visitors across the country – primarily by making additional vehicles available and improving operational efficiencies. This, as Government aims to secure a vastly improved public transport system nationally as one of the World Cup's legacies to South Africa. Once the event is over, Government has promised that – by the end of this year – there will be a train available every five minutes in peak times and train services between 14 and 16 hours a day between Sandton and OR Tambo International Airport. Over and above this, the remainder of the year will see the implementation of technology to manage congestion, incident response and transport demand.
Focus on Transport
May 1, 2010
Published by