Lots of innovation at Truck Test 2017!
The fifth Truck Test was filled with firsts. It was the first time Truck Test was held over one day, the first time AdBlue was made available to the truck manufacturers, and the first time that Michelin South Africa offered tyre support at the event. The company tested the participants' tyre pressures at the pre-test on Tuesday, March 28.
"We wanted to make sure there wasn't any irregular wear on the tyres, or anything else that could cause the tyres to fail during the test," said Rowan McKay, franchise manager of truck and bus at Michelin South Africa.
On the morning of Truck Test, Michelin's services were once again called on when participants had difficulties with tyre pressures. With the assistance of the Michelin team, the test was soon back on track. The company also provided support to participants on the 640-km route with mobile tyre assistance.
The South African aerodynamic solutions company, Aero Truck, supported previous Truck Tests by supplying aerodynamic equipment to participants. This year, the company entered the test as a competitor to create awareness of its products.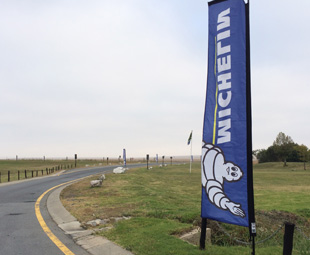 "Our conditions in South Africa are very different to those found in other countries. The trailers are wider, higher, longer and further back. So, you need to utilise aerodynamic solutions that match these differences.
"Our aerodynamic kits are wider, higher and longer than the generic one-size-fits-all fitted to imported, European trucks," said William Dudley-Owen, who participated in Truck Test as an observer in the Hyundai vehicle.
Truck Test was a one-day event, and Aero Truck normally tests its products over a longer period. "We typically give our customers our products on demo for two months so that they can have a long period of time to assess the product, but we're still hoping for a good showing at Truck Test and we remain very excited about the upcoming results," said Dudley-Owen.
The results of Truck Test will be released at a lunch function on May 3.
Focus on Transport
March 30, 2017
Published by