Mercedes family favourite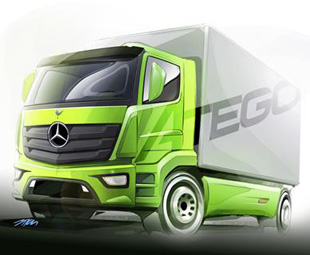 The new generation Mercedes-Benz truck product family is now complete and its youngest member – the Atego – has entered the stage to continue its successful career as a bestseller in the 6,5 to 16 tonne Gross Vehicle Weight Rating short-radius distribution segment.
The Atego already occupies the top rank for its quality, durability and reliability and will strengthen its position thanks to a new drive system and various innovations in the chassis and cab.
When it comes to cab design, the Atego fits in well with its siblings: the Actros, Antos and Arocs. A newly designed bumper however, with integrated daytime running lamps, marks the individual characteristic face of the Atego, setting it apart from the rest.
A total of seven Euro-6 engine variants, which can be combined with a broad range of manual and automatic transmissions, enable the Atego to be precisely adapted to the specific requirement profiles of a wide variety of short-radius distribution applications.
In order to conform to the upcoming Euro-6 emissions standard, the Atego is available with four newly designed BlueTec 6 four-cylinder engines. The four-valve engines perfectly cover the performance range of 115 kW to 170 kW in short-radius distribution.
Three newly designed six-cylinder OM 936 engines, with a performance range from 175 kW to 220 kW, is an additional option for the Atego and the especially high-torque Euro-6 engine option consumes up to five percent less fuel.
These engines conform to the upcoming emissions standard, using common rail technology and cooled exhaust gas recirculation. As already familiar from the heavy-duty model series, the Atego also boasts the FleetBoard EcoSupport concept to increase economy further.
The driving force of the engines is transmitted via automated gearboxes with either six or eight gears. The newly introduced Mercedes PowerShift 3 eight-speed transmission offers an exclusive optimisation of the drive configuration.
The drive system design of the Atego includes integrated Stability Control Assist – known as ESP for passenger cars – as a standard feature. It also includes a newly designed two-stage high-performance engine brake combined with powerful disc brakes on all axles to ensure a maximum level of driving safety.
The new star of lightweight, short-range distribution will have its premiere in April at the Commercial Vehicle Show in Birmingham, England and at the Bauma Trade Fair in Munich, Germany and sales will start from May.
Focus on Transport
February 14, 2013
Published by