Mine's smaller than yours!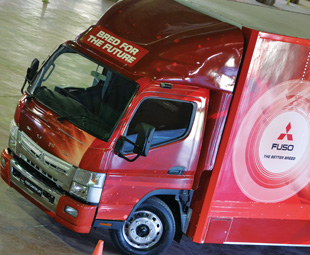 Given the relentless pace of technological advancement, I wonder how long it will be before we see commercial vehicles ubiquitously powered by much smaller engines.
There's no replacement for displacement … So the saying goes. There was a time when I agreed with that adage wholeheartedly – when I was younger and wilder and lusted over anything that could give me some sort of automotive thrill.
The eight-litre V10 under the cavernous clamshell bonnet of a Dodge Viper (originally based, incidentally, on a push-rod truck engine and converted from diesel power to petrol) was simply better than any five-point-something V8 Chevrolet could fit into a Corvette, for example.
The Japanese, though, have always been good at extracting strong power from small, high-revving petrol engines (until a few years ago, oil-burners from The East were practically exclusive to vehicles with a commercial or off-road bent). To my mind, however, those 1,6, 1,8 or 2,0-litre engines just couldn't drive as well, or pull as strongly, as the 2,5-litre engine under the bonnet of my 325i BMW … even if they actually could.
I was also not too big a fan of forced induction. As far as I was concerned, it was a bit of a cheat to make up the numbers. That's not to say I was entirely against it – but a C32 AMG Mercedes needed a supercharger to allow its 3,2-litre V6 to challenge its naturally aspirated 3,2-litre BMW M3 rival. Why would you bother with the Merc?
Nevertheless, I did grow up (a bit) and have learnt a thing or two.
"Sixteen litres! Surely that's a typing error?" I remember thinking when delving into the world of heavy-duty commercial vehicle engines for the first time. Obviously they were turbocharged as well, but so was the monstrous V12 in an SL65 Mercedes – and that's only a six-litre … (Yes, these engines are designed for vastly different tasks; the highly-stressed Mercedes V12 probably wouldn't last too long in a truck.)
By now, I've become used to the (very) large numbers this industry produces. Of late, I've also been privy to a few dinky toys that have taken that old displacement adage and turned it on its head. "Downsizing" is what the car guys call it.
In a nutshell, this is the practice of slapping on a low-pressure turbocharger to a smaller-capacity engine – the effect of which is the low fuel consumption of the small engine accompanied by power figures one would normally be used to with a larger-capacity engine. The practice is sweeping through the car world (and this year it became the norm in Formula 1) and the effects are phenomenal.
Just one example is the new Volkswagen Polo, which packs a 1,2-litre turbocharged four-cylinder engine with two different power options. The higher-powered version produces similar power figures to your average 1,8 (the lower powered to some 1,4s and 1,6s) and consumes around half the amount of fuel. I recently drove one and it is, in all honesty, utterly fantastic.
By now I imagine you're reading this and thinking, "That sounds great and, yes, I might need to buy something similar one day … but this is a trucking magazine!" And you're right …
But, here's the nub: I recently attended the local launch of Fuso's eighth-generation Canter (which you can read all about on page 38) where, in his address, Godfrey Hani, head of Fuso SA, was very keen to talk about the new vehicle's three-litre turbodiesel engine. Why? Its forebear ran a four-litre; yet the new version outpunches it in both power and economy.
Downsizing, then, is clearly making its way into the commercial vehicle sphere too. And why shouldn't it? While those Vipers and Vettes will probably take their massive engines to the grave, BMW's latest 328i is in reality a turbocharged 2,0-litre and its latest M3 now also turbocharged. It is the way of the internal-combustion future. I wonder how small an engine might eventually lug a 56-t rig around.
Focus on Transport
October 4, 2014
Published by