More than just a dinky toy
The South African light commercial vehicle (LCV) market is almost as complex as those of far heavier vehicle segments. GAVIN MYERS chats to some LCV market leaders to unpack the dynamics of this segment
While many "truckers" in South Africa (including those who supply, service and operate trucks) don't view LCVs as pukka commercial vehicles – in the same sense that they'd view a 56-t, long-distance rig, or an eight-tonne distribution truck – these little tykes have always made up the majority of sales in the local commercial vehicle arena.
In February, for example, around 14 416 units were sold (this figure includes aggregated sales figures from Mercedes-Benz South Africa and Associated Motor Holdings, now known as Motus Corporation). The undisputed sales king of them all was, once again, the Toyota Hilux – of which 3 086 units were sold, also giving the Hilux overall honours as South Africa's best-selling vehicle for the month.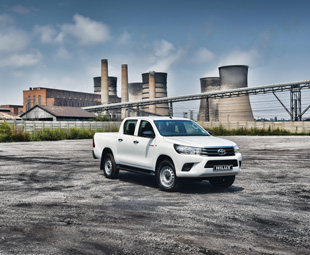 Incidentally, sales of the Hilux alone accounted for more units than the medium, heavy, extra-heavy and bus segments together!
Of course, it cannot be denied that bakkies in the LCV segment are becoming increasingly oriented to the passenger market, as more and more private buyers opt for the mix of go-anywhere off-road ability, practicality, versatility and car-like comfort offered by modern double-cab bakkies.
According to a spokesperson from Ford Motor Company of Southern Africa, the driving factors include greater choice regarding powertrains, transmissions, drivetrains and body styles.
Ernst Grater, senior manager: dealer sales, at Toyota South Africa Motors, believes fleet buyers of the Hilux outnumber private buyers by only about 1,5:1.
It's a similar situation at General Motors South Africa (GMSA), where commercial vehicles for business purposes account for about 60 percent of the volume, while 40 percent of LCVs sold are for private use, notes Brian Hunter, GMSA general manager, sales.
"Double-cab LCVs are gaining popularity among South African consumers as they are used for family and leisure purposes. We have seen a number of new value models entering the double-cab market, which has stimulated growth in this segment," says Hunter.
Jaco Steenekamp, general manager sales and marketing for VW Commercial Vehicles, agrees. "We are seeing more private buyers, due to the absolute versatility of a double-cab bakkie, together with the latest safety and comfort features now available in most offerings."
By way of example, Steenekamp says that private customers account for 60 percent of the Amarok double-cab sales. On the other hand, commercial buyers of the Amarok single cab account for
80 percent of sales.
While bakkies are South Africa's perennial favourite in terms of small workhorses, an increasingly large case is being made for the van. Nonetheless, according to Ford, most of these vehicles are bought for application-specific roles. Their relative sales remain small when compared to bakkies.
Grater offers an opinion: "Panel vans do not share the same history, sentiment or fondness in the South African market as they do in the United Kingdom or Europe. Weather conditions in Europe will not necessarily allow for the usage of bakkies, whereas South African conditions do.
"Furthermore, double-cab bakkies allow for more than two occupants, where the vast majority of panel vans allow only for two occupants. Also, because bakkies are generally being used for business and private purposes, these vehicles are preferred to panel vans."
(As an interesting side note, Grater reveals that for every Quantum panel van or people carrier sold, seven of the Ses'fikile minibus taxis are sold.)
Steenekamp adds that purchase price can also be a factor. "The entry price of a one-tonne, single-cab pickup in the local market is often less than that of a one-tonne panel van."
Of course, VWSA is no stranger to the van. Until the arrival of the Amarok, these vehicles were the mainstay of its commercial offering. (Steenekamp states that commercial buyers account for 80 percent of Transporter Crewbus/Panel Van and Caddy Crew Bus/Panel Van sales, while the Crafter has 100-percent commercial-customer sales.)
The company even expanded on its range by converting, ironically, a passenger vehicle for commercial use. This is the unique-to-South-Africa Polo Vivo Xpress (which we reviewed in the September 2016 issue) that was designed to blend the safety and comfort of a hatchback with ample loading space and payload. Commercial-vehicle pundits would know that GMSA has been fighting in this niche corner of the segment for a while now, too, with its Spark Pronto…
"These van-type vehicles are very popular in Europe because of the weather conditions. In South Africa they are attractive to small businesses, due to low initial purchase and running costs and, as the vehicle is homologated as a LCV, it allows for VAT-registered businesses to claim back VAT," Hunter says.
Much like buyers of larger commercial vehicles, LCV buyers can't, and don't, look only at the initial purchase price when considering an LCV for their businesses. "While looking more at the running costs of their fleets, LCV buyers demand a high level of service that equals or surpasses that of passenger car buyers," suggests Ford SA.
Steenekamp expands: "Business customers' expectations of the vehicle are first and foremost reliability, then low cost of ownership, and then practicality. They expect the dealership to be able to understand their transportation needs, and to recommend and supply the correct vehicle, complete with financial and aftersales solutions. Furthermore, most business customers expect a single point of contact with the dealership and for continuous added value to be delivered by the dealership and the brand."
With this in mind, what do the original equipment manufacturers expect from the market in the short term? Ford suggests the segment "is becoming more competitive with new entries entering the market on a monthly basis". The company expects the LCV market segment to remain strong for 2017.
Steenekamp is equally optimistic. "The LCV segment of the market has started off more strongly than in 2016, and a full-year growth of three to five percent is expected during 2017," he notes.
Hunter offers a caution, however, that LCV purchases may remain subdued, due to negative economic factors and uncertainty in the small-business environment.
Focus on Transport
April 18, 2017
Published by