Moving product from B to A: an introduction to reverse Logistics
Much attention is paid to getting product from manufacturers to retailers, but – as NICK DALL reports – the other side of the supply chain has been all but ignored in this country. Until recently, that is …
In tough economic times such as these, businesses are forced to streamline their operations as far as possible. Any unnecessary expenses must be eliminated while making the most of any opportunities for profit. In an effort to achieve this, retailers and manufacturers in the United States (US), Europe and Japan are putting more and more energy into returns management.
Returns management, or reverse logistics, is the process of planning, implementing, and controlling the efficient, cost-effective flow of raw materials, in-process inventory, finished goods and related information – from the point of consumption to the point of origin – for the purpose of recapturing value or proper disposal.
In South Africa, the returns management industry has only one specialist reverse-logistics provider; Revlogs. Craig Plowden, managing director, recognised a need in the market in 2009.
"We began, like most start-ups, working from a garage in a very industrial area in Edenvale, Johannesburg Back then the company was tiny, with three staff (including two directors) and my family car towing a Venter trailer." Revlogs has grown exponentially since then and now operates in Cape Town, Durban and Gauteng.
What is reverse logistics?
Reverse logistics does itself no favours by having such a complicated name. Many people prefer to view it as an all-encompassing system of returns management. Anyone with any experience in the industry will know that returns can be an utter nightmare.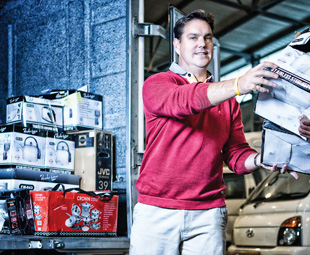 Retailer and manufacturer returns policies are either too strictly or too laxly enforced; paperwork is at best incomplete and at worst non-existent; returns rooms become cluttered to the point of chaos; and – most importantly – customers are regularly left irate when their returns are not speedily and professionally handled.
Reverse logistics is far messier than forward logistics because: "There isn't a priority and products are moving against the normal flow," says Dale Rogers, a professor of supply-chain management at the University of Nevada. The haphazard trickle of returns from customers means retailers and manufacturers don't know what stock to expect or when it will come. They don't know what state it will be in and where it will have to go. The only thing they do know for sure is that it won't consist of neatly stacked pallets of unopened product.
Global trends
Businesses in the US and Europe have long-since realised that it makes sense to contract the services of a third-party logistics company that specialises in reverse logistics. Best Buy, the US multinational electronics retailer with an annual revenue of $50 billion (R511 billion), is a case in point: "We decided that processing returns was not something we wanted to develop a competency in," says John Jordan, Best Buy's director of logistics. "But we wanted to align ourselves with somebody that did have that competency. So we turned to third-party logistics provider, Genco, to integrate a centralised returns management process."
Some of the big forward logistics companies also have reverse logistics arms, offering retailers service to both the front-end and the back-end of their supply chain. What is important is that these two processes are kept separate from one another, as they require very different skills, channels and checks and balances.
In South Africa, Revlogs is concerned only with the back-end of the supply chain. "We've come a long way since the early days, and now have a large fleet of trucks making daily visits to our retail clients," says Plowden, "But trying to make key decision makers at large corporations aware of the cost benefits of specialised returns management remains challenging – although our current customers certainly see the benefits in their businesses."

The nitty-gritty
It all sounds quite simple in practice, but what do the day-to-day operations of a reverse logistics provider look like?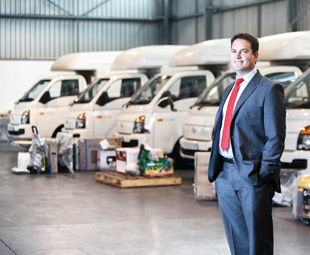 Drivers visit most locations on a daily basis and collect only those items that are on the "proof of collection" sheet, which should be sent by the client the day before collection. Once the items have been collected, their movements are traceable on the Revlogs database, and one of four different things can happen to each item:
• They are taken to a third-party repair centre to be repaired. These will then be returned to the client by Revlogs once repaired.
• Faulty items are returned to the original equipment manufacturer.
• Revlogs buys some damaged product and salvages what value it can at its own expense.
• Badly damaged or perished product is disposed of in accordance with government regulations.
"One of the most important aspects of reverse logistics is the software which tracks items as they work their way back through the supply chain," says Plowden. "Unlike forward logistics, where entire consignments can be tracked en masse, in reverse logistics every item has a unique reason for being returned. The reports generated from the data are invaluable to clients as they could, for example, allow a retailer to recognise a recurring fault from a particular OEM or to identify habitual delays from a certain repair centre."
Because each retailer has unique needs it's essential that pricing structures are flexible and reverse logistics contracts are customised.

Benefits to retailers
Reverse logistics reduces costs and helps maximise profits. Forbes magazine estimates that returns represent up to seven percent of a company's gross sales and that US firms are spending $100 billion (R1,02 trillion) annually on managing their returns.
Curtis Greve, international reverse logistics guru and co-author of An Executive's Guide to Reverse Logistics: How to Find Hidden Profits by Managing Returns, adds even more punch to these compelling stats: "Improving reverse logistics can help a company to increase revenue by up to five percent of total sales."
Money is not the only factor driving retailers to add a reverse gear to their supply chain – another key consideration is customer satisfaction. Customers like shopping at stores with flexible returns policies and efficient returns systems, so employing the services of a reverse logistics specialist is the best way of ensuring that this is the case. Greve's long-time business partner and co-author, Jerry Davis, sums it up: "Those retailers that have professional returns management systems enjoy a 12 percent advantage in overall customer satisfaction over their competition."

The future in South Africa
In South Africa, which is still new to reverse logistics, Plowden says he has noticed a considerable change in attitudes since Revlogs started. "We are seeing more and more retailers talking about reverse logistics now, whereas four years ago very few executives mentioned the process and even fewer understood it. Specialised reverse logistics is a massive industry internationally and I expect the same to eventually be the case in this country."
Plowden sees huge opportunities for growth, for his own company and for the industry as a whole. "Competition can only ever be seen as healthy. I welcome any rivals who challenge us to improve our value proposition."
Now there's an invitation if ever there was one.
Focus on Transport
July 1, 2013
Published by