New kid on the cement block shakes up the industry
A new name to the Truck Test game, Sephaku Cement has partnered as a load supplier for 2017. ASTRID DE LA REY finds out more about this impressive company
Sephaku Cement is tackling the local cement industry with a passion and determination that's become all too rare in this tough economic climate. In just under three years (it officially started selling in February 2014) the company has already overtaken some serious competitors to become one of the top five producers of cement in South Africa.
Sephaku Cement is a subsidiary of Dangote Cement – the biggest and most influential producer of cement on the African continent. This solid support from the Dangote group makes Sephaku one of the strongest players in the local industry.
This doesn't mean it is all plain sailing. Pieter Fourie, CEO at Sephaku Cement, says: "One of the biggest challenges in this industry is transport and logistics. Our production costs are roughly equal to our logistics costs. This means our transport and logistics need to be extremely well planned and negotiated down to the last detail."
Sephaku decided to get involved with the 2017 Truck Test because the freight and logistics sector clearly forms such a large and crucial part of its business.
"We don't own any of our own vehicles, so we rely heavily on our transport partners, as do many of our peers in the industry. Consider that the local cement industry transports around 14-million tonnes of cement annually – that's roughly 1,2-million tonnes per month. A small portion is transported by rail, but the bulk of it is moved via road freight. We are, therefore, placing a lot of responsibility on our logistics partners," says Fourie.
It's clear that Sephaku understands the value of focusing on its core business, while allowing the logistics experts to handle the transport, because transporting cement in a cost-effective manner can be a crazy juggling act.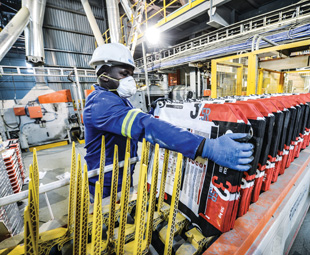 Cement production involves many different aspects. The inbound materials (or the ingredients for the perfect cement mix, such as limestone and coal) have to be brought in from various sources to Sephaku's main milling plant in Delmas.
The company also owns Sephaku Ash, located at Eskom's Kendal Power station, which produces 1,3-million tonnes of ash annually. Most of this needs to be transported to the main mill facility in Delmas.
One of the success stories for Sephaku is the optimal usage of its clinker capacity. At its Aganang plant, situated in the Northwest Province, the company can produce up to 1,9-million tonnes of clinker each year.
While the Aganang plant, itself, produces around 1,2-million tonnes of cement annually, at least 50 percent of the clinker produced here needs to be moved to Sephaku's milling plant in Delmas.
Logistics are crucial to Sephaku's success. On any given day, the company has around 500 vehicles on the road transporting raw materials or delivering the finished product.
Fourie notes: "Cement is not a valuable product to transport. If, for example, you're transporting gold, the value of your product justifies long distances and greater transport costs; with cement that isn't the case, which is where logistics becomes tricky."
Like many other companies in the cement industry, Sephaku (or rather its logistics partners) have mastered the art of "piggybacking". The fact that it is a non-perishable product provides some leeway when it comes to transporting cement.
Sephaku thus plans most of its movements around secondary legs. For example, during citrus season it's a race to get these perishables to their destinations (the primary leg). Often the truck will be empty on the return leg, which is where Sephaku's logistics partners jump in to negotiate more cost-effective transport rates. The operator benefits as it's no longer a wasted leg and Sephaku benefits by paying reduced rates.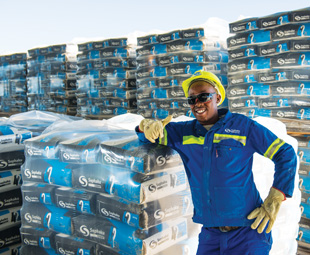 This is a very efficient solution for Sephaku, but it does make planning difficult. Fourie says: "We are more than happy to let our logistics partners handle the details, as this is their speciality. They have much more insight into the road freight industry than we do, and can plan the movements to effectively suit our needs."
It's clear that Sephaku Cement has a keen understanding of what it takes to succeed in this industry. Its sales figures have proved this over the past few years, and its logical business approach shines through in all areas – especially in its understanding of, and respect for, the road freight industry that, literally, keeps Sephaku on the move.
Focus on Transport
November 3, 2016
Published by