New Mercs just keep coming!
In his monthly review of global news for local truckers, FRANK BEETON is surprised by the extent of Mercedes-Benz's new model programme, reports on the initial launch of GAZ's new van range, looks at the second generation Canter Eco Hybrid, and details the latest developments relating to Caterpillar trucks in Australia.
The sheer magnitude of Mercedes-Benz's recent round of European product refreshments has been awe-inspiring, to say the least – starting with the new Actros premium hauler in June 2011, followed by the dedicated Antos distribution line-up in May 2012, the Arocs construction range in November 2012, and the latest cruiserweight Atego models in February of this year.
In our preview of the new Atego models, we noted that the launch of so many diverse models aimed at an extremely broad range of customers, over an eighteen-month period, would have imposed a huge workload on Daimler's product planning, engineering, development, public relations, sales promotion, training structures and dealer network. This type of effort also comes at an enormous cost, and would not have been possible for any manufacturer not in sound financial health.
The renewal story, however, did not end there. Hardly had the ink dried on the Atego launch press releases, when we were reading about new Mercedes-Benz Unimog and Econic models as well! Although it was to be expected that the latest generation Euro-6-compliant engines would also find their way into these specialised models, the more comprehensive update that materialised came as quite a surprise.
Our preview will first cover the Econic, which is the dedicated vehicle used in applications where a low-cab profile, or ease of access, is required. These include refuse collection (front and rear loading), road sweepers, urban deliveries, firefighting, and a number of airport duties where a low-profile vehicle is able to operate safely under and around assorted wings and fuselages.
Based on the new generation Actros chassis, the latest Econic retains the same cab metalwork as its predecessor, but with numerous detailed functional improvements, including a restyled front incorporating the latest Mercedes-Benz "family look", LED daytime running lamps, revised instrument and control layout including a multifunction steering wheel, new in-cab storage arrangements, revised ventilation, an electric sunblind and improved insulation.
The driveline draws heavily from the mainstream Euro-6 family, starting with two versions of the 7,7-litre, six-cylinder OM 936 LA engine with outputs of 220 kW (299 hp) or 260 kW (354 hp). Both are equipped with a decompression engine brake providing 235 kW of retardation.
There is also a natural gas-fuelled engine option, and drive is taken through a six-speed Alison fully automatic torque converter transmission with new Eco-software. Available axle/drive configurations include 4×2, 6×4 and 6×2, the latter with leading or trailing steered tag axles. Gross vehicle mass (GVM) ratings are 18 and 26 tonnes, with wheelbase dimensions of 3 450 mm or 5 700 mm. Optional high- and low-roof cabs are available, and special application-specific custom vehicle specifications can be accommodated.
The Unimog family has achieved legendary status as an off-road vehicle, and, in its latest incarnation, comes in "implement carrier" and more conventional all-terrain formats. The former configuration was first introduced in 2000, and can be used for over 1 000 specialised applications including snow ploughs, road sweepers, fire appliances, road/rail shunters, and horticultural duties, with implement attachment points at the front, rear and between the axles.
The latest incarnations are designated U 216/218/318/423/427/430/527 and 530, with all models up to U 423 powered by four-cylinder engines developing 115 to 130 kW (156 to 177 hp), while the higher numeric designations signify six-cylinder power of up to 220 kW (299 hp). Power is transmitted to the front and rear portal drive axles by hydrostatic traction drive, combining hydrostatic technology with a manual transmission.
The all-new U 216 and 218 variants have been introduced to replace the former U 20 entry-level Unimog, and all models now share a new short-bonneted panoramic cab design. Functionality includes a removable joystick for implement operation, central tyre inflation control, and a facility to position the steering wheel and control pedals on either side of the cab.
The more familiar Unimog all-terrain all-wheel-drive truck line-up is now designated U 4203 and U 5023, with both models being equipped with six-cylinder power units developing 170 kW (230 hp). The existing cab metalwork (first introduced in 1974) has been retained in the latest model, but it has been mounted slightly higher, and the visually apparent semi-forward control layout is somewhat misleading in that the latest Unimog design concept places the engine one full metre further back in the chassis frame, in a new central location under the rear of the cab.
Similar in-cab refinements to those found in the implement carrier range have been executed, and the latest version of the eight forward-/six reverse-speed transmission features faster shift times, being controlled by a steering column-mounted stalk. The flexible chassis frame is of welded construction and, in combination with portal front and rear drive axles, provides approach, departure and ramp angles of 44°, 51°, and 34° respectively, and a fording depth of 1 200 mm.
These special application vehicles are built in a dedicated facility at Wörth am Rhein, and production of the latest Euro-6-compliant models, which required an investment of €135 million (R1,6 billion), will commence in September. Total production of predecessor models in 2012 amounted to 3 450 units.
GAZ moves on
In our 2012 review of Daimler's Russian activities, we wrote about the company's formalised agreement with the GAZ Group to produce previous generation Sprinter vans and OM 646 2,4-litre diesel engines in that country.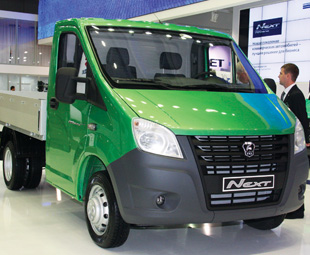 §We also identified the GAZ Group as a subsidiary of Basic Element, Russia's biggest business group, and the country's leading producer of commercial vehicles with GVM ratings above 1,5 tonnes. During 2011, GAZ accounted for 41,5 percent of the Russian market for this vehicle category, with the major volume product being the Gazelle range of vans and minibuses.
Readers will recall that this product was present in the MCV segment of the South African market between 2005 and 2007, but was subsequently withdrawn because of widely publicised serviceability and support issues. GAZ subsequently announced a switch from the original Russian-made engines to Cummins diesel engines, imported from China, for the GAZelle line-up.
At last year's Moscow International Automobile Salon, the GAZelle NEXT was unveiled as the follow-up van product. Production subsequently commenced in mid-April at the recently upgraded Gorky Automobile Plant, with the launch variant being a chassis-cab model with two dropside body lengths suitable for five or six-pallet loads.
The full line-up to be rolled out will include trucks and minibuses with GVM's ranging from 2,8 to five tonnes, and a wide selection of body options including crew cabs, platforms, full metal vans, 19-seater buses and more than 100 speciality vehicles. Power is provided by a Cummins ISF engine and technical features include independent front suspension, rack-and-pinion steering, a double-redundancy braking system, programmed cab crumple zones, and safety belt pre-tensioners.
As we mentioned last year, the intention is to market the GAZelle NEXT range alongside the Russian-built Mercedes-Benz Sprinter, despite the obvious overlap suggested by the former's GVM envelope. This is sure to place considerable pressure on GAZ to achieve internationally acceptable quality standards for its own product.
It is notable that indigenous Russian vehicle manufacturers have recently faced intense competition from imported and locally assembled products carrying global nameplates, which now account for more than half of total market sales in that country.

Fuso Canter Eco Hybrid: chapter two
Daimler Trucks' Japanese operation; Mitsubishi Fuso Truck & Bus Corporation, first put the Eco Hybrid version of its highly successful Canter light truck into series production during 2006. This model was available with payload capacities of two or three tonnes, and was equipped with a parallel-hybrid powertrain consisting of a Fuso 4M42 three-litre diesel engine with a power output of 92 kW (125 hp), a 35 kW electric motor/generator, lithium-ion battery and Inomat-II automated mechanical transmission.
Experience gained with the sale of some 1 200 units of the pioneering model has now resulted in the introduction of a second generation version, which was launched on to the Japanese domestic market in mid-2012.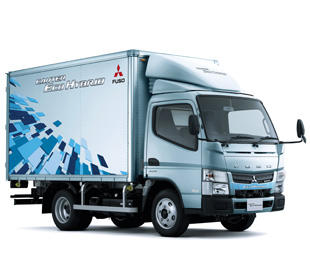 The development of the latest Canter Eco Hybrid has followed an evolutionary process, resulting in power output increases for both the diesel and electric motors. The newly installed 4P10 turbocharged three-litre four-cylinder diesel engine has an output of 110 kW (150 hp), and the "permanently excited" liquid-cooled synchronous electric motor is rated at 40 kW/200 Nm.
The electric motor is positioned between the clutch and the Duonic six-speed dual-clutch gearbox, with electric drive being used independently for initial take-off from rest, and the diesel only coming into play at a speed of 10 km/h. Above that point, operational conditions can dictate the use of diesel only, or a combination of diesel and electric power, while a stop-start system shuts the diesel engine down when the vehicle is stationary.
The lithium-ion battery specification has been substantially revised, and the main components are now guaranteed for five years, with an optional extension to double that period. The side-mounted battery container and compact liquid-cooled inverter have been subjected to comprehensive crash testing and are designed to withstand a 50 km/h side impact. The entire high-voltage system shuts down automatically if a predetermined level of force is detected by a built-in crash sensor, and the driver is also provided with his own emergency isolator switch.
The hybrid system adds around 150 kg to the Canter's tare mass, which exerts only a marginal effect on payload capacity. The European market version, which is built at Tramagal, in Portugal, is rated at a GVM of 7 500 kg, resulting in a body-and-payload capacity of more than 4,5 tonnes. Fuel savings of up to 23 percent in short-radius distribution over the equivalent diesel-only model are claimed. The new generation Canter Eco Hybrid was introduced to the Australian market early in the year.

Cat trucks still hauling in Oz
Unquestionably, one of the more newsworthy industry-related items of 2008 was the announcement that Caterpillar Inc. of Peoria, Illinois had signed a memorandum of understanding with truck and engine manufacturer Navistar International Corporation, to set up co-operation on a variety of global market engine platforms, and the introduction of a Cat-branded heavy-duty truck for road construction, civil engineering and oilfield service applications in the North American market.
In the announcement, Caterpillar also revealed that it would exit its established position of "loose" diesel engine supplier to on-highway truck manufacturers after the implementation of the US EPA 2010 emission standard.
Early the following year, the two companies announced the signing of a formal agreement covering the production of Cat-branded heavy-duty vocational trucks (i.e. for specific applications, rather than general goods haulage) in North America, plus the formation of a 50/50 joint venture to pursue global commercial truck opportunities overseas.
This joint venture was to manifest later in 2009 as a company named NC², and the target markets for its global roll-out were identified as Australia, Brazil, China, Russia, South Africa and Turkey. It was also announced that Navistar would integrate Caterpillar's C-15 diesel engine into its MaxxForce engine line-up, for redevelopment to EPA 2010 emission standard compliance.
In the months that followed, plans also emerged for global co-operation with Jianghuai Automobile Company (JAC) in China, and the consolidation and expansion of arrangements with Mahindra Navistar Automotives Limited in India, which had first been established in 2005.
It was also revealed that Navistar International would formally dissolve its former representation agreement with Iveco Trucks Australia, in October 2010, to allow for the launch of products from the NC² range into the Australian market – and that these would be built at an existing Caterpillar manufacturing site in Tullamarine, Victoria. The range was reportedly derived from International's TranStar and ProStar models, and it subsequently emerged in the form of the Cat-badged CT610 and CT630 models.
Observers generally applauded these developments, on the expectation that Caterpillar would bring its extensive global distribution and dealer network into the joint venture. Prospects became even more attractive when considering Caterpillar's recent history as a favoured proprietary diesel engine supplier to the road transport industry.
However, in September 2011, there was a surprise announcement that NC² was to become a wholly owned Navistar subsidiary with, presumably, no further direct involvement from the Caterpillar company other than its continued sourcing of the Cat-branded vocational trucks for the North American market, and the offshore use of "Cat" branding for certain products (as discussed further on).
Subsequently, Navistar International Corporation also announced the sale of its shares in Mahindra Navistar Automotives Limited, and Mahindra Navistar Engines (Private) Limited, to its erstwhile Indian partner, Mahindra & Mahindra Limited.
The recent difficulties experienced by Navistar International Corporation with regard to the EPA 2010 emission compliance of certain engines in its in-house MaxxForce range, and subsequent countermeasures including the buy-in of Cummins engines and technology, have been widely reported. Under these circumstances, it is not surprising that the company has rationalised its global activities to concentrate on solving critical issues "at home".
However, it is noteworthy that the efforts with Cat-branded trucks in Australia persist, and, at the recent Brisbane Truck Show, the full 2013 model range of CT610, CT630 and CT630LS were on display – albeit now standardised on International's ProStar platform, and imported fully built-up from the Navistar plant in Garland, Texas.
The original CT610 and CT630 bonneted 6×4 models that were launched into the Australian market in early 2011, are now joined by the CT630LS, with air-conditioned luxury sleeper cab, and the CT630S, which comes with a shortened-bonnet day or integrated sleeper cab, making it suitable for B-double applications.
Both new models have a 90-tonne GCM rating, and are powered by a dual diesel particulate filter version of the former Cat C15 engine, developing 410 kW (550 hp) and complying with current Australian ADR 80/03 emission standards – approximate to Euro-5 levels. Caterpillar will also use a new ADR 80/03 compliant CT13 engine, derived from Navistar's MaxxForce 13-litre, to replace the previous Caterpillar C13 ACERT power unit in the CT610 truck model. This presents as a significant switch from the original Caterpillar base engine to a unit with MAN parentage.
---
Global FOCUS is a monthly update of international news relating to the commercial vehicle industry. It is compiled exclusively for FOCUS by Frank Beeton of Econometrix.
Focus on Transport
June 2, 2013
Published by