The Land Cruiser is a serious piece of kit. It can go just about anywhere and carry just about anything. GAVIN MYERS discovers that it's also got a bit of a sense of humour
You can't help but giggle like a child the first time you drive a Toyota Land Cruiser. The thing has a sort of serious sense of humour about itself. I think it's the combination of its ridiculous size and old-school looks, coupled to the performance from that glorious four-litre V6 under the bonnet. You see, there are bakkies, and then there are bakkies. This is a bakkie.
The Land Cruiser 70 Series has basically been around since the mid-1980s. The original rough-and-tumble go-anywhere-carry-anything models, that is – not the more luxurious, much softer Prado and 200 models you see "off-roading" on Sandton pavements. It hasn't changed much since then, for good reason, but Toyota has now expanded the range with this, the 79 Double Cab.
The 79 Double Cab's raison d'être is an attempt to bring the appeal of the 79 Single Cab to those who need to move more people, without sacrificing that vehicle's one-tonne carrying capacity. Toyota has managed this well, the V6 petrol double cab rated at 1 005 kg as opposed to the equivalent single cab's 1 335 kg. Both have a gross vehicle mass (GVM) of 3 200 kg. Not too bad a trade-off for the extra seating, but, as can be expected, the load bay has shrunk in length – by 710 mm, taking it down to 1 535 mm. Width and height remain the same at 1 600 and 415 mm respectively. One must also note that the spare wheel is positioned at the front end of the loadbay and not underneath the vehicle.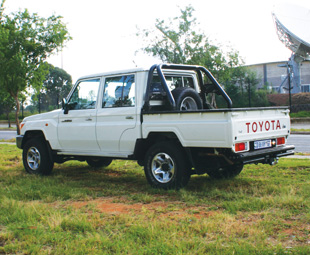 The new-found interior space, though, is abundant – the spacious cabin is light and airy. And you sit high in this already high-riding vehicle, further emphasising the sensation of space. Good thing too that Toyota decided to endow it with seven grab handles, as entry and exit can be a slight task for some.
The interior, however, is a slightly mixed bag. This is primarily because, despite the abundance of space and the Double Cab's intention to carry people, there is very little storage space. In addition to the cubby and rather deep centre consol (with removable tray), there is only one small drinks holder and seatback pockets. No door pockets or other hidey-holes are scattered around. The rear seats are also awkward to fold forward. But the seats are comfortable (the test unit's driver's seat was fitted with a tough-feeling genuine Toyota seat cover) and the floors are vinyl-covered for easy cleaning.
The vehicle is fitted with variable air-conditioning (you can adjust the intensity) and a neat touch-screen entertainment system that includes Bluetooth connectivity (with phone and audio function) and a very good navigation programme. Once you learn the intricacies of the system, it works well. The vehicle lacks features such as cruise control and a trip computer, two things we feel buyers would expect at the price, especially considering that these vehicles are likely to travel to remote places.
Being a Land Cruiser it is fitted with a four-wheel drive high- and low-range transfer box, as well as front and rear diff-locks and auto-locking front hubs. Our test vehicle was fitted with the optional, handsome 16-inch alloy wheels.
Along with the introduction of the Double Cab, Toyota also upgraded the 70 Series with disk brakes all round and ABS (anti-locking braking system). These work well, despite having no "feel" and the driver needing to apply quite a bit of pedal pressure. This can be quite disconcerting, especially after experiencing the urge of the 170 kW (at 5 200 r/min) and 360 Nm (at 3 800 r/min) four-litre V6. Plainly, a bakkie this large should not feel (or be) this quick … The gears are very well spaced and, with the strong torque, I pulled off in second on most occasions (during an uncharacteristic lapse of concentration, I forgot to change out of third at a robot, yet the vehicle still moved away effortlessly).
I do have to admit, though, that while pulling off in second eased driving, it also served to (in my mind at least) save fuel. Although fitted with a large 130-litre tank, I have not before witnessed a petrol gauge drop quite so quickly, despite Toyota's claim of 14,39 l/100 km … .
The Land Cruiser 79 Pick-Up Double Cab 4.0 Petrol is priced at R463 900 and comes standard with a three-year/100 000 km warranty. The models are also supported by the 24-hour ToyotaCare Roadside Assistance Programme.
It is one helluva bakkie, with a bent for rough-and-tumble work, but you will need a sense of humour if you are to live with it every day. It's massive, and it costs a lot to buy and run. If you don't absolutely need a vehicle that can carry a full tonne, five people AND go absolutely anywhere, you might rather consider a Raider-version Hilux.
Focus on Transport
February 1, 2013
Published by