It's been a long time coming, but Tata's Prima has finally been launched in South Africa – and the company is confident it will give the local extra-heavy commercial vehicle (EHCV) segment a headache. GAVIN MYERS was there.
We first saw the Tata Prima on local shores at the Johannesburg International Motor Show (JIMS) in 2011. This was to be the start of a two-and-a-half year journey to adapt the range to local conditions. At the same time, trials were started in Kuwait, the United Arab Emirates, Qatar and Russia – chosen for their extreme conditions ranging from -40 to 60°C.
In early March, Tata Automobile Corporation South Africa brought key customers, financiers, industry partners and, of course, media representatives, back to where the company started its local testing – the Gerotek testing facility, near Pretoria – for the official local launch event.
Billed as a range of "world trucks", the excitement among Tata's staff was clear to see.
"For 18 years I've been looking forward to having a range of trucks like this to present locally. That day has finally come, and we are going to associate ourselves with this range from here on," says executive director for Tata Automobile Corporation, Sudhir Babshet.
"Tata vehicles have always been known as workhorses – how much comfort and appearance one could enjoy was secondary. Owners and operators found the value for money in that, which is how we could put more than 25 000 trucks on this country's roads."
It's these same owners and operators that the company turned to in its endeavour to get the Prima just right for local conditions. "A year back we started seeding the first vehicles to specific customers and taking their feedback; redesigning where required and going back to them again. We started doing that in South Africa about eight months ago," explains Rudrarup Maitra, head sales – international business, commercial vehicles at Tata Motors.
"Getting their feedback was interesting for us, because they had a lot of suggestions to improve the vehicle. The vehicles are standing here today after recieving a thumbs-up from the operators with whom we've been testing," he continues.
With Prima, Tata is aiming to tackle the EHCV segment with three truck tractors (two 4x2s and one 6×4) and three tippers (a 10 and 14 m3 box-tipper 6×4 and a 19 m3 scoop-tipper 8×4). The range options cover the spectrum of 25 to 49 t.
The engine and driveline – Cummins and Eaton options from America, and ZF from Germany – is one of the many aspects that help define the Prima range as a world truck. The Cummins ISBe and ISLe engines produce between 198 and 283 kW (266 and 380 hp) and feature advanced technology such as Load-Based Speed Control (LBSC), Gear-Down Protection (GDP) and Vehicle Acceleration
Management (VAM), idle shutdown and cruise control for enhanced fuel economy and driver convenience. Both Eaton and ZF gearbox options offer nine forward ratios.
Sticking with the mechanicals, Tata has incorporated chassis-frame input from Mexican company Metalsa, as well as Hendrickson heavy-duty suspension to aid robustness, stability, speed and control. Anti-lock braking (ABS) is also incorporated.
With its sleek, modern looks, the cab was designed by a Tata-owned Italian design house. It was constructed using sheet-metal dies from Japan and Korea and a Swedish robotic weld line. A world truck, you see …
That cab (double-sleeper in the truck tractors and non-sleeper/day cab in the tippers) is designed on the outside for top-notch aerodynamics (it is very quiet inside). On the inside, for driver comfort, it offers air-conditioning, reclining seats, arm rests, an adjustable steering column, an audio system and GPS.
(Vic Oliver took the wheel of three new Prima models and gives us his driving impression over the page – Ed.)
Despite the EHCV segment being one Tata has never entered before (at least locally) the company is keen to prove it has what it takes in terms of its product offering and back-up service.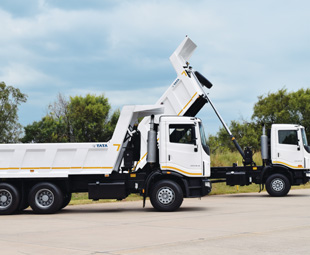 "We are confident that these vehicles have been rigorously tested and that we will create sustainable relationships," says Maitra. "The best way we feel we can communicate our brand commitment is with a best-in-class warranty of four years, or 450 000 km on the tractors and 5 000 hours on the tippers," he reveals.
After-sales back-up is taken care of through a service network of 48 commercial vehicle sales and service dealers in South Africa, 24-hour roadside assistance and roaming warranty cover in 14 southern African countries. "In some of these countries the brand is in a very strong position. In Tanzania, for example, we have a 36 percent market share," Maitra notes.
"This range has made a good name in the Middle East and we have achieved great success in India. We expect similar success here and I have absolutely no doubt that we'll achieve it," adds Babshet. "Each of our customers can rest assured that neither we, nor the vehicles, will lag in terms of commitment and performance."
In fact, Tata is so confident of this, it plans to launch even more variants at JIMS later this year.
Focus on Transport
April 16, 2015
Published by