SAC Trucks has been renamed SAC Commercial Parts. CHARLEEN CLARKE caught up with the company's CEO, Heinrich Lategan, at Automechanika, to ask him about the reasoning behind the name change
AC Trucks is dead! Long live SAC Commercial Parts! Lategan explains that the name change was necessary because the company has expanded its service offering.
"We used to sell parts for European trucks, but now we are selling parts for those trucks plus trailers, vans, bakkies and buses," he explains.
The growth in SAC's product offering is in line with the expansion of the company itself. SAC Commercial Parts is a far cry from SAC Trucks, which, when it opened its doors in 2000, comprised a single truck workshop in Centurion.
"Today we have ten retail outlets and we're opening another two next year (one in Alrode; the other in Port Elizabeth). They supply parts for Volvo, Scania, Mercedes-Benz and MAN trucks and buses; DAF trucks; Henred, BPW, Swift, Hendrickson, Weweler and Protea Trailers; Mercedes-Benz Sprinter and Iveco Daily.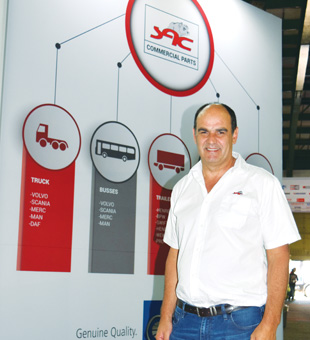 "They also supply spares for seven bakkie ranges, namely Toyota Hilux, Ford Ranger, Mazda BT-50, Chevrolet Utility, Isuzu KB, Nissan NP and Volkswagen Amarok," he tells FOCUS.
SAC owns majority shares in all the outlets. This means that all stores provide uniformly high levels of customer service. They also have access to the technical expertise for which SAC is famous.
Over 70 percent of parts sold by SAC are sourced from the renowned German company, Diesel Technic. "We have been named a Premium Partner by Diesel Technic," Lategan notes proudly. SAC is the only company on the African continent to have achieved this honour. SAC offers a 24-month guarantee on all Diesel Technic parts.
Lategan explains that these parts boast exceptional quality that is very similar to original equipment (OE) products. "In some cases, the Diesel Technic spare part is produced in the same factory as the OE product," he reveals. While the quality of these parts is identical or similar to the OE product, SAC's prices are lower.
A total of 16 000 line items are stocked by SAC, which makes daily deliveries to all its retail outlets. Additionally, SAC can draw on Diesel Technic's parts inventory, which comprises 30 000 line items.
"We pride ourselves on always having the part in stock. When a truck breaks down, the transport operator wants to get the vehicle back on the road again – really fast. We make this possible," Lategan explains.
This is thanks to exceptional stock planning within SAC. "We have invested in a purpose-built integrated logistics system, which controls stock availability and planning. It analyses stock levels and, thanks to the fact that we're mindful of trends, we're able to predict what stock is required and when.
"We believe in connectivity; the world in which we're living is highly connected. This system is indicative of that. Furthermore, we have made a huge investment in having the stock in South Africa. We also have great suppliers and strong partners," the SAC CEO reveals.
Not surprisingly, SAC already has 6 000 regular customers, and this customer base is growing daily. "Our clients like the fact that we have outlets all over the country. So, no matter where their truck, bus, trailer, bakkie or van is operating, parts are available. They also like the fact that we offer a full bumper-to-bumper parts service; there is no reason to shop elsewhere."
The past 17 years have been exceptional for SAC; its growth has been nothing short of sensational. Where to next? What about parts for other marques, for instance? Lategan says growth will always be "sensible and balanced".
"We will grow the company organically. Yes, we could add other marques in the future, but we will only do this if we can do it properly. Customer service is our number-one priority," he insists. Given this ethos, it's certainly not hard to see why SAC is soaring!
Focus on Transport
October 20, 2017
Published by