CNH Industrial is truly a global giant, with 12 brands, 64 manufacturing plants, 49 research and development centres and a workforce of more than 69 000 people. It produces anything and everything from trucks to buses, tractors and construction equipment. CHARLEEN CLARKE went on a whistle-stop tour of four European cities to gain an insight into this mammoth – and rapidly expanding – industrial goliath.
DAY ONE: CHABLIS, FRANCE

Things have got off to a decidedly good start. That's because I am surrounded by one of my favourite things: wine. To be precise, I'm at Domaine Vocoret, a Chablis vineyard some 180 km from Paris. Chablis is a small town (it has a population of just 2 600). Where it lacks in numbers of people, it more than compensates in terms of wine production; it comprises some 4 200 ha of vineyards.
Alas, we are not in Chablis only to drink wine (although, truth be told, we do quaff a couple of bottles). We're actually here to learn about one of the CNH companies, namely New Holland.
The company produces massively advanced grape harvesters. It's been the market leader since pa fell off the bus, selling 14 000 of these machines since 1975. In fact, half of the 350 to 400 machines sold annually, worldwide, (including in South Africa) hail from the New Holland stable.
New Holland also produces olive harvesters, which enable farmers to reduce costs by a whopping 25 percent (versus manual picking).
Later, out in the vineyards, we see the VN2080 in the flesh (or should that be metal?) And what an impressive beast it turns out to be. The VN2080 can straddle two rows (the wheels are always in the middle of the row). It adjusts to widths of between 0,95 and 1,50 m. The track width adjustment is controlled from the driver's seat using electro-hydraulic controls.
The big blue machine is powered by a New Holland NEF six-cylinder turbocharged 6,75-litre engine, rated at 130 kW (175 hp), which is matched to a hydrostatic transmission with integral antiskid control (this provides optimal traction and grip on all terrains).
The system eliminates the risk of wheel slip and is used to climb steep gradients. In fact, we're told that it can climb a 45o slope! It's incredibly manoeuvrable too; turning in the tightest of spaces.
It's very easy to see why this machine sells faster than bottles of Chablis on a hot day …
DAY TWO: ULM, GERMANY
Such was my excitement following my day in Ulm that I covered it in my editor's column in the September issue of FOCUS. However, because I would like to fully portray the extent of CNH's operations, I will cover the day yet again (albeit briefly).
Ulm is home to Magirus, which is one of the top three companies in the world that specialises in producing fire engines. Magirus is, of course, yet another star in the CNH crown.
Arriving at the fire-engine producer, we are introduced to Antonio Benedetti, the company's CEO, who gives us some insight into this truly fascinating company, which was founded in 1864 by a chap called Conrad Dietrich Magirus.
"Magirus was the local fire brigade chief of Ulm, and he invented the first ever turntable ladder," he tells us.
Fast forward 151 years and Magirus is a huge business today. It's a massively progressive company, too; it recently launched the ML68L, which just happens to be the highest ladder in the world
(68 m).
Later, I ascend the ladder (a truly terrifying experience) and go for a spin in the Superdragon X8, which is the mother of all fire engines. It is powered by two
412 kW Iveco engines that deliver a combined output of 824 kW of power, and it blasts off like a rocket.
We also go on a tour of the Magirus plant, where regular trucks are transformed into fire trucks. Because the company is part of the CNH group (which also owns Iveco) some people think that it only converts Iveco trucks, but that's not true; the customers select their own chassis.
We also learn about the company's extremely close relationships with its end users; the firefighers. "Magirus actively collaborates with firefighters from Siberia to Africa, and from China to Japan. It is through close relationships, with those who are at the front line in emergency response, that the best and most reliable technological solutions are developed.
"When firefighters save lives, they cannot afford to make any compromises. This is why we also cannot make any compromises when it comes to providing firefighters with the best technology and tools. Every advancement we make, regardless of how hard it is to achieve, will pay off in the end. One life makes the difference," stresses Benedetti.
It's clear that this CNH-owned company is also making a real difference …
DAY THREE: TURIN, ITALY
Day three of our whirlwind tour is utterly fascinating. We kick off with my personal highlight of the entire trip: a meeting with David Wilkie, director of industrial design. He is both a fascinating and colourful character, who made his mark in the automotive world before moving into the world of commercial vehicles.
He reveals that he has enjoyed the transition to industrial products. "The fact that it's an industrial vehicle doesn't mean to say that it has to be boring or boxy. Yes, our vehicles must be functional, but there is a lot of style in our products, too. A commercial vehicle has to deliver goods, but it is also a communication device; which means it must stand out from the crowd," he explains.
Automotive design, on the other hand, can be a bit repetitive. "A car does a job and the job is never that different. Within the field of commercial vehicles, however, every product we work on has a different reason for its existence."
Our next stop is the CNH Industrial Village; the company's first multifunctional centre made to sell, support and present the products of New Holland Agriculture, New Holland Construction, Iveco, Iveco Bus, Astra and FPT Industrial.
The facility, situated in the northeast part of the city, comprises an area of over 74 000 m², of which 23 000 m² is covered with a large display of vehicles and powertrains. There are points of assistance for after-sales and financial services and a large workshop capable of carrying out all levels of maintenance and repairs, using highly skilled technicians.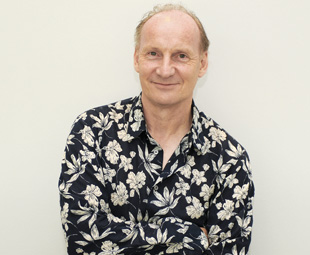 Inside the complex, in the large showroom dedicated to the exhibition of vehicles, there is also an area showing technological excellence and innovative solutions that are the basis of the products of today and tomorrow.
In addition, an area has been dedicated to a gallery that traces the historic evolution of the products of CNH Industrial companies from the early years of the 20th century.
Then we dash off to a farm to see a New Holland tractor powered by methane. I get to spend some time behind the wheel of this unique tractor; it is surprisingly easy to drive. Best of all, the air-conditioning works like a dream (it's 40oC outside; everyone is wilting). The tractor is great news for the planet and for operating costs, too; it offers a 20 to 40 percent fuel saving over diesel-powered truck.
Equally fascinating is the fact that the La Bellotta farm that we're visiting has its own biogas plant. Through the anaerobic digestion of biomass and livestock manure produced on site, this plant generates biogas, which
is used to power an endothermic engine for the production of electricity – all of which is fed into the national grid, and corresponds to the power needs of 10 000 households. The farm produces all the methane required to power the tractor.
La Bellotta also produces 15 000 t per year of digestate, which almost entirely covers the farm's needs, meaning it no longer requires chemical fertiliser. Some 4 700 t of CO² emissions are also saved via this initiative. Green and very clever – just like the methane-powered tractor.
DAY FOUR: MILAN, ITALY
Day four of our CNH tour sees us arrive at Expo Milano 2015; a massive exhibition which focuses on "providing healthy, safe and sufficient food for everyone, while respecting the planet and its equilibrium".
Practically, this means an enormous exhibition area where 140 countries proudly show their pertinent technologies and product offerings. I am one of over 20-million visitors expected to view the
1,1-million square-metre exhibition.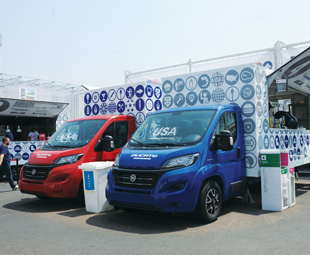 CNH is an official global partner of the Expo, so the company is loudly and proudly involved in the event, thanks to the construction of a fascinating pavilion that flies the Holland Agriculture flag.
Incredibly, I discover that, at the end of the Expo, the entire structure will be dismantled and reassembled for new purposes. Equally interesting is the "green" manner in which the entire pavilion was constructed.
So how did they achieve this? Well, the pavilion was assembled according to the techniques of dry construction. (Where concrete requires water, this site was able to operate entirely without it.)
It also boasts a grass roof, which reduces heat during daytime hours. Rainwater is harvested from the pavilion roof, conveyed to a collection tank and placed underneath the lower section of the roof and is used to irrigate the grass roof area.
During the night, a free-cooling system with ambient air is activated through a fan and a servo controlled damper located on the north side of the pavilion. The free circulation of air reduces the temperature inside the building. When the air-conditioning system is switched on in the morning, less energy is needed to cool the ambient air.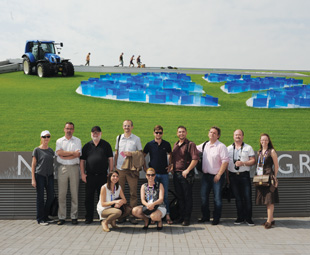 Furthermore, photovoltaic panels are integrated into the upper windows of the south façade. They produce part of the energy required for the operations of the pavilion.
Amazingly, even the tiles in and around the pavilion are green. I'm not going to explain them fully (that would require an article in itself, but I discover that they degrade the same amount of Nitrogen Oxide (NOx) as 30 trees would in one day (approximately 22 m2 of foliage).
Later, when I page through CNH's 2014 Sustainability Report, and I see the message it contains from Sergio Marchionne, the group's chairman, I think that the construction of the pavilion is especially apt.
"Building the future is an individual and collective responsibility. It is the duty of every person at every level. We have a duty to commit to what we are able to do, to dedicate our individual skills and talents in uniting the best of society, and to work together to achieve higher objectives," he writes.
The Expo pavilion is tangible proof that the group is doing exactly that.
Focus on Transport
November 1, 2015
Published by