Tankers to outperform any competition
Colt Energy will soon receive 20 new tankers, which use state-of-the-art technology to outperform competitors with a shorter offload period
Colt Energy, a level-one BBBEE-owned and managed company, was established in 2015 with the focus on transportation and logistics within the bulk liquid-fuels sector, with its key competency on professionalism and service excellence. Colt Energy was founded and is chaired by Gregory Richardson, the owner of Colt Logistics, after realising the existence of a market gap in the liquefied fuel and gas sector.
In 2016, Colt Energy was awarded part of the Easigas tender for transportation of liquefied petroleum gas (LPG). Colt Energy then approached the tanker manufacturer Tank Clinic to supply 20 new tankers, with the most modern and efficient offloading equipment, for its LPG, Butane and propane requirements.
When Colt Energy started operating in May 2015, it made use of second-hand tankers. It bought its first two new tankers from Tank Clinic that same year. At the time of being awarded the tender in 2016, Colt Energy was operating a fleet of nine vehicles.
"After some good feedback on Tank Clinic's research and development on new tankers, Colt Energy ordered 20 tankers from the company," says Steven Holm, technical director at the tank manufacturer.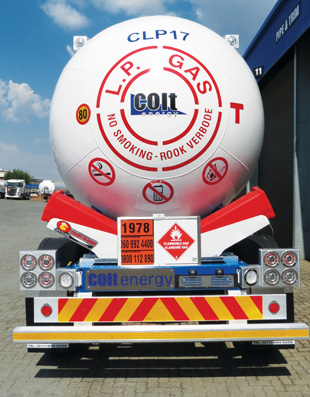 This was, however, not the only motivation for Colt Energy to approach Tank Clinic. "When we decided to purchase new tankers, we approached all the major tank manufacturers in the country. Tank Clinic was the only one that took us seriously as a potential new customer. It engaged with us on a different level compared to its competitors," says Stefan Heling, the managing director at Colt Energy.
The vehicles provided by Tank Clinic have been designed to adhere to the latest EN specifications prescribed by local legislation.
"The tankers are further enhanced by using the most modern and efficient loading and offloading tanker equipment. The flow rates delivered by the new Alfons Haar meter systems far outperform any of the competition in the industry. The result is a tanker with a greater capacity, which can offload its contents in a shorter period of time," notes Holm.
Focus on Transport
May 18, 2017
Published by