The economical and eco-logical way
Those who say the bottom line is as much about their social and environmental performance as it is about money can't always back up their claims. However, having joined MAN Truck & Bus for the Bloemfontein-Cape Town leg of its second Consistently Efficient Tour, JACO DE KLERK realised that when it comes to walking the talk, this is one company that knows how to MAN-up.
Bruce Dickson, deputy CEO of MAN Truck & Bus South Africa, believes the entrepreneurial fervour of our country's long-haul trucking industry has been a pivotal factor in building the national economy, carrying as much as 80 percent of overland freight in southern Africa.
However, South African truck operators face two formidable challenges. "Firstly, diesel costs have risen to the point where they now constitute over 40 percent of overall operating expenses, thus putting ever-increasing pressure on profitability," says Dickson.
Secondly, he emphasises that looming international legislation on carbon emissions is forcing truck fleet operators who wish to service multinational organisations to limit their CO2 emissions according to some tough targets.
But the tide may be turning. "MAN's Consistently Efficient programme has developed a cost-effective long-haul trucking solution that is not only eco-friendly, but directly boosts fleet profitability by significantly reducing diesel consumption and thereby each truck's total cost of ownership," says Dickson.
This was proven last year through the multinational commercial vehicle manufacturer's first Consistently Efficient Tour, which covered 11 500 km across 10 European countries, stopping in 20 cities. The aim was to demonstrate the significant fuel saving and carbon emission-reduction capabilities of its new EfficientLine range of long haul truck-tractors.
Dickson says the results were phenomenal. "An average diesel saving of three litres per 100 km, and a corresponding CO2 reduction of eight kilograms per 100 km was achieved per truck," he points out. "That is 42 tonnes less CO2 emitted over the typical four-year cycle of a truck-tractor."
This was made possible by using MAN's EfficientLine trucks, which are equipped with simple technologies that reduce rolling resistance, aerodynamic drag, wind resistance and auxiliary component power consumption (but more on this a bit later).
The 2012 tour
The Consistently Efficient Tour 2012, the second of its kind in the world, took place in South Africa – demonstrating just how important emerging markets are for MAN.
It commenced on August 15 at the company's flagship Centurion dealership in Pretoria and travelled some 4 200 km, stopping at MAN dealerships in Bloemfontein, Cape Town, Port Elizabeth, Pinetown and Nelspruit, ending its run back in Centurion on August 31.
This South African trip featured three on-highway long-haul derivatives from MAN's new flagship TGS EfficientLine range; the promotional TGS 26.480 BLS, a long-haul MAN Euro 5 "Green Truck" using Selective Catalytic Reduction (SCR) technology and the urea-based additive AdBlue to reduce noxious exhaust emissions; and a stock-standard MAN TGS WW 26.440 BLS 6×4 truck-tractor towing a fully-laden curtainsider superlink trailer that was used as a reference vehicle.
Dickson boldly announced beforehand that MAN's mission on this tour was to match and perhaps even improve on the three litres per 100 km fuel savings benchmark set by its European counterpart. "Of course, we do need to take cognisance of the fact that our conditions are a lot more demanding in South Africa, but we are still very confident," he said.
To add to the amazement, national truck sales manager Mark Gavin explained the differences between the two tours: the European excursion tested 4×2 truck-tractors with Euro 5 TGX motors, whereas the South Africa tour would not only test a 4×2 but also 6x4s equipped with Euro 2 TGS engines. "Adding to this is that there is about 12 tonnes difference in the payload between what we have here and what they had in Europe," he said.
Both the EfficientLine TGS 6×4 26.440 and 26.480 had a maximum legally permissible gross combination mass (GCM) of 56 tonnes with their curtainside superlink trailers, amounting to 34 tonnes of payload. Even the EfficientLine 19.440 4×2 BLS outdid the Euro spec'd vehicles with a GCM of 40 tonnes, one-and-a-half tonnes more than the TGX's 38,5 tonnes.
This shows that the company is committed to testing the vehicles in truly South African conditions before the local launch of the range in mid-2013.
Keeping up with truly southern African conditions, all the TGS EfficientLine vehicles – including the Euro 5 TGS "Green Truck" – were filled up with standard 500 parts-per-million (ppm) diesel, which costs less than 50 ppm and is widely available. As Gavin explained to the awestruck guests, it is one of the only Euro 5 products in South Africa that can accomplish this feat.
Engen supplied and subsidised roughly a third of the 500 ppm diesel and lubricants for all five Tour trucks, as well as providing several meals and accommodation at respective "Engen One Stop" and "Engen Truck Stop" service stations along the route.
The EfficientLine's ability to run on 500 ppm diesel isn't the only factor that played a part in its name selection. The range runs on this fuel while producing lower CO2 levels. Dickson explains that approximately 2,63 kg of CO2 is produced for every litre of diesel burned. "There is thus a directly proportional relationship between reducing fuel consumption and lowering CO2 emissions," he emphasised.
And this is exactly what the TGS EfficientLine does through its efficiency package. As Dickson explained: "The EfficientLine's remarkable fuel efficiency is achieved via the fitment of a comprehensive aerodynamic package to reduce the effects of drag; energy-saving tyres to reduce rolling resistance; improved management of auxiliary power demand from selected components, via an air-pressure management unit which automatically cuts out the compressor when it is not in use; lightweight aluminium rims; and lighter front axles and suspension to reduce vehicle deadweight.
"EfficientLine trucks are also electronically governed to a maximum speed of 85 km/h as a measure to minimise the exponential influence of speed-to-power required to overcome wind resistance," he added.
However, this hampers the manoeuvrability of the truck a bit, as EfficientLine 26.480 tour driver Dennis Flowers pointed out. "Getting stuck behind a slow vehicle forces us to reduce our speed and move out of high gear," he explained. "This pulls the engine out of the green band and thus negatively affects fuel consumption."
Flowers added that the governed speed makes it difficult to overtake a vehicle that doesn't drive consistently, but he was thoroughly impressed with the MAN vehicle and delighted to learn more about the truck during the tour as he was a driver-trainer for many years for another European brand.
"She is a little winner and doing exactly what I want," he said while I accompanied him through the Karoo towards Cape Town.
But the 85 km/h governing does have its positive effects on fuel consumption. As Fritz Hellberg, founder of Hellberg Transport Management, explained: "A mere 10 km/h increase, from 85 to 95 km/h, increases wind resistance by 20 percent." Hellberg also provided an independent audit and verification of the fuel consumption obtained during the Consistently Efficient Tour 2012.
The fuel consumption and distance covered by the participating trucks was also electronically measured via the CANbus-interfaced onboard computer supplied by Cartrack.
The monitoring of how much a vehicle saves on fuel consumption would be pointless if a vehicle didn't save any fuel. "It is essential that we use the best products available in South Africa on our new TGS EfficientLine trucks," emphasised Dickson.
"The various components of the EfficientLine package each contribute significantly to the truck's overall fuel efficiency and must be of premium quality. They must also be fully supported by their suppliers. All our partners on the Consistently Efficient Tour 2012 have the right products and credentials to assist us in achieving our efficiency targets," he added.
These include:
• Afrit, which supplied three superlink curtainside trailers and one triaxle reefer;
• Alcoa, which provided aluminium rims for the MAN TGS EfficientLine truck-tractors and two of the superlink trailers;
• Goodyear, which provided FuelMax Marathon tyres for the trucks and their respective trailers;
• Aerotruck, which supplied fibreglass aero packages exclusively designed for the EfficientLine trucks and trailers; and
• All tour trucks, trailers and other mobile branding were emblazoned by Graffiti.
EfficientLine package products were pointed out to guests at each city's gala event by "The MAN" – a character clad in a white racing helmet and overall, resembling a certain mute driver on a popular TV motoring show. Rounding off the motoring entourage was Ignition TV presenter Marius Roberts, who served as The MAN's translator and was MC for the entire tour.
According to Dean Temlett, MAN's TGS product specialist, every stage of the tour presented new challenges and insights into the complexities of long-haul truck transport in South Africa. "Our two main constraints on the Centurion-Bloemfontein leg of the tour were wind resistance and a road block, both of which hampered our momentum and thus our fuel efficiency," he explained. "However, excellent lessons can be extracted from these contingencies to help promote fleet efficiency."
The winds put the EfficientLine aerokits to the test, and this element of the efficient package definitely played a part in the fuel savings achieved during this leg. The road block saw a crew of female Free State traffic officers pulling trucks off the road to conduct random vehicle fitness tests, checking lights, licences and tyre conditions. As EfficientLine 26.440 tour driver Blackie Swarts pointed out, these efforts are necessary in an age of rogue truckers, but they do compromise the schedules of the professional truck pilots.
However, Swarts used the opportunity to demonstrate the TGS EfficientLine's auto-check lighting function to the officers. Effectively allowing the driver to walk around the vehicle to check that all lights are in working order, this functionality eliminates the need for an assistant.
Temlett, on arriving in Bloemfontein, expressed his enthusiasm about the promising readings achieved during the first leg. "We are confident of meeting our three litres per 100 km diesel savings target," he said. "The EfficientLine package is a bona-fide engineering innovation and our figures thus far are proving it."
The Bloemfontein-Cape Town route was also plagued by strong cross- and head-winds, but the aerokits proved their worth.
"With the wind experienced this side of Laingsburg, it felt as if the truck was going over a wavy sea – it was rocking the cab so much," explained Hellberg. "However, in some way we are quite grateful that we got those winds, so that we could translate them in actual figures on the road as well."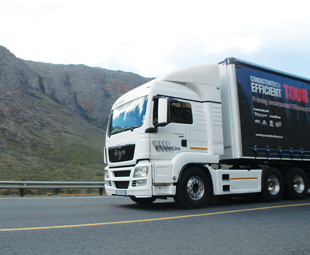 Road works between Bloemfontein and Beaufort West were a hindrance, but didn't seem to have an effect on the fuel consumption of the vehicles. As Hellberg explained, the fuel savings achieved up to this point equated to an improvement of around 12 percent on the reference vehicle. "If you want to look at litres per 100 km, we have been saving around 6,1 litres per 100 km so far," he added.
This is all the more impressive when one considers how Gavin explained the relation between fuel and financial savings: "If we work on a fuel saving of two litres per 100 km alone, you are going to save 4 000 litres of fuel, which is four refills per annum – this equates to R40 000 a year if you take it at R10 per litre."
He went on to say that over the warranty-covered life of the vehicle – the standard warranty for these vehicles is four-years/600 000 km – customers will be able to save 12 000 litres of fuel, which is 12 tanks or roughly R120 000. "So over the warrantable life of the vehicle, for every 35 vehicles you buy at list price, you are getting three vehicles for free," emphasised Gavin.
And the financial benefits are only part of the picture, since a fuel saving of three litres per 100 km means 42 tonnes less CO2 will be emitted over the first economic life of a vehicle.
To offset the CO2 emitted during the Consistently Efficient Tour 2012, MAN donated 365 indigenous trees to primary and secondary schools around South Africa via the non-profit organisation Food and Trees for Africa.
"We want to include the general public in our efforts to promote sustainable trucking," says Dickson. "All of us at MAN and our tour partners are looking forward to a really enthusiastic and positive reception from customers, the media and the public alike when the new efficiency benchmarks set during the tour are released, proving that economy is ecology."
The fuel-saving figures up to Cape Town were very promising – but as Hellberg pointed out, the Pretoria-Bloemfontein-Cape Town route is an easy run. "The Port Elizabeth-Durban run, and the Durban-Nelspruit leg, will be tougher," he said. "However, the average speeds on these routes will be lower than those we have been doing so far, and with an average lower speed, the wind resistance factor will also be lower, so maybe we will come out at the same average that we have achieved so far."
It's clear that MAN is putting its money where its mouth is – getting down and testing its trucks in real South African conditions before launching them here.
Catch the October edition of FOCUS to see how MAN continued to walk the walk back to Centurion and what the Consistently Efficient Tour 2012 achieved in terms of fuel savings and carbon emission reductions.
Focus on Transport
September 1, 2012
Published by