The transporting of fast-moving consumer goods and daily commodities were the main drivers of sales in the high-volume medium commercial vehicle (MCV) sector during 2013. CLAIRE RENCKEN takes a closer look at some of the players in this market
As with any vehicle, when customers buy MCVs, they want value for money. Danie de Beer, general manager commercial vehicles, Hyundai Automotive South Africa, explains how the company is going about providing that and more: "Customers want a good product at a good price, with a competitive specification level. They also want the assurance that they will be able to utilise the vehicle for a fair number of kilometres, with it being reliable, and also very affordable to maintain. Fuel consumption is also very important; as we all know, in most transport-for-reward scenarios, fuel is the biggest expense."
He continues: "Hyundai Trucks tick all the boxes. The reliable drivetrain has proved itself in South African conditions. Operating costs are reduced substantially with the extensive three-year/200 000 km warranty and roadside assistance, and the standard one-year/60 000 km standard service plan. The D4DB, 3 907 cc engine balances power and fuel consumption perfectly.
"The proverbial 'cherry on top' is one of the most comfortable cabs around; the engineers at Hyundai Truck & Bus certainly did their homework. The cabs on the Hyundai Mighty trucks are referred to as 'semi-floating cabs'. The cab rests on oil-filled mountings aimed at reducing driver fatigue; the number one cause of truck accidents. The adjustable steering column and door-mounted armrests complete the package."
Because applications and driving styles differ, Hyundai Commercial Vehicles embarked on a driver training programme in 2013. "We offer it free to owners of Hyundai commercial vehicles. It covers the driving techniques to achieve excellent fuel consumption. Drivers are also taught the importance of pre-trip inspections – to cut down on downtime and unnecessary costly maintenance that could have been avoided," says De Beer.
He adds that, when looking at the 2014 year-to-date sales figures, there is a slight decline compared to 2013. Mining strikes, the rand/dollar exchange rate and the elections all play a part. But he remains optimistic: "Luckily South Africans are resilient and we always bounce back. We have been through worse times than these. The prediction is that the market will stay flat for the remainder of 2014.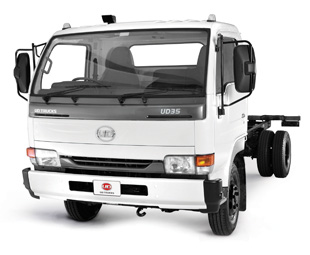 "Our aim is, as always, to increase our share of the market by selling value, and not just trucks. Tough trading conditions lie ahead; this will necessitate manufacturers bringing special offers to the market and looking closely at the prices they offer for trade-ins. It is a fact that as soon as new truck sales start to slow down, the demand for used trucks increases. It is, thus, of the utmost importance to properly evaluate used trucks in order to construct good, solid deals for customers."
Similarly, UD Trucks' versatile MCV range of trucks has, over the years, built a strong reputation as some of the most reliable and durable trucks on the road. Although they may not be the newest models available on the market today, they have a very loyal following among some of the biggest operators, particularly in the baking industry.
Jacques Carelse, managing director of UD Trucks Southern Africa, says: "In this, their run-out year, the UD35, 40 and 40L will continue to prove their worth by saving owners considerable amounts on diesel, maintenance and running costs. We believe that the MCV range ensures that operators get the best lifecycle costs from their fleets. Over the years, UD Trucks has found favour in the marketplace as a supplier of a proven, reliable, no-nonsense product that offers extensive application flexibility."
Understanding the need for continuous flexibility in the supply chain, UD Trucks' MCV range is available with an optional fully automatic Allison transmission, to improve driver comfort and reduce fuel consumption and maintenance costs in most applications. Trucks in this market segment are usually very hard on clutches and brakes, as they are often driven in a city environment on a stop-go basis.
This truck range also offers cab suspension, ensuring that the driver and assistants enjoy a smooth ride. With an emphasis on safety and comfort, the cabin is well appointed with streamlined ergonomics.
In the baking industry particularly, drivers often have to be on the road long before sunrise, so driver comfort is a high priority.
That brings us to the next challenge for fleet owners operating in the southern African region – the tough road conditions, especially in remote areas. Sometimes, up to 80 percent of a company's delivery routes are on dirt roads. Therefore, UD Trucks developed a special "off-road" kit for its MCV range to protect the suspension and undercarriage of the trucks. The company maintains that these kits are extremely successful. They include teflon suspension bushes, heavy-duty shock absorbers and a protector plate under the engine to safeguard the drivetrain from rocks and ruts.
Carelse adds: "Operating in Africa is very different from running a fleet in most other international markets. We have tougher road and operating conditions. You therefore need trucks that are able to effectively handle this type of environment, without breaking the bank when it comes to operating costs.
"Distances are also longer from the point of origin to the delivery site and include many rural deliveries. We believe our product range has appropriate technology and equipment to suit the local environment and operating conditions," says Carelse.
"Our strategy is to continually adapt to the changing dynamics of our market, which, in future, will require more practical vehicles of good quality, which also offer customers more profit per rand spent. We also need to prepare for more stringent compulsory specifications and environmental standards, which will be implemented in 2015," concludes Carelse.
Focus on Transport
June 1, 2014
Published by