What does the public think about the state of public transport in South Africa? The telling answers are in the recently published results of the opinion poll review conducted by Gert Heyns and Rose Luke, researchers at the Institute of Transport and Logistic Studies
Transport is ranked as the third-highest priority (after education and health) by South Africans, but commuter needs are not being met. This is what University of Johannesburg researchers Heyns and Luke found in their research paper entitled: The State of Transport Opinion Poll South Africa (TOPSA). The paper compares the results of surveys conducted with 1 000 South Africans across the country over a four-year period.
The survey aimed to determine the public's confidence in the South African public transport systems. Key areas of public transport were discussed, such as whether transport should be a national priority, what issues relating to transport are high priority and the perceived change in public transport locally and nationally. TOPSA is the only annual public transport opinion survey conducted in South Africa.
Transport is a top priority
Transport was consistently ranked in the top-three, high-priority issues, with 74 percent of the respondents identifying it as a top priority in 2015.
"This suggests that, despite some improvements in public transport in certain areas, these are insufficient in addressing the broader mobility issues experienced by South Africans," Heyns and Luke say.
The lack of public transport services is somewhat surprising, as it was identified as an important
basic need in early post-1994 legislation. It formed
part of the Reconstruction and Development Programme (RDP).
"It is evident that, since the first recognition of transport as a means of assisting in meeting basic needs in the RDP in 1994, policy objectives have not changed substantially. This consistency would appear to reflect a lack of progress in meeting the goals stated more than 22 years ago," Heyns and Luke note.
While the government's vision for public transport is to be safe, reliable, effective, efficient and fully integrated, South Africans experience it differently. They identified insufficient levels of public transport, inadequate frequency and operating hours, as well as poor-quality service as some of the issues with public transport.
Issues with public transport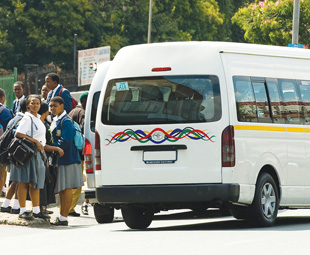 Safety was especially concerning to South Africans. The standard of driving, law enforcement, hijacking and personal safety while on public transport were some of the safety concerns South Africans highlighted. They were also concerned about the public transport infrastructure. The quality of the roads was a main concern, although rail infrastructure and out-of-order traffic lights were also identified.
Road infrastructure was a bigger concern for South Africans living in rural areas than in urban areas. Residents living in predominantly urban provinces such as Gauteng, KwaZulu-Natal and Western Cape were positive about the quality of their roads, while residents from the other provinces noted the very poor quality of roads.
When asked what could be done to improve road safety and law enforcement, respondents noted that law enforcement is not strict enough, that there is an insufficient presence of traffic officers and that the law enforcement processes are prone to corruption.
"Generally, this indicates low perceived levels of enforcement of traffic laws," the researchers point out.
Perceived improvements in public transport
Only 35 percent of South Africans felt that transport in their local area is better than the previous year. Those who felt local transport had changed, or worsened, noted the lack of sufficient transport, issues with taxis, infrastructure (most notably potholes), congestion, irresponsible drivers and cost of transport as some of their concerns.
When asked about the outlook for public transport over the next five years, the majority of South Africans
(53 percent) indicated that they felt it would be worse, or they were indifferent.
"This is considerably different from the 2012 results, which indicated that the majority (67 percent) of respondents believed that transport would be much better in five years' time," note Heyns and Luke.
However, the newly implemented bus-rapid transit (BRT) services were well received. Around 69 percent of Western Cape residents indicated that the MyCiTi BRT service was very good, while 68 percent of Gauteng residents rated the sister programme, the Rea Vaya BRT service, as very good.
Minibus taxis received the highest rating in the Eastern Cape, Limpopo and North-West provinces. Heyns and Luke explain: "In many instances, this may be explained by the lack of or performance of the alternative modes or transport. Although respondents were generally relatively positive about taxi services, this has declined since 2012 when 38 percent of respondents indicated that these were in a very good condition."
The public's perception is not surprising. Heyns and Luke point out: "These latest results reflect that, although there have been large investments in isolated transport projects over the past few years, for the average South African, mobility and accessibility is still difficult, onerous, expensive and unsafe."
They conclude: "The results reinforce the idea that, while policies may be appropriate, the extent of implementation is insufficient to alter the transport landscape in the country, or impact the 2030 objectives of eradicating poverty and reducing inequality in South Africa in any meaningful way."
Focus on Transport
September 19, 2017
Published by