The science behind Truck Test
So you think that Truck Test 2017 is done and dusted? Perhaps for the participants, but this will not be the case for the team at TruckScience, as they will now spend several days compiling the final results.
Martin Dammann, director of TruckScience, says that to calculate the results the team will be using a spreadsheet similar to the one used for Truck Test 2015.

"We've got a spreadsheet that we have used for the last few years, but with every Truck Test we tweak it a little bit," says Dammann. With the help of Ctrack's telematics solutions installed into each truck, TruckScience could collect real-time data pertaining to the speed and fuel consumption of the participating trucks.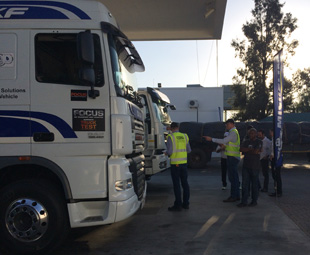 Dammann says: "To calculate the average speed of each truck we will look at Ctrack's tracking system to determine the exact start, stop and arrival times. This will allow the team to get very accurate travel times for the vehicles.
"To measure the fuel consumption, we recorded the bowser fill-up on the return to northbound Engen Blockhouse. We filled each truck to the same mark which was used when filling up the trucks before the test," says Dammann.
To keep the results fair, each truck will be penalised by 30 seconds for every time it travelled faster than the five-kilometre tolerance it was allowed for any speed limit on the route. For example, if the speed limit at a stage was 80 km/h, participants are penalised if they exceeded 85 km/h.
There were several areas with roadworks on the N3 southbound on Van Reenen's Pass, between Harrismith and the halfway mark of Tugela Truck Inn, but Dammann says this should not create a problem in determining accurate results.
"The delay at these roadworks will only translate into five to ten minutes. Over the distance of the route it doesn't influence the results negatively by a huge margin," says Dammann. "Plus, of course, all the participants had to pass through the same roadworks – so it's not as though only one or two trucks were affected."
The Truck Test participants will get together at the Johannesburg Country Club on Wednesday, May 3, where the test results will be revealed.
Focus on Transport
March 30, 2017
Published by