The year has started with a bang for South Africa's major truck-tyre manufacturers
Bridgestone
Bridgestone South Africa is growing its truck and bus radial (TBR) offering, as well as its trailer range of tyres, with two recent additions.
The company's Firestone FS404 range of heavy-duty TBR tyres receives a 12 R22.5 size to complement the existing 315/80 R22.5 sizing; opening the FS404 to a wider market.
The FS404 is optimised for duty on steer, drive and trailer axles, and is able to deliver exceptional mileage and durability in its original life, and also further once it has been retreaded.
"Bridgestone is currently the only tyre maker to manufacture TBRs in South Africa," explains Tony Burns, Bridgestone Commercial general manager marketing. "The company performs ongoing research to optimise the manufacture of tyres that perform better in South Africa's demanding operating conditions, which include wide temperature ranges and challenging road surfaces," he adds.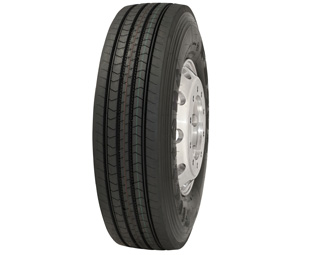 Some of the main contributors to the FS404's wear resistance are equaliser ribs in the tread pattern that reduce the effects of irregular wear, and stone ejectors that give greater resistance against stone trapping, reducing damage to the tread surface and steel belt package.
Bridgestone's TBRs are distributed through Bridgestone Commercial South Africa, which provides numerous services including tyre management and monitoring systems.
"A tyre like the FS404 will spend its initial service life on the steering or drive axles. It will then be moved to a trailer, or kept on a drive axle once retreaded," Burns says.
The company has also announced the introduction of a new heavy-duty vehicle tyre designed especially for trailers and semi-trailers: the Firestone FT505 Trailer-only General Use Tyre, which has been optimised to provide a low cost per kilometre on free-rolling axles on trailers.
"Our key areas of focus with the FT505 have been extending tyre life, reducing irregular wear and providing a self-cleaning action to ensure good road contact," says Burns. "Trailer tyres must continue to provide good lateral stability and economical service across a very broad set of operating weights and speeds, and the FT505 has been engineered to meet those goals," he adds.
Available in 315/80 R22.5, the FT505 has a maximum per-tyre load of 3 750 kg at an 850 kpa inflation pressure in the single role, and 3 350 kg at 825 kpa in the dual role.
"In initial comparative tests performed by Bridgestone against popular imported competitor tyres, the FT505 achieved a ten-percent longer tyre life. Preliminary data from the tests indicate that the tyre will have covered 270 000 km by the time the tread wears to four millimetres.
Bridgestone remains the only tyre maker to manufacture truck and bus radials locally.
Continental
Continental Tyre South Africa (CTSA) has had a busy start to 2017. The company has celebrated 70 years of operations in South Africa, appointed a new non-executive director, and, has been named the 2017 International Tire Manufacturer of the Year by Tire Technology International.
Officially registered in January 1947 as the General Tire and Rubber Company South Africa, the local operation was acquired by Continental AG in 1998 and renamed Continental Tyre South Africa.
"Over the past seven decades, the company has expanded significantly, meeting the growing demand for Continental and General Tyre-branded products in the crucial original equipment and replacement tyre sectors," says Shaun Uys, MD of CTSA.
One does not grow such a reputation without advancement, and in the past five years CTSA has invested almost R1 billion in technology and tooling at its Port Elizabeth plant. This has enabled it to improve environmental sustainability by lowering its CO2 emissions, cutting back on energy and water consumption and reducing the amount of waste generated.
"As we develop and grow our business, it's essential that we embrace and actively pursue the overriding concept of sustainability and effective corporate governance for the company, our employees, the communities in which we are active and the South African economy in general," Uys says.
Goodyear
Goodyear South Africa held its annual Group Conference at the Boardwalk Hotel in Port Elizabeth, in February. In line with this year's conference theme: Building Together, teams had to plan, design and paint building blocks for children in the Nelson Mandela Bay community.
"Goodyear is committed to growing in South Africa and therefore believes in contributing meaningfully towards the social development of communities close to our operations. We believe these building blocks will contribute towards the children's early childhood development, which is recognised as one of the most powerful tools for breaking the inter-generational cycle of poverty in South Africa," says Goodyear MD, Jean-Jacques Wiroth.
Goodyear South Africa is one of the Top 50 companies in Nelson Mandela Bay, and has been recognised by the municipality as a Top Employer and Long Standing Investor in the region.
Internationally, too, Goodyear has been recognised as the world's most admired tyre maker by Fortune magazine.
Among companies in the Motor Vehicle Parts category in the magazine's World's Most Admired Companies, Goodyear was also the top ranked United States-based company and ranked second overall. In the Motor Vehicle Parts category, Goodyear was ranked second in six of the nine key attributes measured, and third in three others.
Goodyear finished ahead of its key global tyre competitors in the overall score and in seven of the nine categories.
Focus on Transport
March 23, 2017
Published by