Van Wettens Breakdown Services has been helping truckers out of sticky situations for nearly half a century. This towing and low-bed service provider has big things planned.
Van Wettens Breakdown Services has a rich history that began in 1952 when Anton van Wetten, a certified Ford mechanic, emigrated from Holland to South Africa. He went to work for a Ford agency in Port Elizabeth and drove breakdown vehicles, after hours, to supplement his income.
In 1957, he relocated to Nelspruit, where he was employed by the local Ford agency. Van Wetten continued his recovery work – eventually purchasing that part of the business from the garage. Thus Van Wettens Breakdown Services was born.
His son, Wim van Wetten, who joined the business in 1974, subsequently took over management of the company in 1976. In 1979, due to the company's expansion, his brother Jos van Wetten also joined Van Wettens.
Iain Toomey, general manager of Van Wettens, explains that a number of things have changed within the industry over the years. "The technology and the players have changed, and it has become more professional."
He adds that, when the Van Wetten family started out, truck recovery consisted mainly of "backyard" towing services. "Today we can tow a fully-loaded rig that weighs up to 56 t," says Toomey. Van Wettens has more than 75 vehicles in its fleet, 15 of which are large recovery wreckers. The company is one of a handful of players, throughout the country, that can handle heavy towing.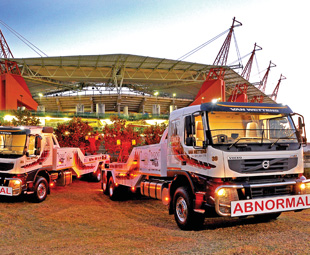 "We are expanding our operations countrywide," explains Toomey. "We are looking at joint ventures, or associations with other towing service providers, so that we can offer our customers a countrywide towing solution."
The company already has a very strong footprint in the eastern part of South Africa. "We are the only towing company to offer such extensive cover of Mpumalanga and the adjacent regions, such as southern Limpopo and northern KwaZulu-Natal. We have a branch network that can provide a very quick response on the major corridors in those areas," notes Toomey.
Van Wettens isn't bound by borders, however. "We have been operating quite extensively in the eastern side of southern Africa for some years – specifically in Mozambique and Swaziland. We also operate in Zimbabwe, Zambia and Botswana and have gone as far north as Tanzania," Toomey points out.
As far as a cross-border branch is concerned, the company will probably set one up in Mozambique. "The administration and legal side of operating there is a big issue, however" says Toomey.
Things are looking really good for Van Wettens, but the towing industry isn't without its challenges … "More players are coming into the market," Toomey explains. "And, while competition isn't bad, some of them are fly-by-night companies that come and go, and, in the process, ruin relationships."
The experienced towing service providers aren't letting this get them down though. "We are overcoming this by providing better service. We've always been proud of our service, but we have to ensure that we are better than the competition," says Toomey.
Looking to the future, he is excited about the company's expansion plans and increasing its trading base.
Morné Fourie, Group tactical manager, adds: "The future depends on our expansion plans. There are going to be big changes, which will have a big effect on the market and what we can offer to our customers. We've been in business for close to 48 years now … we want to ensure that Van Wettens is, and remains, the first towing service that comes to mind when towing is required."
Focus on Transport
January 1, 2015
Published by