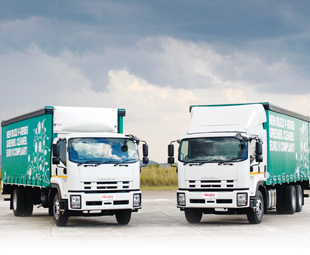 It is not easy being all things to all people, especially in the trucking industry, where specialised applications demand customised solutions from suppliers and service providers who truly understand the specifics of the customer's business. Isuzu Trucks South Africa does not pretend to be a one-stop shop offering everything a commercial transporter may require. However, it has evolved to a point where its market offering is sufficiently comprehensive to provide trucking solutions ranging from 3,5 ton to 26 ton gross vehicle mass, backed by products and services designed "for the long run"
Isuzu Trucks has built a solid reputation over the years for consistency and reliability, which has kept it in the top-five position, as far as unit sales are concerned, for over a decade.
This also earned the company five finalist nominations at the FOCUS on Excellence Awards, sponsored by Wesbank. The nominations were for Best medium commercial vehicle, Best heavy commercial vehicle and vehicle distributor with Best sales support, Best service support and Best parts support.
"With medium, heavy and extra-heavy derivatives now in its stable, 2010 marks the beginning of a new era for Isuzu Trucks in South Africa. Now the entire spectrum of truck configurations is catered for," says Anton du Plessis, national sales and distribution manager, Isuzu Trucks SA.
Growing market share
"The local truck market gets more competitive every year but thankfully, there is an impressive amount of Isuzu brand loyalty in our local trucking community. This has helped us grow our market share in the medium commercial vehicle sector since the release of the new N-Series in 2008," he adds. "Isuzu Trucks are not the cheapest, so this gain on our competitors proves we're doing things right."
Behind the steady rise of Isuzu Trucks SA is its philosophy of SEE – Safety, Economy and Environment, which manifests itself in each Isuzu truck, from the light/medium-weight N-Series, through to the heavy-weight F-Series, which includes the new premium power FX-Series, to the extra-heavy Isuzu Gigamax flagship.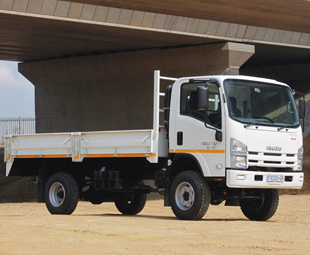 "All our trucks are Euro 2 and Euro 3 compliant (with exhaust gas recirculation on Euro 3 models) which allows us entry into corporate and multinational fleets that are strictly governed by environmental codes. We now have over 30 derivatives that form a solid basis for genuine customised solutions for niche trucking applications. Our new models feature sophisticated safety technologies like ABS/ASR, Voith retarders, panoramic windscreens, safety belts and door beams," explains Du Plessis.
"Isuzu's approach to economy works in unison with its environmental protection programme, which is substantiated by our extremely fuel efficient turbo-driven, inter-cooled common-rail diesel engines. Enhanced aerodynamics in Isuzu's new truck models also helps improve fuel consumption, thereby reducing carbon emissions. Furthermore, Isuzu cab parts are made from recycled plastics, so our customers can rest assured; they're buying a genuine 'green' truck."
Delivering profit
The deal-clincher in the hard-nosed world of commercial trucking will always be the truck's ability to boost bottom-line performance, something that goes well beyond straight engineering excellence.
"It is our mission at Isuzu Trucks SA to enable lowest cost-of-operation for our customers. We achieve this via a number of avenues involving technology, appropriate vehicle specification and after sales service," explains Du Plessis.
"The introduction of Automated Manual Transmission (AMT) is a class-leading development in technology for medium trucks with gross vehicle mass (GVM) from 3,5 to 8,5 ton GVM and is proving a real cost-saver for our customers. Conservative present value estimates show a cost saving of more than R40 000 in parts and labour for lifetime clutch replacements over 500 000 km in metro distribution operations. This figure does not include lost opportunity costs for vehicle downtime which are estimated at 10 days over the total distance, or the cost of towing and replacement trucks – this means that AMT potential savings over a 4-5 year period could easily exceed R60 000," adds Du Plessis.
An additional benefit of AMT is that it makes truck driving easier, relieving the need for super-skilled drivers, who are in short supply these days. "With the AMT doing the thinking, as far as gear changing is concerned, fuel consumption is improved, driveline wear is reduced and safety is improved because the driver is free to concentrate on the road ahead," says Du Plessis.
Ensuring optimum vehicle uptime forms part of the Isuzu Trucks "Economy" proposition and a healthy 20 000 km service interval on selected models is really helping operators keep their units out on the road for longer," says Du Plessis.
"A huge plus-factor in our offering is the two-year, unlimited mileage warranty on all our derivatives. When one considers that a typical line-haul truck can easily notch up 600 000 km in a couple of years, this warranty really acts as a strong market differentiator for Isuzu and, of course, brings cost predictability and much-needed peace-of-mind to our customers," he says.
Ensuring drivers are comfortable behind the wheel is a top priority for Isuzu Trucks and each model comes equipped with air-suspension seats
With a truck to suit almost every application, from medium-class utility and distribution vehicles, to rigid chassis-cab configurations (including 6×2, 6×4, 4×2 and 4×4 options), ideal for heavy construction and line-haul duty, to the 6×4 on-highway 343 kW (460 hp) Gigamax truck tractor, Isuzu Trucks has a workhorse that will "do the business".
"We also offer driver training on request, where our approach is to ascertain skills deficits amongst customer drivers on an individual basis. Doing this allows us to offer targeted training that shows immediate results. Our trucks have the right technology for the next decade of trucking in South Africa and our service support infrastructure is backed by a dealer network with 35 branches nationwide, offering 24/7 roadside assist. With all the right bases covered, Isuzu Truck owners can move forward with confidence – their Isuzu is in it for the long run," Du Plessis concludes.
Focus on Transport
November 1, 2010
Published by