UD's Quester flies the Volvo flag in Asia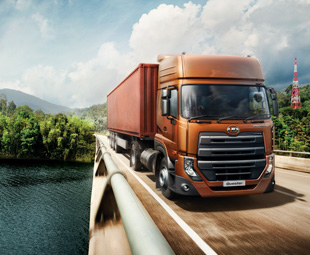 In his monthly review of global news for local truckers, FRANK BEETON takes an interested look at UD's new range for emerging markets, looks at a new South American Volvo truck, updates global corporate news from Navistar, and comments on Nissan's global aspirations in the light commercial field.
Over the past two years, Global Focus has devoted considerable attention to a veritable plethora of European truck launches. The new models, and even new product families, that were the subjects of those launches, anticipated the final implementation of demanding Euro-6 emission standards at the end of 2013 and were, by necessity, very focussed on achieving the legislated minima, without any corresponding deterioration in operational economy.
This necessitated a great deal of technical innovation, which went far beyond the addition of hang-on exhaust treatment countermeasures or even deep intervention into engine DNA. It has become clearly evident that, to create an operator-friendly Euro-6 compliant truck, an integrated design – extending to state-of-the-art electronic management, optimised aerodynamics, reduced tare mass and fine-tuned driveline specifications – is the way to go.
This situation creates a dilemma for vehicle manufacturers servicing a broader global market. Not all countries, or geographic areas, have followed the European pattern as yet. We in South Africa, for instance, are still enforcing Euro 2, and local fuel quality does not always allow the operation of vehicles built to comply with more stringent standards.
Increasingly, it has become more difficult to "unbolt" emission control technology from vehicles, as an integrated design approach takes root. This design optimisation process also influences technical areas beyond the driveline, and can make sophisticated products built to European specification less attractive to export destinations with more primitive operating conditions. It is, therefore, a benefit if global manufacturers can source products that are more in keeping with the expectations of these export markets, and are in a position to "cherry pick" from their various line-ups to include the most suitable offerings.
Volvo AB, now a leading force in world trucking, has manufacturing bases in Europe, the Americas and Asia, and the global strategy being pursued by this group to cover its diverse markets is now emerging. Recent elements include the complete reinvention of the Renault Trucks' line-up, the consolidation of the potentially massive partnership with Dongfeng in China, and extensive new model activity in the parent company's own European market product range.
In the Group's geographic global structure, which was announced towards the end of 2011, clear lines of demarcation were drawn between the regional responsibilities of each constituent brand, with Volvo and Renault Trucks sharing Europe/Middle East/Africa, Mack looking after the Americas, and UD Trucks Corporation taking on Asia/Pacific.
This regional dispensation makes the launch of UD Trucks' new Quester range, in Thailand during August, highly significant. This significance is supported by a number of announcements that preceded and accompanied the launch. First, the Quester range is intended for developing markets in Asia. Second, it is to be built initially in Thailand at the Volvo Group's Samat Prakarn facility and later also in China and India. The latter intentions seem to suggest that this range is also to be taken up by Dongfeng Commercial Vehicles in China, and Volvo Eicher Commercial Vehicles in India – which would greatly advance the perceived integration of these Volvo-affiliated Asian operations into the manufacturer's global family.
UD says that this will be the first time that its products have been manufactured outside of Japan, but this statement clearly ignores the situation that prevailed in South Africa during much of the 1980s and 1990s. At that time, specially engineered Japanese CKD kits (consisting of chassis frames, cabs, axles and associated components) were shipped to Nissan Diesel's Rosslyn plant, where they were erected and fitted with locally manufactured Atlantis Diesel Engines and ASTAS/ZF transmissions.
During that period, Nissan Diesel was a major force in the local truck market, having even achieved the number one status during some individual months. South Africa was also one of the manufacturer's most important export destinations. Even though those vehicles carried "Nissan Diesel" and not "UD" branding, they were an indelible part of the marque's history and will
be well remembered by the local trucking community.
Looking at the new Quester range in more detail, this vehicle occupies a position towards the top end of the payload spectrum. The configuration spread covers 4×2, 6×2, 6×4 and 8×4 variants, with gross vehicle mass ratings ranging from 21 to 34 tonnes, and gross combination masses of up to 80 tonnes.
Somewhat surprisingly, with those high mass ratings, power options are limited to a range between 165 kW and 315 kW (220 hp and 420 hp) and there are only two Volvo Group base engines; these being eight- and 11-litre in-line six-cylinder units. The eight-litre GH8E emanates from the same platform as the equivalent size engines now used by Volvo and Renault in Europe, being offered with power outputs from 165 to
246 kW (220 to 330 hp). They will, presumably, also be sourced from Volvo Eicher's newly commissioned engine plant at Pithampur, in India, which is ultimately planned to deliver 100 000 Euro-3, -4 and -6 compliant power units each year to the Group's global operations.
The larger displacement GH11E is reserved for the heavier Quester applications, delivering outputs in the 275 to 315 kW (370 to 420 hp) range, and is to be sourced from UD's Ageo plant in Japan. Driveline features include a "locally sourced" range of six-, nine- or 12-speed manual gearboxes, and a choice of single- or hub-reduction rear-drive axles. Front suspension specification for all models includes parabolic leaf springs, while rear axles or bogies are carried on multileaf spring packs. The tandem rear-axle suspensions are equipped with supplementary rubber springs and journals to enhance ride comfort.
The manufacturer's maximum mass ratings are 7,5 or eight tonnes for single front axles, 15 tonnes on the twin-steers, 13 tonnes on single rear axles, 23 tonnes on the tag-axle units and 26 tonnes for tandem drive bogies.
The chassis frame is made from roll-formed, high-tensile steel. The corrosion-protected aerodynamic sleeper cab, which is available in single-bunk standard roof or double-bunk high roof versions, also has a roof-mounted escape hatch.
Comfort and convenience features include a choice of climate control systems, tilt/telescopic adjustable steering, AM/FM radio with USB port and cruise control, while driver performance is enhanced by a 4,5-inch information display with integrated fuel coaching system.
The full-air foundation braking system employs S-cam actuation of drum brakes at each wheel position and is equipped with automatic slack adjusters. Secondary retardation is provided by an exhaust brake, or UD's optional Extra Engine Brake in the case of 11-litre engine fitment. ABS anti-lock braking and alternative wheel cylinder locations are available as optional extras.
Unlike the many European product launches earlier this year, which mainly consisted of application-specific models or ranges, the Quester is being promoted as a versatile vehicle, with variants suitable for a wide range of employment in areas including long haul, distribution, construction and mining.
At first glance, the heavy-duty and essentially uncomplicated nature of the specification also looks to be highly suitable for a number of African operations, although the lack of power options above 315 kW (420 hp), and absence of automated transmission availability, may limit its attractiveness in maximum payload long-distance applications.
The 4×2 and 6×2 models appear well suited to local top-end distribution duties; the 34-tonne GVM 6×4 chassis should appeal to South African tipper operators with off-road applications and the 8×4 option will open up opportunities in the ready-mix concrete arena. It has subsequently been confirmed that Quester will also be coming to the South African market, where its "Asian" virtues could turn out to be more appropriate than those of some technically sophisticated competitors built to European standards.
… and a new Volvo for South America
The Volvo Group also produces dedicated "regional' models for the United States (US) and South American markets. In the May issue, we covered the launch of the latest VNX conventional (normal control) heavy-haul, truck-tractor for the US and Canada, which is intended for extreme operations grossing at up to 102 tonnes. Applications targeted by this model include heavy equipment haulage, movement of aggregates, low-loader operations, logging, oil field servicing and mining.
The VNX is powered by Volvo's 16-litre D16 engine rated at 450 kW (600 hp), driving through the manufacturer's I-Shift automated transmission. We noted at the time that the VNX specification listed only this in-house power unit, with no mention of the usual Cummins ISX 15 alternative that has been offered in other VN family models.
Early in September, Volvo announced its fourth-generation VM range for Brazil and Latin America. This is a forward-control (cabover) truck, which is now available in 4×2, 6×2, 6×4, 8×2 or 8×4 configurations, with GVM ratings up to 29 tonnes. The two new four-axle layouts, which have been added to the line-up at this latest model change, were provided to cover concrete mixer, dumper and regional distribution applications. Power output options range up to 246 kW (330 hp), driving through six- or 12-speed transmissions.
New styling cues, which include V-shaped LED daytime running lights and redesigned bumpers, have been incorporated to create a recognisable family similarity to the new Volvo models recently launched in Europe.
Navistar update
While readers may be watching the local NC² operation closely for signs of revival, in the face of recent declines in sales volumes and market share, some positive news has emerged regarding parent Navistar International Corporation's global activities.
It has been reported that the agreement with Anhui Jianghuai Automobile Company (JAC), first signed in September 2010, is moving forward. The resulting joint venture, which includes the development, manufacturing and marketing of advanced commercial diesel engines in China, is now only awaiting final approval from the State-owned Assets Supervision and Administration Commission before operations can commence.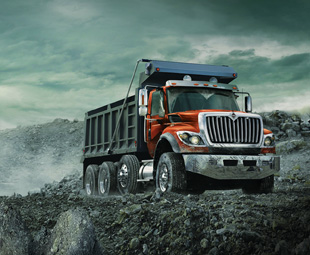 As reported last year, Navistar has established offices in Shanghai, Beijing and Hefei, and built a 93 000 square metre manufacturing plant in Hefei to manufacture diesel engines. Previously announced joint venture plans include export support for JAC's range of light, medium and heavy commercial trucks, and their sale through Navistar dealers in Mexico and Brazil.
In its North American home market, Navistar International has launched versions of its WorkStar vocational truck, and TranStar regional haul truck-tractor, powered by selective catalytic reduction-equipped MaxxForce 13-litre diesel engines. These engines, which incorporate the Cummins Emission Solutions system, are currently being progressively phased in to the company's North American truck production programme.
The MaxxForce 13 engines employed in the new WorkStar and TranStar applications cover the power spectrum between 270 kW and 355 kW (365 hp and 475 hp), and are manufactured in a dedicated facility located in Huntsville, Alabama. This engine stems from a strategic component manufacturing alliance set up in 2004 between Navistar and Germany's MAN Nutzfahrzeuge AG.
Nissan's light commercial aspirations
With the announcement, at the end of 2012, that Renault SA had sold off its last remaining shareholding in the truckmaking group, AB Volvo, it seemed that a final firm line had been drawn under the truck making activities of Renault and its corporate partner Nissan.
However, the subsequent recent launch of Nissan International's Spanish-built NT500 MCV-equivalent truck for the European market, and it's obvious relationship with Renault Trucks' latest "baby" model, has tended to blur that distinction to some extent. Apart from that anomaly, Renault-Nissan has a clear strategic intention to exploit the global "light commercial" market, and Nissan has publicly declared its intentions to be the global leader in that category by 2016. The manufacturer is already busy with the necessary product offensive to achieve that ambition.
Recent additions to the Nissan global line-up include the European NV200 and NV400 van families, and the Cabstar/Atlas light truck range. The Barcelona-built NV200 (see our review on page 36), is based on Nissan's B-type front-wheel-drive passenger car platform. It was initially launched in 2009 in 4,1 m³ panel van, seven-seat functional Combi, and seven-seat people carrier versions.
Powered by Nissan's 1,6-litre HR 16 petrol engine, or Renault's 1,5dCi diesel, the European NV200 is equipped with a five-speed manual gearbox and there is also an all-electric drive variant for global markets. Subsequently, a version for the North American market has also been announced, with 2,0-litre DOHC four-cylinder petrol engine and continuously variable transmission. This will be built in Mexico, together with a Chevrolet City Express version that will be supplied to General Motors' dealerships.
Nissan's European van line-up is topped off by the NV400 heavy panel van (formerly known as the "Interstar"), which shares its product platform with the Opel Movano and Renault Master that also form part of a manufacturing joint venture.
The 2,8 to 4,5 tonne GVM NV400 range is differentiated from its sibling competitors by a unique bonnet, front wings, headlights, grille and front bumper. It is available in three wheelbase lengths, providing load volumes ranging from 8 m³ to 17 m³. The common power unit on all models is a Renault-developed 2,3-litre four-cylinder, direct-injection diesel, which offers Euro-5 compliant ratings of 74, 95 and 110 kW (100, 125 and 150 hp), driving through six-speed manual or automated transmissions.
At the 2010 National Truck Equipment Association Show, in St. Louis, Missouri, Nissan revealed its unique NV van series exclusively developed for the North American market, which differed considerably from its own European vans, and those being sold Stateside by its main competitors.
This comprised NV1500, NV2500 HD and NV3500 HD versions. Common design features included a full-length bonnet, front mounted engine, rear wheel drive, body-on-frame non-integral construction and an option of standard or high roofs. Power choices included a 4,0-litre petrol V6 or a larger 5,6-litre V8 unit, both driving through a five-speed automatic transmission.
Global Focus readers will be familiar with the locally built (Renault Logan/Sandero-based) Nissan NP200 and Hardbody NP300 pickups that are currently sold in South Africa alongside the newly introduced NV350 "Japanese" forward-control panel van and the Navara pickup.
However, the manufacturer also produces another dedicated model for North America, designated Nissan Titan, which competes at the heavy end of the pickup market on that continent.
The model was first introduced in 2004, equipped with a 5,6-litre petrol V8 engine. It was recently announced, however, that the next generation Titan would also offer a 5,0-litre turbocharged Cummins diesel engine as a power option.
It is, therefore, quite evident that Nissan is serious about its global leadership aspirations and is progressively adding new models to its LCV line-up, so we will watch future progress with interest.
---
Global FOCUS is a monthly update of international news relating to the commercial vehicle industry. It is compiled exclusively for FOCUS by Frank Beeton of Econometrix.
Focus on Transport
October 2, 2013
Published by