Is buying second-hand vehicles a risk worth taking? And how is the market for used vehicles faring? FOCUS investigates.
Signs of life are getting stronger, but by most accounts the strong pulse of an economic recovery, is still hesitant.
Commentators seem to agree that our economy has evaded a second recession and remained standing through the storms of slow growth. It has also negotiated some of the hardest-hitting strikes in decades. While we are not really at the start of a full-blown recovery yet, at the very least consensus is that we seem to be at the end of a declining growth cycle.
The new truck market has been ticking up well, seemingly bearing out these infant steps of the recovery, although figures are still down on the 2007 highs. But what has been happening in the re-sale side of the market? Are those five-year-old trucks from the good years flooding the market and driving down used stock prices? Is there an opportunity waiting for those operators sharp enough to take a look at what's on offer in the used truck yard? And is there enough sustained buoyancy in the used truck market to have a positive effect on the residual values of new vehicles – the values of which some used dealers are saying artificially high for insurance and financial leasing deals.
On a quick whip around the used truck market we found used truck dealers largely describing greater buyers' interest out there. With the economic downturn restricting cash flows and the tightening on credit options since the advent of the National Credit Act, the cost of new vehicles are sometimes out of reach – especially for new start-ups or smaller operators or even just those medium stores or companies that need delivery vehicles. And it seems – if the size of the Commercial Truck Trader is anything to go by – many of them should find reliable trucks and trailers that do not cost the earth.
While statistics for used vehicles are not freely available in South Africa (transparency would surely facilitate a better understanding of the business needs of customers in this sector) many established dealers report slowly improving conditions but also some greater risks and challenges.
Even far from the traditional truck action, a positive outlook in the short term is held by Awie Terblanche of Africa Truck Sales in Kuilsriver, near Cape Town. He has been selling a variety of makes for about eight years. "There is some life creeping in," he says. "Although we see a move to buying used vehicles as new ones are expensive, there is also a move to keeping trucks longer, i.e. refurbishing them and holding on to good units."
Terblanche is currently struggling with low stock situations. His counterparts in Johannesburg seem to feel otherwise saying there seems to be enough to go around. Although in the eight-tonne dropsider market, very high demand has eroded stocks at the moment.
Interestingly, on the whole it seems the new cheaper trucks from Asia are not really seen as a threat by used dealers as they find buyers prefer older proven truck technology over "taking a chance" on an unknown new brand.
Deon Jonker, of Countrywide Truck Sales Boksburg, has an increased sales force and the company is moving around 21 units per month. "I am cautiously optimistic that sales for the year will be higher than last year," he says. "There is a definite niche for used vehicles in fulfilling certain contracts. For example, nowadays contracts are not lasting very long so many operators can't always commit to a three- to five-year finance agreement," he explains.
Another dealer recounts that Group Five, a large local construction company, bought used concrete mixers here to fulfil a contract in Sierra Leone as the vehicles are most likely not coming back.
The used truck market remains one of the main entries for newcomers into the transport business. As a general rule, slightly older trucks, say more than five years old, are harder to finance though the banking institutions but it seems even here there is sometimes the exception. Cash remains the preferred way of purchasing trucks in this sector, but it seems that if clients shop around, the large used dealers either have some in-house finance options or have links with the banks to smooth the way for customers. Dealers even say that other less "quantifiable" aspects of a business, other than just the balance sheet, can win them over to finance a deal.
Mike Petty of Edan Traders has made things happen for some of his customers, who are new to the industry. He says his outlet in Honeydew sells quality used trucks and trailers to a wide range of clients, big and small. "We have a number of successful operators out there – some have been around for 20 years – that got their first leg up when starting out from a used vehicle with the 24-month finance package that we offer."
But he maintains finding the true price of a used vehicle can be really tricky. "If you use the dealer guide as a compass, you will be well and truly lost," he remarks. He claims this on the basis of what certain vehicles are selling for at the auctions. He says that depending on a few factors (such as mileage and condition) half of book value is more realistic.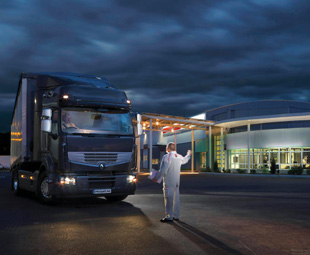 Older stock seems to still be popular with customers operating in certain sectors who seem to prefer that clean example of a less sophisticated vehicle. For example, a 1999/2000 Mercedes-Benz Powerliner would still have a high second hand value.
Although Petty thinks that the used vehicle market is less buoyant (about 40 percent down nationally on last year) he can only speak about his own numbers – which are about 10 percent down. The company has 500 plus units on its books. "We sell around 35 to 40 trucks per month," he says.
Petty finds that sales into Africa are gaining ground. Another dealer reports that many 10 cubic tonne tippers are finding their way to Mozambique to be used for infrastructure contracts.
Since 2011, increased regulation has led to tougher trading conditions and has largely weeded out the old park-and-sell model of used truck dealer and made it necessary for used vehicle dealers to become more stringent about their vehicle checking. Some dealers still profess to sell on a consignment basis though to keep variety on call when their own cash flows do not allow for big floor plan outlays. Most of the OEM dealers also have the ubiquitous used outlet in most of the major cities.
Another used dealer model, that is big in Europe, was brought to our shores when the first outlet of TruckStore opened a year ago. It now claims the fourth largest spot in the Daimler stable of used truck outlets. "We know that our volumes are already among the highest for used commercial vehicles in South Africa, and are well on track to achieve a potential 1 000 units a year," says Oliver Marte general manager of TruckStore Centurion.
Describing it as a one-stop shop, Matre says: "Trucks of all shapes and sizes are welcomed and we offer financing, TruckStore warranties and insurance. The TruckStore warranty has provided additional confidence to customers who might be purchasing a 'second chance' vehicle for the first time." Customers looking for used vehicles are also coming to South Africa from Kenya, Mozambique, Namibia, Botswana, Lesotho, Swaziland, Zambia and the Democratic Republic of Congo.
It seems that with the advent of the Consumer Protection Act the used vehicle retail sector is now less afflicted with dubious decision making and unhappy customers.
Trust and loyalty are terms now creeping into the conversations of used truck salesmen. More and more they are trying to cultivate longstanding customers by offering honest deals and some form of guarantees, together with better and detailed vehicle checklists. They are working around the needs of their customers who are often younger start-up buyers.
This must be good for the health of the overall industry over time if new entries are having success.
Comment from the market
Geoff Kruger, product planning specialist at UD Trucks Southern Africa, gives us his view on the used vehicle market:
"As the most recent Naamsa figures indicate, new truck sales are still experiencing positive growth. UD Trucks believes that low interest rates and a highly competitive trading environment are also encouraging sales across the board.
With such a strong new vehicle market, the demand for used trucks is closely linked to several microeconomic factors.
The recent weakening of the rand could prompt companies to fleet up before some imminent price increases as a result of the frailer exchange rates. If prices do increase, it could subsequently force some fleet owners to turn to the used truck market to get more value for their investment.
At the moment, most original equipment manufacturers (OEMs) have ongoing initiatives to produce lower cost transport solutions for customers. This includes special new vehicle purchase offers, reduced maintenance costs, parts incentives and of course, favourable trade-in campaigns.
The South African truck market is, of course, a highly competitive environment, with a range of products available; from foundation and entry-level models, to highly sophisticated Euro 6-specification ranges.
Subsequently, we believe that competition will increase due to greater product parity, with after-sales support and service set to play an increasingly important role in the whole buying cycle.
However, while many companies are still bogged down by financial challenges as a result of the recent global recession and Eurozone economic crisis, there is a strong demand for low cost entry-level vehicles and good quality used trucks.
The foreseen rise of a so-called 'value segment' in the market is set to have a big impact on both the new and used truck market in South Africa in the near future. This new segment, that is currently developing, is expected to address requirements from customers for quality, good specification trucks that offer appropriate technology and durability which is suited to the African continent.
For fleet owners, the trick is to find that vehicle which is best suited to your particular business and operating conditions."
Focus on Transport
July 1, 2013
Published by