Volvo campaign takes top honours
At the Digital Communication Awards in Berlin last week, first prize in the category "Viral Video" went to Volvo Trucks for its marketing campaign: Volvo Trucks versus Koenigsegg.
"We are, understandably, incredibly pleased with the prize. The race between a Volvo FH and a Koenigsegg one:1 is entertaining to watch, and subtlety explains the benefits of the new gearbox," says Jeff Bird, global PR manager, Volvo Trucks.
"For us, this is further proof that engaging content in your own channels is an effective marketing strategy," he adds.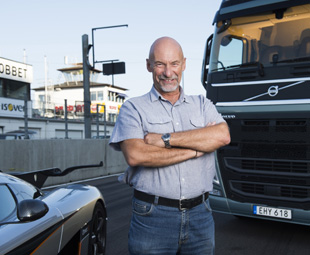 The purpose of the race was to test the new I-Shift Dual Clutch gearbox in tough conditions, and to examine whether the drivability of a Volvo FH with the I-Shift Dual Clutch really is comparable with a sports car – a claim from earlier Volvo Trucks campaigns.
The campaign has already won first prize in the category of "Best use of social media" at the Content Marketing Awards in the United States of America,
The main film had over 2,5 million views on YouTube and, combined, all films in the campaign have been watched over five million times.
Focus on Transport
October 1, 2015
Published by